The 1960s
A decade of increasing independence during which a strategy of vertical integration and horizontal diversification in the product range is adopted.
1961 Nuclear Developments Ltd is formed. It is a consortium of the Company, Rolls-Royce and Rio Tinto formed to manufacture nuclear fuel elements.
1962 Metals Division and its subsidiaries (excluding the aluminium interests) will henceforth be

grouped within a new holding company, Imperial Metal Industries. The operating company will be Imperial Metal Industries (Kynoch) Ltd. The fifteen-year process of disengagement from ICI has started.
At this time IMI (Kynoch) is the largest UK producer of copper and copper alloy semis, particularly sheet. In rod and section Delta is the main competitor. In strip, Ratcliff (Great Bridge) is the major supplier. Profitability is inadequate, partly due to the large, ICI-like overhead structure and partly to under-utilisation of capacity. The New Metals business, recently a major contributor to profits, is about to suffer a severe downturn. In Ammunition and Metal Fabrication profits are negligible due to depressed prices and high costs.
A large electron beam furnace is on order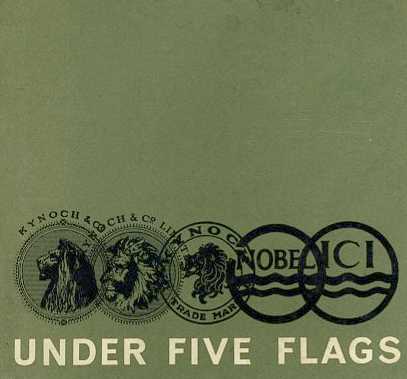 intended for refractory metals such as niobium and tantalum. J. F. Ratcliff (Metals), a Birmingham manufacturer of copper and brass sheet and strip, is acquired.
A commemorative book marking the Company's 100th anniversary is published by The Kynoch Press - "Under Five Flags" (which have now become six). The author, who is unacknowledged at the time, is Dorothy Thomas, an employee.
1963 Imperial Metal Services is formed. Its purpose is to acquire shares and other interests in companies dealing in metals. Henry Righton (a merchant of copper semis) is acquired for £1m. A small stake is taken in Range Boilers. Talks about future cooperation are held with BICC but no attractive case for a merger of interests appears. This is the end of moves towards horizontal integration for some years.
1964 In a drive towards rationalisation and greater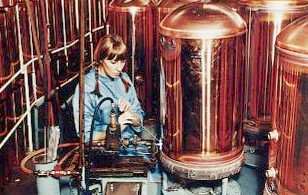 efficiency, Steatite and Porcelain is sold to Morgan Crucible Ltd. and the Elliott Works at Selly Oak is also disposed of. Opti Group and Lightning Fasteners are in talks about future cooperation which will lead to a merging of their interests in the following year. Range Boilers (right) and the Company enter a cooperative arrangement. The Company takes advertising space to clarify the position regarding high copper prices and supply shortages. The modernised strip mill at Witton (below) is formally opened. A 29% stake is taken in Wolverhampton Metal (Holdings).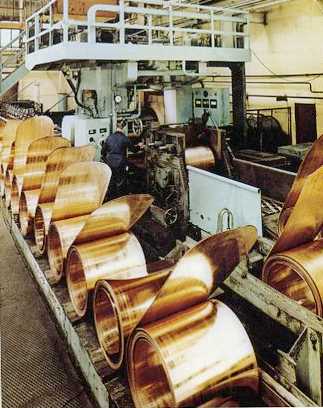 1965 A new facility to manufacture waterproof sporting ammunition - an important innovation - is opened by a former chairman, Dr. Beeching. The Company is the world's biggest exporter of sporting ammunition with 40% of its output going abroad, this year 38,400,000 cartridges. Powder and Shot, a documentary about gun construction and markmanship, made by the ICI Film Unit for the Company, is issued.
A merger occurs between Lightning Fasteners and the Opti Group. YKK, a serious Japanese competitor, opens its first European factory in Holland.
A successful bid is made to acquire Range Boilers. This move coincides with a spate of company prestige advertising: "My My My....IMI".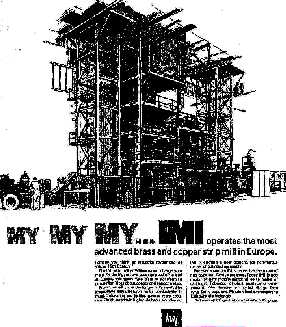 1966 IMI becomes a public company: an issue of Imperial Metals Industries Loan Stock is announced and of 10m. Ordinary Shares. ICI still holds 89.6% of the stock but this is widely seen as a move by ICI to grant its subsidiary greater independence. The equity offer is heavily oversubscribed.
John Wilkinson and Sons (Saltley), makers of copper alloy strip and wire, is acquired together with its subsidiary Headley, Birch & Co. Santon Ltd of Newport (electric water heaters) is also acquired. Annual profits are £6.4m
1967 The titanium interests of Jessop-Saville, Sheffield, are to be acquired.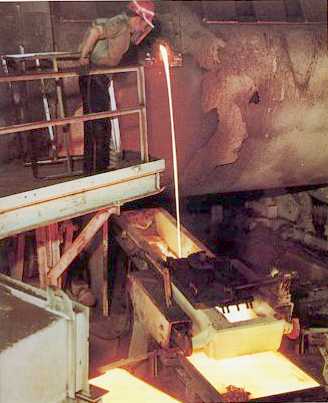 The remainder of the equity in Wolverhampton Metal (Holdings) comprising James Bridge Copper Works (left) and Wolverhampton Metal Co. (both metal refiners) is also bought. The move from paper to plastic sporting cartridge cases is to be speeded up, to about 75% of the total of the 100 different types manufactured. Amongst the latter Tenex target ammunition sales now amount to 20m. units a year. A new extrusion press in the Rod Mill is commissioned. Company turnover is £77m. yielding a profit of £4.7m.
Dead Safe, a film on safety in shooting, is issued.
1968 An offer is made to buy Yorkshire Copper (Holdings), the Company's partner in ownership of Yorkshire Imperial Metals and is accepted.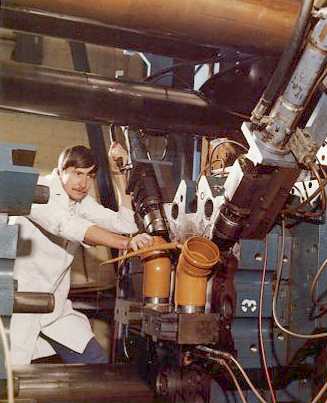 The Company launches a domestic tap made of plastic under the trade name Opella. Yorkshire Imperial Plastics starts to market an underground pvc drainage pipe (right, in 1975). Rolls-Royce's Lockheed Airbus contract is likely to lead to sales of 1500 tons of titanium. Much new plant is commissioned: a high speed rolling mill for copper and brass foil; new melting and casting facilities for the strip and sheet mills; and a new liquid-metal-cooled vacuum melting furnace for titanium. Turnover is £168m.
1969 A 51% stake is acquired in Paxman Cooler Manufacturing Co. of Brighouse (beverage cooling and dispensing). An unsuccessful bid is made for Enots, Lichfield (pneumatic control equipment). The Company is in 78th place in a list of top British industrial companies based on capital employed. In response to a survey the Company states that the number of employees earning more than £10k p.a. is "about 10". Henry Righton & Co., the Group's metal stockholding company, announces that henceforth its pricing will be based on decimal currency and metric measurements. A new company, I.M.I. Australia Ltd., is formed to manage and expand the Company's metal and ammunition interests in that country. Courtaulds and ICI agree to cooperate in the field of composite materials; Imperial Metal Industries will be involved.
Because of the issue of new shares to support acquisitions, ICI's stake in the Company has now dropped to 65%
The 1970s
An unhappy decade with British industrial relations plumbing new depths and foreign competition increasing but with the Company obtaining full independence again after 60 years and still actively investing in new plant, continuing to diversify into new product areas and establishing a completely new business area of great future significance. The advertising slogan is "IMI means more than metal".
1970 A new titanium rolling mill is ordered for Waunarlwydd. Compression Joints Ltd. of Weston is acquired.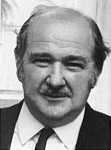 The Company commits itself to a multi-million pound expansion of titanium capacity once Concorde reaches its performance targets. The Company's Managing Director, St.John H. Elstub (left), is knighted. G. Brammall (Tungsten) is acquired as is Clix Fastener Corporation of Montreal. Rolls-Royce collapses but the Company consoles itself by putting the cost at no more than £1.5m, borne mainly by IMI Titanium and Marston. Winfield Metals, a small strip manufacturer is acquired; but capital expenditure dwindles and IMI's Chairman publicly questions for the first time the future of the UK semis market.
1971 The national engineering workers' strike against the Industrial Relations Bill closes Kynoch Works for a day. After poor results Enots agrees to a reduced bid from the Company. The quest for innovative new products leads to the Company finding itself managing a Scottish oyster hatchery. Profits are £14.17m helped by cost cutting measures including a 1000 reduction in staffing levels.
1972 350 maintenance workers strike over a pay claim affecting the entire Witton site. The Company is not alone: most of the British car industry is in chaos due to industrial action. Builders' and miners' strikes also affect the Company's activities.
Nevertheless innovation and acquisition continue. Marston Radiators collaborate with two European firms to produce the newly developed aluminium car radiator. The Company has developed a revolutionary new lightweight domestic boiler. IMI Engineering Plastics is created at Witton to handle the design and production of new fibre-reinforced materials. A surprise offer is made for Norgren Shipston International and its US associate, C.A. Norgren (pneumatic equipment). Muntz Plastics, Wrexham (plastic pipes and fittings) is bought.
It is expected that IMI Titanium's sales will recover from the Rolls-Royce disaster to a level equivalent to that for 1970.
1973 Inflation is running at 24%. For the Company, it is a year of disasters. Two Rolls-Royce RB211 Tristar engines fail in flight. The cause is traced to front fan discs manufactured from IMI Titanium forgings. Investigation work is urgent and detailed and business is affected. Even worse, an electric drill being used by a maintenance engineer on a contaminated explosives loading machine sparks off a major explosion at Witton in the sporting ammunition area. Six people lose their lives and a further fifteen are injured, one seriously. A question is asked in Parliament and at the inquest the Company is criticised.
The Company forms with Olin Corp. a joint venture company, Marstolin, to market coated titanium anodes for chlorine and similar applications. Mecafrance (valves) is acquired
Turnover is £275m giving a profit of £14.9m.
1974 The country suffers from the chaos of the three-day week resulting from industrial action by the miners. The Company says that it is maintaining output at 85% with the help of in-house generating capacity. Witton is not immune from the general industrial anarchy. On October 7th a strike over pay by 1000 craftsmen starts. Production workers strike over layoffs caused by the strike. On November 9th the craftsmen agree to resume work. Production has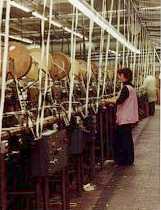 been halted in the meantime and 5000 other employees laid off. (10,000 are also idle at British Leyland). The strike has cost the Company about £3m. YIM's performance causes concern, affected by the poor industrial relations situation at Kirkby. Trading conditions are in any case difficult especially in building and textiles: 190 Lightning Fasteners workers (left) will lose their jobs because of Japanese competition and the price of copper peaks at a level three times higher than that of three years previously.
Plans are announced for further expansion of the building products area of activity in various plants throughout the country. The Company agrees to buy the fine tube interests of Serck Ltd.
Top Brass is released, a film showing how non-ferrous rod and wire are produced.
1975 The Company protests at Japanese dumping of fasteners. The adverse effect on business is increasing. IMI Impala is sold. The Board considers a proposal that due to all the difficulties of operating in the UK 70% of all future acquisitions should be overseas. "A drab and dispiriting year".
1976 A rights issue is announced, mainly to finance a stake in a new Iranian copper semi-finished products factory. This latter project however fails to come to fruition. UK acquisitions will be made with the aim of reducing dependence on copper-based activities. The Company is operating a waste-burning boiler within its 50mw power station. A protest is made at unfair Japanese price-cutting of titanium products and the high tariff wall protecting their suppliers. Against the background of industrial turmoil in the West Midlands a decision is made to move the IMI Opella operation off the Witton site to the calmer waters of Hereford; despite violent opposition this move eventually occurs.
1977 The Evening Mail contains a blank column where a report on the Company's results should have appeared, N.G.A. representatives having refused to handle the information since it has been received by telephone rather than the N.G.A. member manned teleprinter. The Company buys Mapegaz-Remati, France (industrial valves). IMI Valves International is formed to spearhead the growing industrial valve activity. Exploratory talks with Delta Enfield with the aim of rationalising rolled metals manufacture and investment come to nothing. ICI sells off its 63% stake in Imperial Metal Industries and the Company is now independent for the first time since 1918.
1978 As the Company relishes its independence and looks forward to the future, it has 27,000 employees in the U.K., plus a further 6000 overseas. 44% of its equity is owned by private shareholders including many employees and pensioners.
Samuel Birkett, Yorkshire, (specialist valves) is acquired as well as a majority stake in Whittaker Hall (compressors and pumps). It is alleged that the 1974 Japanese commitment to reduce the export of YKK fasteners to the U.K. has not been honoured. 40% of the market is now in Japanese hands.

1979 The Company changes its name to IMI. The "Imperial" tag is no longer appropriate and the abandonment of "Metal", which no longer accurately describes the company, is part of a strategy to expand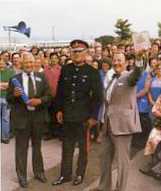 overseas and into products with a higher added-value content.
The possibility of cooperation with Delta is again thwarted. The Kynoch Press is sold.
A new group is formed, IMI Drinks Dispense, comprising Paxman and Redditch Controls and a new company is established with Cornelius, USA. These moves are intended to allow greater exploitation of the potental market for drink dispensing equipment and are highly significant as far as the Company's future is concerned.
IMI Norgren Shipston receives the Queen's Award for Export Achievement (right).
The 1980s
In this decade which starts with a serious trade recession, not helped by a lengthy strike in the steel industry, the Company will move towards higher margin finished products such as pipe, tubes and fittings and develop those new areas of business on which its future will eventually prove to depend. The traditional "metal-bashing" activities will decline.
There is now clearer definition of the Company's main activities. They fall currently within seven product groups: Refined and Wrought Metals (the metal refining and forming activities); Zip Fasteners; General Engineering (Yorkshire Imperial Alloys, Eley, IMI Components etc.); Special Purpose Valves (Mapegaz, Mecafrance, IMI Bailey Valves, Samuel Birkett, CCI etc.); Heat Exchange (IMI Marston, IMI Radiators etc. and initially the drinks dispense activities); Building Products (YIM, YIP, etc); Fluid Power (Enots, Norgren etc.); and, from 1982, Drinks Dispense (Cornelius, Paxman, Redditch Controls etc.)
1980 Two workers are killed at the Summerfield rocket research station, operated by the Company.
Company sales are down by 5% overall. IMI Titanium announces a multi-million pound expansion at Witton (melting and forging) and in South Wales (rolling). The performance of the Kirkby tube factory has improved significantly and further major investment is sanctioned. But the Board declines to make further investment in more modern rolling mills and so the fate of IMI Rolled Products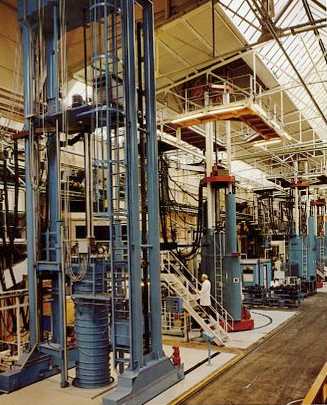 is effectively sealed. The manufacture of copper semis is in any case dwindling and now represents only a small part of the Company's activity. IMI Rod and Wire is sold to McKechnie.
The decline in the zip fastener business leads the Company to write off its equity interest, although the activity does of course continue. IMI Components and Eley are contracting. IMI Titanium (right) is having a second very difficult year with a collapse in demand. But the Drinks Dispense business is thriving and the Fluid Power activities show signs of recovery.
One in seven of the Company's 24,500 employees lose their jobs this year due to the general slump and the need for cost cutting.
Collaboration between the Company and BTR is discussed and the latter take a 25% stake in IMI Marston whilst their Palmer Aero Products business is acquired and relocated to Wolverhampton; Marston's name is changed, temporarily, to Marston Palmer.
1981 The recession continues to bite and total sales are down by a further 10%. IMI Enots, IMI Norgren Shipston and IMI Pneumatics are

merged into a single company, IMI Norgren Enots. Control Components International of California (control valves) is bought (shown right in 1986). About 40% of the Company's production is now carried out abroad and of the UK production 20% is exported. It is still felt that further independence from the U.K. economy is needed.
Princess Margaret visits Witton in December.
1982 The dividend to shareholders is reduced. The whole of Cornelius is acquired and becomes IMI Cornelius. In two years IMI has become one of the world's largest suppliers of drinks dispensing equipment.
1983 There is launched a collaborative scheme between IMI and Birmingham City Council and using half of IMI's 228 acre Witton site to provide an eventual 2m. sq.ft. of industrial space in modern buildings. Turnover is £676m. and profit £31m. £20m. has been spent over the last four years on reorganisation and redundancy. IMI's employees now total 15,485, just 60% of the level four years previously.
1984 Development of the Holford site begins which will lead to the creation of an award winning industrial estate. Not everything being swept away will be a dismal industrial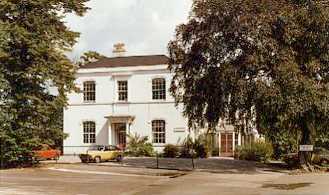 landscape: it will include the more picturesque corner occupied by Holford House (left).
Drinks Dispense is contributing 30% of the profits from only 15% of the turnover. Fluid Power is also doing well. Elkington Copper Refiners of Walsall is acquired and the activity absorbed into James Bridge Works. There is a management buyout of IMI Wilkinson and J. F. Ratcliff (Metals). Rolled Metals is now the Company's only copper and brass semi activity at Kynoch Works and represents a mere 3% of turnover. BTR and IMI merge their radiator service and distribution businesses under the name International Radiator Services. Pactrol Electronics (energy saving controls) is acquired. Eley ammunition accounts for 15 out of a possible 24 medals at the Los Angeles Olympics.
1985 Henry Righton & Co. is sold to Granges. Sales of rolled metals fall by 10%. The new product area of Drinks Dispense is faltering slightly this year but Fluid Power and Special Purpose Valves show improved profit. The titanium business is performing well; provisional agreement is reached whereby Sumitomo of Japan will take a 50% stake in IMI Titanium but is shelved when profitability declines. Discussions also occur with US manufacturers with the aim of licensing IMI's technology but again these come to nothing. Yorkshire Imperial Plastics is experiencing difficult trading conditions and the Wrexham factory closes. IMI Marstair expands and following its acquisition of I.S. Air Conditioning becomes IMI Air Conditioning.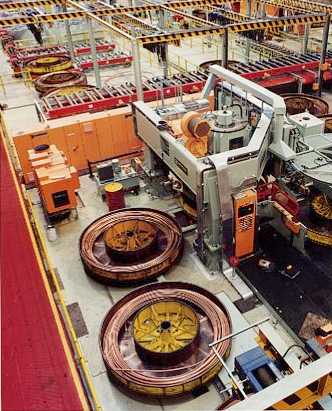 The precision diecasting activity of IMI Components is an early occupant of premises on the new Holford trading estate. A second phase is sanctioned.
1986 Martonair International is acquired at a cost of £88m, the biggest acquisition to date. This transforms IMI's Fluid Power Group into one of the world's largest manufacturers of pneumatic equipment, matching the Company's position in the field of drinks dispensing. The acquisition of Webber Electro Components plc (pneumatic solenoids) and, next year, of the Swedish AB Westin & Backlund's pneumatic division will further strengthen this area of activity. Coldflow (drinks dispensing equipment) is purchased and added to the Drinks Dispense group of companies.
Significant further investment in the tube business at Kirkby (right) is sanctioned and the capillary fittings business of Glynwed Tubes and Fittings is acquired.
233,000 sq.ft. of space on the Holford trading estate (a glimpse of whose future is shown below) have been let.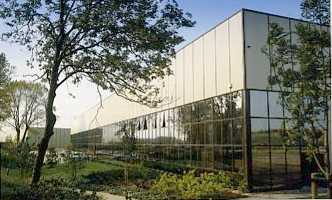 Formed in 1983, IMI Computing (software and technical services) is now making a significant contribution to company profitability.

1987 The Company's structure is adjusted with each of the groups becoming the responsibility of a specific director and being based more on market and business areas than on products. Fluid Control now includes valves and the heat exchange activities are grouped within Special Engineering (formerly General Engineering) whilst alloy tube becomes part of Refined and Wrought Metals. The seven groups have now become five.
The company disposes of its 60% interest in Anderson Greenwood (Australia) Pty. Ltd., its 50% holding in Silverton Engineering Holdings (Pty.) Ltd. of South Africa (automotive radiators and number plates), and, after a declining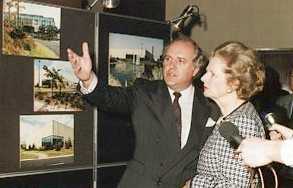 performance, its share of Mapegaz-Remati S.A. Ownership of IMI Summerfield, which IMI is contracted to manage, passes from Royal Ordinance to British Aeropace. Hayes Metals is sold.
The Prime Minister, Margaret Thatcher, visits Witton.
1988 CEDISA of Spain (valves and cylinders) and Martonair Belgium are added to Fluid Power. Lintra Lineartransporter of Stuttgart (rodless cylinders) is also acquired as well as another manufacturer of similar products, C&C Manufacturing of Illinois. Various distribution companies in Europe and elsewhere are acquired at around this time.
IMI Mouldings, which includes the Opella operation, is sold.
Also sold is Yorkshire Imperial Plastics in the Building Group; to the latter are however added this year R. Woeste of Germany and Raccord Orleanais of France (both copper fittings), in line with the strategy to make this business more European based.
Specialised Engineering is strengthened by a major acquisition, that of the Conax Buffalo Corporation (temperature sensors). Marston's flexible fuel tank business is sold.
The 40-year arrangement by which the Company manages the Summerfield rocket motor establishment is terminated.
Eley and IMI Titanium are both recipients of the Queen's Award for Technological Achievement.

1989 During this period Drinks Dispense is enjoying good business in Europe but the situation is less happy in North America. Attempts to improve this include the concentration of Cornelius's component production in a single plant at San Antonio, Texas and the reaching of a world-wide supply agreement with Coca-Cola. In the Americas the Company now has manufacturing plants in Brazil and Canada, in addition to the USA and several European countries. Markets for drinks dispense products are being developed also in China, Taiwan, the Philippines and Indonesia. Similar progress is being made by the Cannon service equipment group and several acquisitions are made in this period, including Cumberland Corporation, (mobile merchandising carts and milk cases). In this year Cannon obtains its first contract for an automated cold storage system for dairy products for a major UK supermarket chain.
In Refined and Wrought Metals, IMI Titanium is performing well. The acquisition of TiTech International (titanium castings) gives it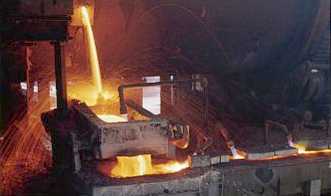 a long-sought presence in North America. In the rest of the Group, the emphasis is not on growth but on the most effective use of the asset base as, in the case of IMI Rolled Metals, Yorkshire Imperial Alloys and possibly the refining companies (right), the business declines.
Special Engineering sees this year a major disposal, that of IMI Radiators to Nippondenso.
In the Building Group IMI Pacific of France (cylinders) is disposed of.
Holford Estates continues to progress well: 640,000sq.ft. has been built or reserved and over 1350 jobs created. Its book value is put at £18.7m.
Sales reach £1bn. for the first time.
The 1990s
This decade will see initially a return to recession for the first three years, followed by a recovery for the rest of period. It will be marked for the Company by significant restructuring and an acceleration in corporate activity; and it will witness the final departure from the traditional metal smelting, metal founding and construction-related business as expansion of the newer core businesses gathers momentum.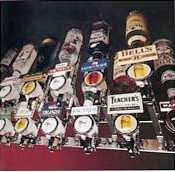 1990 IMI decides to abandon the rolled metals industry. In Drinks Dispense, MK Refrigeration Group (drinks cooling equipment and optics- see right) and Conveyor Speciality Systems of Minnesota (material handling equipment), later renamed Cannon Conveyor Systems, are acquired as well as two small distributors in Greece and Italy. Brook Street Computers is purchased .
1991 IMI Rolled Metals is closed and plant sold off. The closure process takes much of the year and runs smoothly, a tribute to good industrial relations and cooperation. Thus ends the Company's association with an activity which dates back to 1877 and has involved thousands of Birmingham working people over 114 years.
IMI buys the Birmingham Mint Ltd. of Icknield Street. The IMI Birmingham Mint Ltd. is formed and all minting operations are transferred from Kynoch Works to Icknield Street. The Company also acquires A.W. Cash Valve, an American producer of heating and plumbing controls, and Remcor Products of Chicago (ice/drink combination machines); the latter acquisition brings a strengthening of Drinks Dispense Group's association with Coca Cola. IMI Titanium's profitability slumps dramatically due to market conditions as does that of Yorkshire Imperial Alloys, a situation from which the latter will not recover.
Redwood International (software) is acquired, bringing IMI 's annual computing sales up to £50m.
1992 The Building Products group continues to decline, being hit especially hard this year, its sales reducing for the third consecutive year, from £404 million in 1989 to £305 million with a corresponding hit on profits. IMI's Special Engineering profits also decline dramatically. The Refined and Wrought Metals Group disappears and the remaining businesses now fall under Special Engineering and Building Products. Walter AG, Switzerland's leading manufacturer of valves, cylinders and air service units is acquired to strengthen Fluid Power.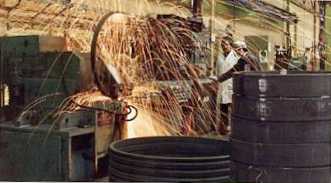 But the trading difficulties faced by that group force a move towards the rationalisation of its worldwide manufacturing operations: thirty locations will in due course be reduced to twelve. Marston's aircraft engine ring business (left) is sold to an American competitor.
1993 The Company's four main areas of activity continue to be: Building Products, Fluid Power, Drinks Dispense and Special Engineering.
Fluid Power's profitability dips this year, prior to significant improvement in the following years as the effect of restructuring is felt. Within the Building Group however the performance is sharply improved following major investment in the tube and refining activities. Contrary to previous policy the Board now decides to consider the possibility of acquiring a plastics activity.
In Drinks Dispense, Cornelius is appointed a preferred supplier to Coca Cola. Relationships with Pepsi are however not soured and a strategic alliance will be agreed between the two companies early next year.
The performance of Specialised Engineering is adversely affected by IMI Titanium's problems in a difficult market and the Company opens discussions with Timet of the USA about possible cooperation. Casino Tokens Inc. of Las Vegas is acquired to supplement the minting operation.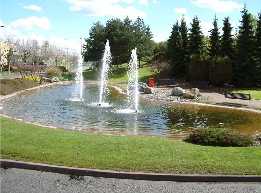 1994 37 acres of surplus land at Witton is sold, as well as Phase 1 of the Holford Industrial Estate (right) which nets £24m. Brook Street Computers and Redwood International are sold following operating losses. IMI Range and IMI Stanton merge. Andrews Water Heaters is bought. Within Specialised Engineering, IMI Titanium's losses double to £7m. despite a 30% increase in sales. Yorkshire Imperial Alloys is also having difficulties, faced with similar problems: international over-capacity and uncompetitive plant and equipment.
1995 There is a major reorganisation of IMI Titanium involving substantial redundancies which returns the activity to profit and the discussions with Timet about a possible joint venture reach a satisfactory conclusion. It is announced that the Company's titanium interests are to be merged with those of Tremont Corp. of the U.S.A., the owner of Timet, giving IMI a 38% stake in the new company. The possible disposal of Yorkshire Imperial Alloys is actively pursued. Elsewhere in the Specialised Engineering Group, special purpose valves and IMI Components are doing well.
In Building Products, IMI Waterheating, a merger of Santon and Range, is having trading difficulties and a decision is made to close two factories. Similar difficulties at IMI Cash Valve (formerly A.W. Cash Valve)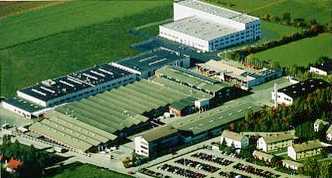 lead to a transfer of the business from Illinois to Alabama. There are also
significant site configuration changes in the French, Belgian and Hungarian operations. In September is announced the Company's biggest ever (£134m.) acquisition, that of Heimeier, the largest manufacturer of thermostatic radiator valves in Germany (whose Erwitte factory is shown above and typical product right).
Bar-Master International (bar valve dispense equipment) is added to Drinks Dispense.

1996 In February the Timet transaction is completed. In April the Company seizes an opportunity to sell its holding in Timet and thus at £105m. completes its withdrawal from titanium on better terms than might previously been envisaged. Almost the whole of the titanium interests are sold, as is IMI Computing, the subject of a management buy-out. Purchases include the American businesses of Mosier (pneumatic actuators) and ISI Automation (pneumatic components - £84m.) which are added to the Fluid Power group. A wholly new factory is commissioned in China to manufacture drinks dispense equipment and Objex Ltd. (countermount displays) is acquired. 50% of IMI's employees are now resident outside the U.K.

1997 The policy of divesting non-core businesses continues. Conax Buffalo is sold (£4.4m.) After unsuccessful attempts at disposal IMI Yorkshire Alloys is closed following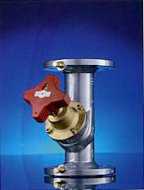 unacceptable losses. There are more acquisitions: TA Hydronics of Sweden (hydronic balancing valves - £93m. - see left) and Herion, Germany (hydraulic components - £39m.), both for Fluid Power; and Sulzer's industrial valve division, Thermtec, for Specialised Engineering. A decision is made to rationalise the global manufacturing facilities of Drinks Dispense: this will result in manufacturing units reducing from 20 to 14 and a new factory to manufacture beer coolers at Brighouse where Paxman had started to make them thirty years earlier.
The 30% stake in International Radiator Services, formed with BTR in 1984, is sold.
1998 The disposal of those businesses which have no obvious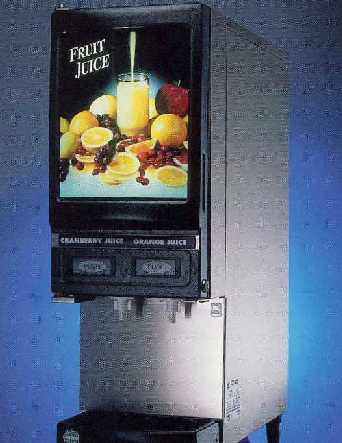 place in the Company's strategy continues: the Birmingham Mint Group (£18m.), IMI Waterheating (£20m.), IMI Pactrol (£10m.), Marston's industrial heat exchanger business (£21m.), IMI Precision Diecastings and IMI Reeves. Wilshire Corporation of Illinois (air conditioning and refrigeration - see right) is acquired for Drinks Dispense and supplements Cornelius's activities; and KIP Inc. of Connecticut (solenoid valves - £18m.) for Fluid Power. The four main areas of activity remain but as the activities become more concentrated Building Products is now known as Hydronic Controls and Specialised Engineering as Energy Controls, reflecting its increasing focus.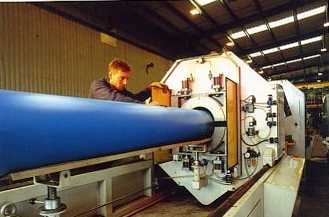 1999 A view on the increasing trend in the European building sector towards plastics and away from traditional materials leads to the purchase (£350m.) of Polypipe, a manufacturer of plastic drainage products (left). This trend also threatens other companies in the Hydronics Controls Group and all of them are operating under generally difficult trading conditions. The refining activities are badly hit by this and by new environmental regulations and the Company feels compelled to withdraw from all activities in that area apart from billet casting, a move which leads to extensive redundancies.
Drinks Dispense acquires a US company, Jet Spray, which takes the Company into hot drink dispensing for the first time and opens new areas of business opportunity. Also acquired is Melrose Displays Inc. of New Jersey (point-of-purchase displays- £4.9m.)
The last of Marston's major activities, its aerospace interests, are finally sold to a US company, Hamilton Standard, a United Technologies subsidiary (£16.6m.) and the new company is called HS Marston. Just two small activities remain: heat sinks which will later be absorbed into HS Marston and bursting discs which will become part of IMI Safety Systems. And so the Company's almost eighty year association with Marston - whose own roots in Midlands industry are even deeper than those of Kynoch and stretch back to 1740 - is severed.
Energy Controls now comprises exclusively controls companies with the exception of the Witton based nuclear components and ammunition operations.
The 2000s
An even greater concentration on what are seen as the Company's core businesses will be seen in this decade. Almost every "traditional" business will disappear and the Company will be transformed beyond recognition.
2000 A detailed review of the Company's businesses is in hand. Employees
now total 19,000 worldwide. Flow Controls Inc., USA is acquired.
2001 The Company's future strategy is revealed. Concentration will be on the business areas of Fluid Controls and Retail Dispense which provide five discrete business segments serving large, market-leading customers.
The Fluid Controls businesses operate in the area of power generation and oil and gas (Severe Service); essential pneumatic systems for automotive, medical and other outlets (Fluid Power); and energy conservation and personal comfort in buildings (Indoor Climate).
The Retail Dispense businesses service major drinks producers and retailers (Drinks Dispense); and producers and retailers of other branded items at point of display (Merchandising Systems).
The Company is moving into high value, knowledge based engineering and systems based-solutions. The cost base will be reduced and some manufacture will be outsourced or moved to low cost areas of the world including Mexico, China and Eastern Europe. 30% of existing manufacture will be affected over the next two years. Manufacturing capacity in China is doubled. Two new facilities are created in Mexico.
Various traditional businesses in the old Building Products Group have no place in this new strategy.
2002 The Copper Fittings and Copper Tube businesses are sold.
The Eley ammunition business is sold too, the activity out of which the company has grown, which has survived for almost a century and a half and to which the origins of the newer businesses can all be traced. Cartridge manufacture will move to Minworth.
Acquisitions include STI Milan and DCI Milwaukee (point-of-sale services).
The streamlining of administration costs has led to job losses and a significant reduction in people costs.
The remainder of the Witton site is sold for redevelopment but IMI's Severe Service business will stay on the site, in leased premises.
A new history of the Company is published: "A World of Engineering - The Story of IMI 1862- 2001" by Ewan Fraser and John Metcalf.

2003 Artform International Ltd., Loughborough (a point-of-sale equipment provider), Commtech, U.K., (indoor climate commissioning and servicing) and Fluid Kinetics, California (industrial silencers) are acquired.
In April the Kynoch Works site is vacated after 141 years. The new IMI Headquarters is an office block at Lakeside, on the Birmingham Business Park at Solihull and convenient for the airport.
2005 Polypipe is sold. This disposal marks the end of the portfolio repositioning announced in 2001 and the Company has now been transformed to a greater extent than at any other time in its long history. The aim is announced of raising the proportion of total production in low cost economies from the present 25% to 40%. Company turnover is now £1.3bn. The present location of the approx. 14,000 employees is as follows: UK - 2700, Europe - 5000, Americas - 5300, Asia - 1000 and Elsewhere - 100.
2006
Truflo, a US manufacturer of pumps, is acquired in April (£113m) and becomes part of the Fluid Controls Group. The Company's residual responsibility for the copper fittings business, sold in 2002, leads to its liability for a European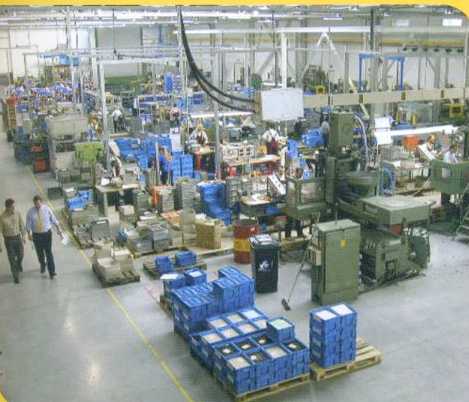 Commission fine of 48.3m. euros against which it appeals. New products include new control valve and strainer products for the natural gas and nuclear industries; a device to protect agains legionella in cooling systems; and merchandising products for Microsoft's new Zune music and digital player. The trend towards increased manufacture in lower cost economies continues. The Company's newest overseas facility, the Cornelius plant in the Ukraine, begins production this year. Major operational locations are now: Austria, China, Czech Republic (see right, Norgren's Brno plant), Germany, Italy, Japan, Mexico, South Korea, Sweden, Switzerland, UK, Ukraine and USA.
Within the Fluid Controls group, the key businesses are: CCI, Truf lo Rona and Orton (Severe Service); Norgren (Fluid Power); and TA, Heimeier and FDI (Indoor Climate). Within Retail Dispense they are: Cornelius and 3Wire (Beverage Dispense); and Cannon, DCI Marketing, Artform and Display Technologies (Merchandising Systems).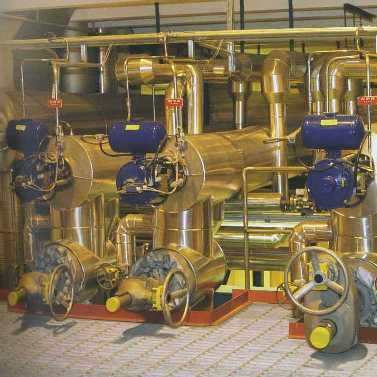 2007
The company grows by nearly 7% and achieves revenue of £1,599m. and an increase in profitability of 10%. 14700 people are directly employed throughout the world. The overall strategy - focus on leading customers in niche markets to whom bespoke and innovative solutions can be provided and whose growth the Company can share, reinforced by effective account management and after-sales service - is unchanged and continues to be pursued vigorously.
Kloehn (specialist fluid handling systems in the life science sector - £30m.) and Pneumatex (water conditioning equipment - £19m.) are acquired this year.
The trend towards the transfer of more manufacturing facilities to lower cost economies continues. The manufacturing operation for merchandising equipment in China has trebled and that for Fluid Power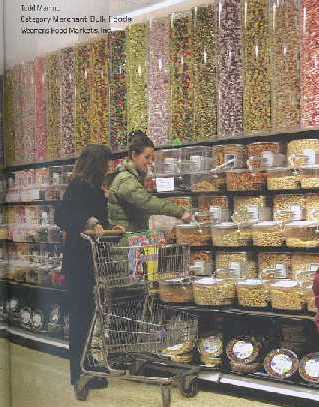 in Mexico doubled.
These are the business areas:
- Severe Service (CCI, Orton, Truflo Rona, Newman Hattersley) - £362m., 2400 people (above right)
- Fluid Power (Norgren) - £571m., 6000 people
- Indoor Climate (TA, Heimeier, FDI, Pneumatex) - £207m., 2000 people
- Beverage Dispense (Cornelius, 3Wire) - £285m., 2500 people
- Merchandising (Artform, Cannon, DCI, DT) - £174m., 1400 people (right)
Innovative new products this year include actuator and valve controls for nuclear power plants; door operating systems for Siemens high speed trains; climate control systems for Terminal 5; new, energy-efficient refrigeration equipment for drinks dispensing; a new cold beer station for Coors; and new LED lighting advances for cosmetics merchandising.
2008
The Company continues to demonstrate progress: sales are significantly increased and profits modestly so. Evidence of innovation is also apparent. Sales of new products introduced over the previous three years account for around one-seventh of turnover. Significant introductions include new wellhead gas production chokes, several new valve types for the life sciences sector, and 'Viper', a new frozen beverage dispenser. The year sees the completion of a three-year programme to transfer a greater proportion of production capacity to low cost economies. By the end of the year the global recession is starting to make itself felt generally on the Company's business and with particular effect on those parts of the Company dependent on the automotive, commercial vehicle, construction and soft drinks bottling industries.
2009
The early part of the year sees the need for significant retrenchment in the face of the downturn. The global workforce is reduced by about 17% (2600 people) and extensive short-time working introduced. Further production capacity is moved out of Europe and North America. A new Fluid Power facility is opened in Shanghai and rapid progress is made on two new Severe Service facilities, at Brno and Chennai. The current manufacturing activity in low-cost countries is likely to increase from 35% of the total to about 50% over the next 2/3 years. All these measures, together with significant investment in emerging markets and new product development, ensure a continuing healthy financial position for the Company despite all the difficulties in the marketplace. Successful new products include a new high performance differential pressure control valve for large cooling systems and district heating systems (Indoor Climate) and an integrated pneumatic system to control gas in anaesthesia ventilators (Fluid Power). The prospects for 2010 are marginally improved.
2010
Demand in many of the Company's markets has increased and the financial results indicate a strong performance. The Company's concentration is on maintaining technology leadership in the precise control of fluids in critical applications; market leadership in global niches populated by large successful customers; and high exposure to key global trends driving economic growth.
In the Severe Service valve business the new manufacturing facility in the Czech Republic opens in May and its sister facility in India is also operational; the Oil & Gas and LNG sectors are recovering strongly whilst business in the Fossil Power and Nuclear sectors are quiet; agreement is reached to create a new venture to supply control valves into the China nuclear industry.
The Fluid Power business is busy in its five key global sectors -- Commercial Vehicles, Life Sciences, Rail, Energy and Food & Beverage; manufacturing continues to be transferred to the Company's low-cost facilities in China, the Czech Republic, Brazil and Mexico.
The Indoor Climate business returns to growth; the engineering and sales resource is being expanded, especially in the emerging markets and North America.
In Beverage Dispense recovery is also continuing; the strongest markets are the Americas and China; new product development targets the higher growth water, juice, frozen drinks and smoothies markets; demand for the new more energy-efficient coolers is also growing.
In the Merchandising business some growth is also seen, especially in the automotive sector; plans are in hand to open a new "In-Vision" Centre in the USA to explain the science of merchandising to customers and demonstrate how the Company can add greater value for them.
2011
Further improvements in performance are seen, greatly assisted by the Company's market leading technology in many of its global niche markets.
The Severe Service valve business shows growth assisted by the results of the newly acquired Zimmerman & Jansen and TH Jansen; the acquisition of Remosa sPa and Grupo InterAtiva in Brazil strengthen isolation valve capabilities.
In Fluid Power manufacturing continues to be transferred to low cost sites in China, the Czech Republic and Mexico.
The Indoor Climate business currently relies significantly on refurbishment projects, reflecting the subdued new construction market in Europe; investment continues to be made in educating the market to help drive demand and some 83,000 customers attend one of the Company's seminars, especially in North America, Germany and China; a new range of balancing and control valves is being developed and centres have opened to demonstrate hydronic control involving the recruitment of 50 more hydronic sales engineers.
The strongest markets for Beverage Dispense is the Americas; several major new product development opportunities have been identified.
In Merchandising a large automotive project is completed and that sector shows signs of improvement with dealers once again investing in their showrooms; the InVision retail science laboratory is opened in Milwaukee, USA: this state-of-the-art facility enables customers to see how the Company can assist them to further their own business.
2012
There is another encouraging financial performance with a small overall growth and an improvement in operating margins. The company's strategy is to concentrate on areas where its fluid technologies can best be used in global market niches leading to a leadership position and heightened exposure to long-term trends of climate change, resource scarcity, urbanisation and an ageing population.
The logic of this strategy leads to the conclusion that the majority of the Merchandising business should be divested and options are being explored. A part of this business which offers certain synergies is transferred to the Beverage Dispense activity.
The Severe Service valve business grows especially in Fossil Power and Oil & Gas, as does Merchandising.
Fluid Power, Indoor Climate and Beverage Dispense all have a more difficult year with overall revenues flat or declining slightly but with an overall improvement in profitability.
This is a summary of the current Company activities, on the 150th anniversary of the day when a young George Kynoch trundled a shed on rollers from central Birmingham to establish his percussion cap business in the hamlet of Witton:
SEVERE SERVICE
Activity: highly engineered valves and controls, used in critical applications and extreme operating environments, enabling vital industrial and energy production processes to operate safely, cleanly and more efficiently.
Key brands: CCI, BTG, IMI Nuclear, Orton, Truflo Rona, STI, Z&J, THJ, Remosa, InterAtiva.
Main markets: fossil power; nuclear power; liquefied natural gas; iron and steel; petrochemical and refining.
Major operational locations: Belgium, Brazil, China, Czech Republic, Germany, Italy, Japan, South Korea, Sweden, Switzerland, UK and USA.
Employees: 4350
FLUID POWER
Activity: specialists in motion and fluid control technologies, both pneumatic and electric, custom engineered for critical applications requiring precision, speed and reliability.
Key brands: Norgren, FAS, Kloehn, Herion, Buschjost, Maxseal
Main markets: commercial vehicles; food and beverage; life sciences; rail; energy and industrial pneumatic applications.
Major operational locations: Brazil, China, Czech Republic, Germany, Mexico, Switzerland, UK and the USA
Employees: 5950
INDOOR CLIMATE
Activity: experts in hydronic distribution systems and room temperature control which deliver optimal and energy efficient indoor climate systems.
Key brands: TA Hydronics, Heimeier, Pneumatex, FDI
Main markets: water-based heating; cooling systems for commercial buildings; and temperature control for residential buildings.
Major operational locations: Germany, Poland, Sweden, Switzerland and USA.
Employees: 1950
BEVERAGE DISPENSE
Activity: specialists in innovative beverage cooling and dispense solutions that contribute to increased sales and lower operating costs.
Key brands:Cornelius, 3Wire .
Main markets: cooling for soft drinks; health and wellness drinks and alcoholic beverages; and dispense and point of sale equipment for bars, restaurants and retail outlets.
Major operational locations: China, Germany, Mexico, UK and the USA.
Employees: 2250
MERCHANDISING
Activity: specialists in bespoke a permanent point of sale merchandising solutions and technologies which improve retailer and brand owner profitability by driving impulse purchase.
Key brands: Artform, Cannon Equipment, DCI Marketing, Display Technologies..
Main markets: global brand owners and retail sales outlets.
Major operational locations: UK and USA.
Employees: 850

2013
A reshaping of the business takes place. The Beverage Dispense and Merchandising divisions are disposed of (to the Marmion Group for £690m; and £620m is returned to shareholders). The Company is now a specialist flow control business, focused entirely on industrial end markets. Martin Lamb, Chief Executive for 13 years, retires; in that period the Company has transformed itself into a leading specialist engineering business. The new Chief Executive initiates a major review of the Company's markets, capabilities, scope for improved Group coordination and possibilities for future investment.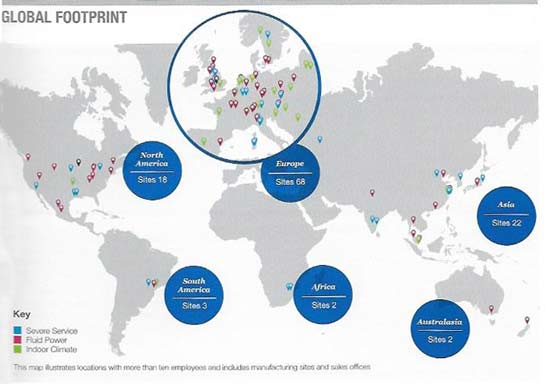 The Company now operates as three divisions: Severe Service; Fluid Power; and Indoor Climate. The key brands, main markets and major operational locations remain essentially as in 2012. (Those for the Beverage Dispense and Merchandising divisions have disappeared from the Company's portfolio). This is the Company's current Global Footprint showing 93 different sites (right).

Revenue for the Company is now £1743m (+3% over last year) and profit before tax £297.7m (+8%).

2014
The review of activities identifies the need for greater investment in product development; better Company-wide collaboration and coordination (IT systems and facilities); improved organisational structure; greater concentration on those existing markets where the greatest potential for growth and profit exists; and an expansion, via acquisition, of addressable markets.

The Company's three divisions are now known as:
- IMI Critical Engineering (previously Severe Service), comprising 14 companies operating in 12 countries.
- IMI Precision Engineering (previously Fluid Power), comprising 5 companies with manufacturing facilities in 8 countries and a presence in 75.
- IMI Hydronic Engineering (previously Indoor Climate), comprising 4 companies manufacturing in 6 countries

In the course of the year the IMI Components manufacturing site in Birmingham is closed following a drop in demand in the nuclear fuel enrichment market; and the Eley businesses are sold for £42m. Bopp & Reuther, the German power generation valve specialist, is acquired for £153m. and becomes part of the Critical Engineering Division.

Revenue for 2014 is £1686m and profit £278.1m.
One of Critical Engineering's impressive products: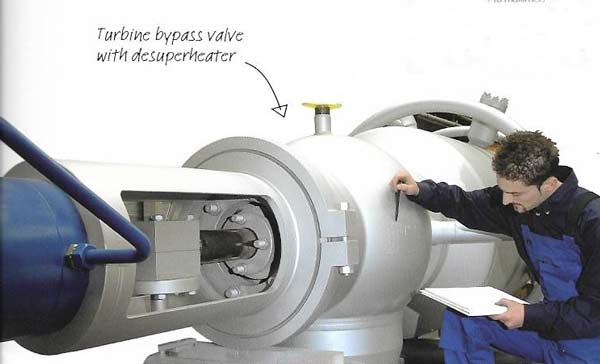 2015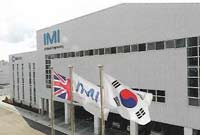 Worldwide economic conditions are difficult, with special problems in China and Brazil. This affects the Company's activities and performance. Some contraction of manufacturing capacity is made, although Critical Engineering complete three larger manufacturing sites in Houston, Italy and Korea (the latter for IMI CCI at a cost of £8m and pictured left). Company revenue for the year is £1557m. (-5%) and profit £218.7m. (-21%).

New data management, project management and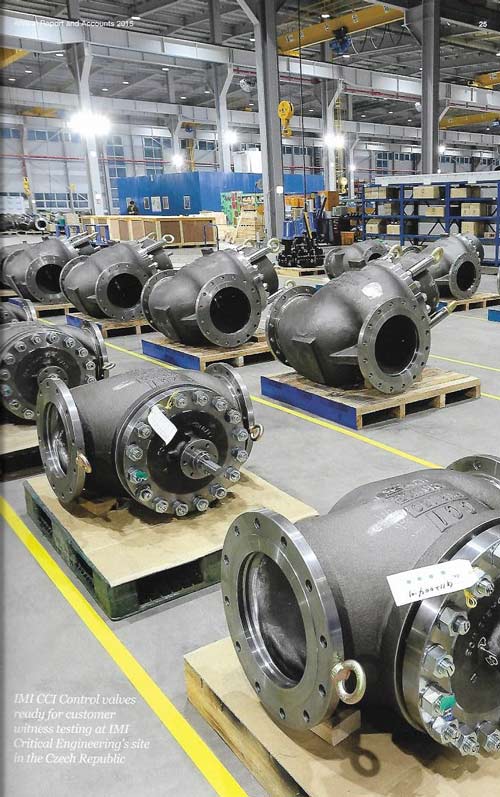 quality systems are being introduced throughout the divisions. This is an ongoing plan and will continue for a long period, across all the sites. R&D expenditure is increasing, currently 3% of revenue with the target of 5% by 2017. Critical Engineering have successfully integrated Bopp & Reuther into their activities. New products are introduced, especially in Hydronic Engineering where some 29 have appeared since 2014. They include "Eclipse", a next-generation automatic thermostatic radiator valve which sells 500,000 units in the first five months after introduction, compared with 100,000 by its predecessor throughout its entire product life. Precision Engineering are working on a new Industrial Automation product range to be introduced in late 2016.

IMI Scott and IMI Z&J South Africa are disposed of as non-core businesses.

Here (right) is a batch of IMI CCI control valves at C.E.'s site in the Czech Republic.


2016
Market conditions remain tough but results are in accordance with expectations: revenue £1649m. (-5%) and profit £208m. (-5%). Because of these market difficulties, eight, lower growth and higher cost Critical Engineering sites have been sold or closed and othercost-cutting measures have been adopted throughout the Company. In C.E a loss-making Italian service business is sold. However, confidence in the plans to develop the business remains strong.

This is a summary of the market sectors in which the three divisions are active and the products supplied:

CRITICAL ENGINEERING:
Power Generation (turbine bypass valves); Oil and Gas (anti-surge valve and actuator systems for LNG compression facilities); Petrochemical (integrated flow control systems in Fluid Catalytic Cracking, bespoke valves for ethylene, polypropylene and delayed coking production processes); Actuation (complete actuation systems to operate industrial valves for demanding applications and processes).

PRECISION ENGINEERING: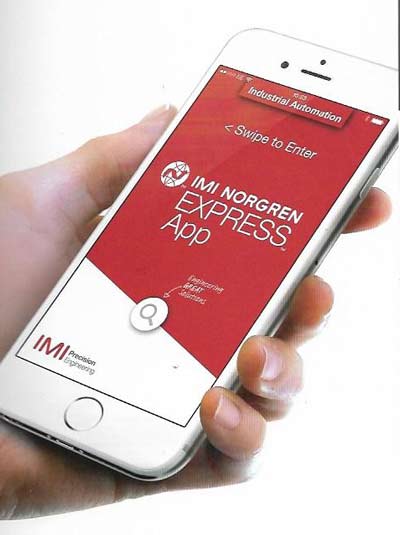 Industrial Automation (high performance valves, valve islands, proportional and pressure monitoring controls, air preparation products and pneumatic actuators); Commercial Vehicle (chassis and powertrain solutions which deliver fuel efficiency, emissions reduction and faster assembly times for commercial vehicle manufacturers); Oil and Gas (harsh environment precision control products including stainless steel valves and regulators, nuclear class valves and emergency shutdown controls); Life Sciences (precision flow control solutions used in medical devices, diagnostic equipment and biotech and analytical instruments).
Precision Engineering's customers now only have to use an App if they need a repacement part in a hurry, whether it's to repace an IMI part or a competitor's. Scan the part no. or photograph the item and up will come ordering details (above left).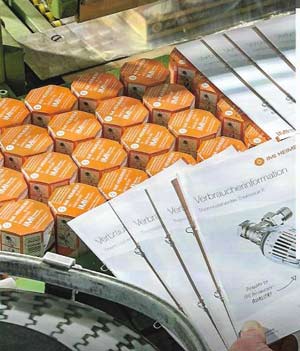 HYDRONIC ENGINEERING:
Balancing and Control (balancing and control systems to keep comfort in buildings at the right level and to increase efficiency levels); Thermostatic Control (thermostatic control systems guaranteeing direct or automatic control of radiators and underfloor heating systems); Pressurisation (range of pressure maintenance systems with compressors or pumps and expansion vessels to maintain the correct pressure in heating, cooling and solar systems); Water Quality (dirt and air separators and pressure-step degassers to protect hydronic systems by keeping water free of micro-bubbles and sludge).

2017
The Company now employs some 10647 people in over 50 countries, distributed as follows: U.K. 1265; Continental Europe 5872; Americas 2100; Asia Pacific 1193; and Rest of the World 27. Some 160 subsidiary undertakings/Companies are listed in the Annual Report. This is a view of the Company's new Korean facility: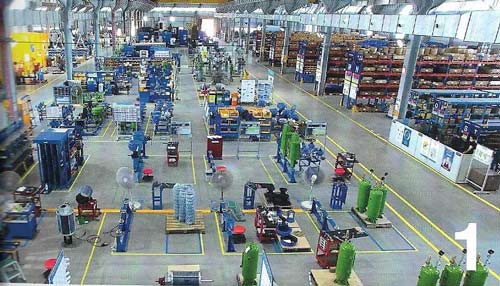 Reflecting the international nature of IMI's business, the nationality of the Board of Directors is currently British (3); American and American/British (2), Australian (1); German (1); and Danish (1). The Chairman is Lord Smith of Kelvin and the Chief Executive, Mark Selway.

Trading conditions in the last year have been mixed: Precision Engineering's markets grow strongly, the Automation and Commercial vehicle markets strengthen, the European construction markets are slightly stronger and in North America and China construction markets continue to grow; to offset these movements, the Power Generation sector suffers from lower investment and the energy market continues to be soft. Meanwhile the Oil and Gas market starts to stabilise. These somewhat improved conditions and also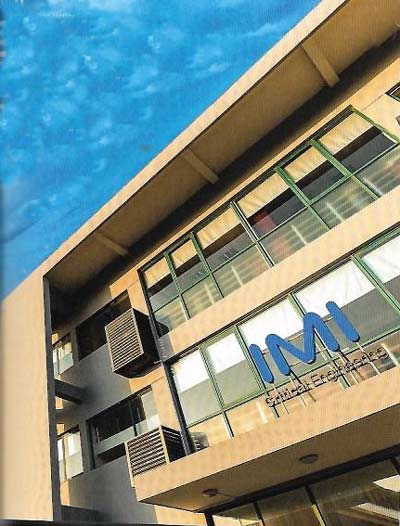 continuing efficiency improvements (including new IT systems throughout the organisation and the closure of 12 Critical Engineering higher-cost sites) lead to an improved financial outcome: revenue £1751m. (+6%) and profit £224m (+8%).

Many new products are introduced (including 13 in Hydronic Engineering) and ambitious product development strategies are being pursued in each of the three divisions. The Company acquires Bimba Manufacturing, a market leading supplier of pneumatic, hydraulic and electric motion products to the North American Industrial Automation market, at a cost of £138m.; it is based in Illinois. The sale of the loss-making UK fasteners business, Stainless Steel Fasteners, is announced. A new Critical Engineering facility is opened in Qinpu, China (right).

2018
As the Company enters the final year of its Development Plan initiated in 2013, its financial results show continuing improvement: revenue £1907m. (+5%), profit £251m. (+12%). Trading conditions nevertheless continue to be mixed, with, in particular, a decline in the Fossil Power and Energy markets. UK sales now amount to less than 5% of total revenue but nevertheless the Company has felt it necessary to develop a number of Brexit-related contingency plans to offset future problems; these include increased inventories. The Company is actively and successfully managing its pension liabilities.

Bimba is being successfully integrated into Precision Engineering's North American operations and it is expected that the introduction of various improvements in operation and systems will lead to improvements in sales and profit. In the same division the Indian operation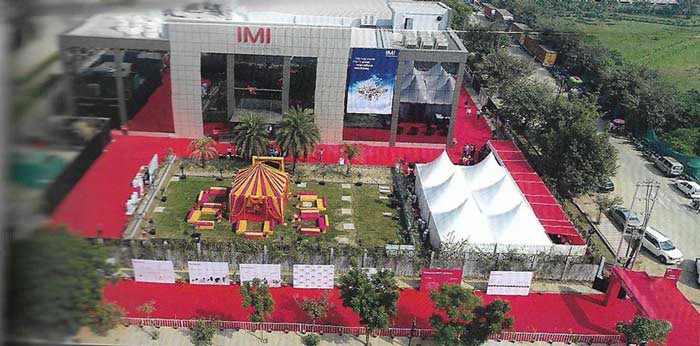 has been relocated into a new and larger facility in New Delhi, thus expanding its low-cost, world-class manufacturing and engineering capability and enhancing the Company's ability to serve its rapidly expanding market across Asia. It is located in Noida, near New Delhi (right). On the other hand Critical Engineering have had to undertake several plant closures, now successfully completed.

New products continue to be introduced across the entire Group. In Hydronic Engineering new product launches continue apace and sales of recently introduced products now amount to 22% of total sales in that division. This is the new electric actuator developed by IMI Norgren which will be launched in 2019.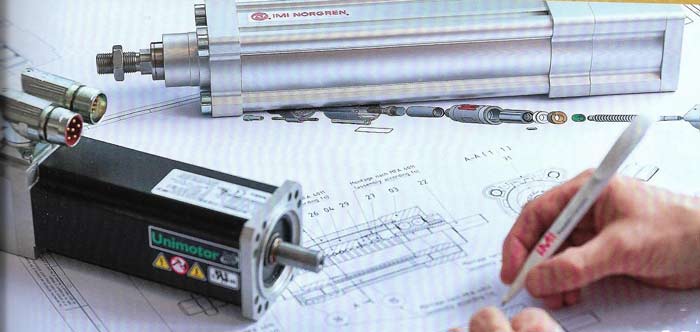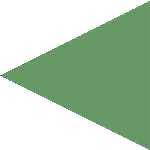 Text © staffshomeguard.co.uk 2007-2019
Images © IMI plc 2002-2019
v2.5 - 16th May 2019