HOME GUARD MEMORIES AND INFORMATION - WARWICKSHIRE, BIRMINGHAM
THE BIRMINGHAM HOME GUARD
THREE BIRMINGHAM HOME GUARDS
This is a page within the www.staffshomeguard.co.uk website. To see full contents, go to SITE MAP.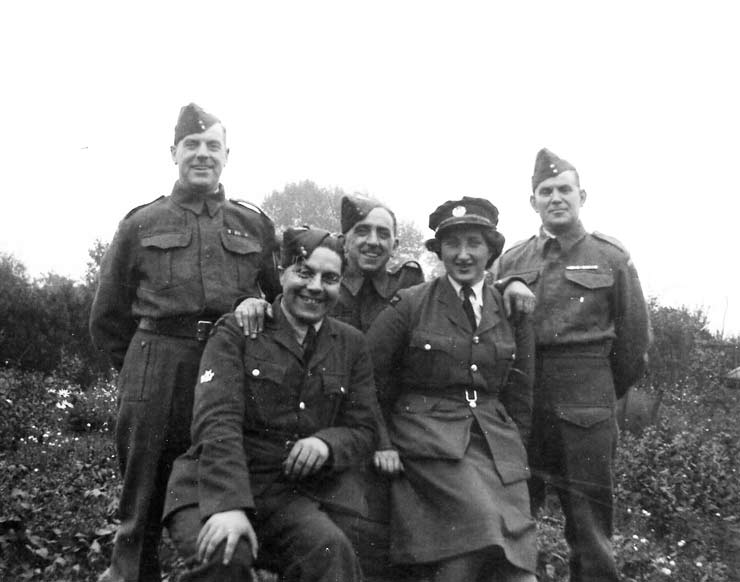 THREE BIRMINGHAM HOME GUARDS had much in common:
They were all born in the last years of the 19th century: they all worked initially on the railways - probably the L.N.W.R.; they all served in the Great War and survived it; they were all members of the same extended family - half-brothers or brothers-in-law, in fact; they were always the closest of friends - "as thick as thieves and never apart much, a mini band of brothers, so to speak"; and they all became members of the Birmingham Home Guard in the country's later hour of need.
The three Birmingham Home Guards were:
- Frank Herbert Carter - 37th Warwickshire (Birmingham) Battalion
- Mark Feeney - 33rd Warwickshire (Birmingham) Battalion
- Arthur James Taylor - 40th Warwickshire (Birmingham) Battalion
(Mark, Arthur and Frank at the rear of the above photograph)
With the help of David Wakefield of Little Bromwich, who is related to all three and has generously provided the following information, we are able to commemorate each of them on this page:
Frank Carter - Mark Feeney - Arthur Taylor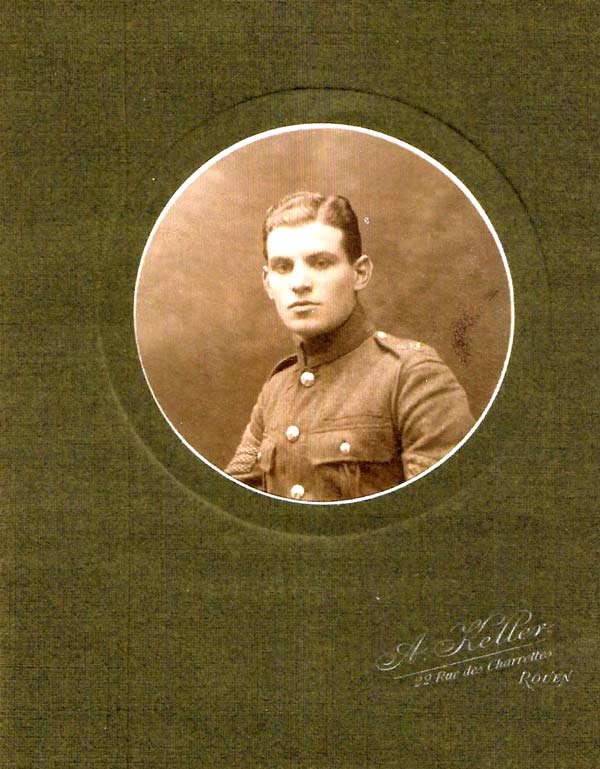 FRANK HERBERT CARTER
(1895-1968)
EARLIEST LIFE
Frank Herbert Carter was born on November 9th 1895 in Deritend, Aston to William (a coal carter) and Elizabeth Carter of 274 Lawley Street, Aston.
(Elizabeth Carter was previously Elizabeth Feeney, wife of John Feeney (ca.1854-1893) and mother of Mark Feeney (b.1889 - see below). Frank Carter and Mark Feeney were thus half-brothers. Elizabeth had suffered not only the loss of her first husband but also that of two children, siblings of Mark, over a six month period in 1893).
After leaving school Frank worked on the railways. He was of a good stature, 5' 10" tall with blue eyes and light brown hair.
THE GREAT WAR
Frank Carter enlisted in 1915 in Birmingham and saw service as a Private in the Army Service Corps and later as a Serjeant in the Machine Gun Corps.
The following image shows him in a group of Machine Gun Corps comrades.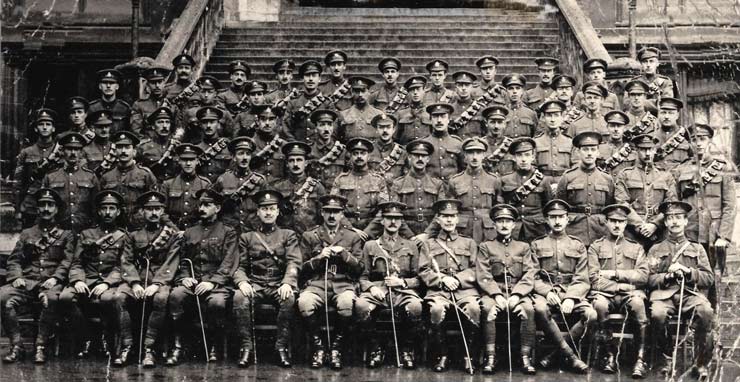 Frank Carter is fourth from the left, fourth row back (i.e. between nos. 2 and 3 from the left in the back row).
FRANCE 1919 - 1940
At the end of his Great War service, Frank's life took a remarkable turn in a small town on the southern outskirts of Rouen, Amfreville-la-Mi-Voie.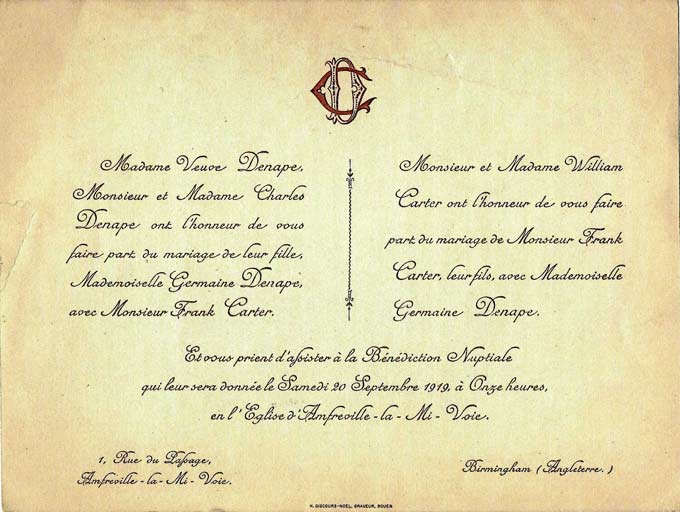 Translation
| | |
| --- | --- |
| Madame Denape (widow), Monsieur and Madame Charles Denape have the honour of inviting you to the marriage of their daughter, Mademoiselle Germaine Denape, to Monsieur Frank Carter. | Monsieur and Madame William Carter have the honour of inviting you to the marriage of Monsieur Frank Carter, their son, to Mademoiselle Germaine Denape. |
And ask you to be present at the nuptial blessing which will be given to them on Saturday 20 September 1919 at 11 o'clock in Amfreville-la-Mi-Voie Church.
| | |
| --- | --- |
| 1 Rue du Passage, Amfreville-la-Mi-Voie | Birmingham, (England) |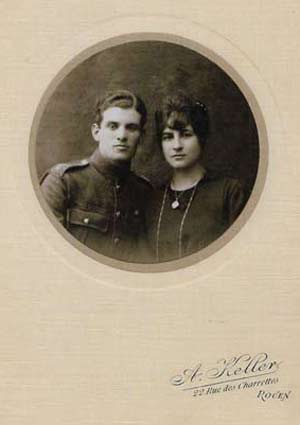 This is Frank with his bride, Mlle. Germaine Denape.
The couple made their home in France with Frank employed in some sort of clerical capacity. In 1920, a son was born, named William. We can only assume that life proceeded in a satisfactory and normal manner for the next almost twenty years. But the threat of war grew from the mid-thirties onwards and it is perhaps significant that Frank acquired a new passport from the British Consul in Rouen on 3rd August 1939. He was of course still a British citizen but the protection of that document may not have extended to his wife and son. We have to assume that Germaine and William had their own travel documentation but, at that point, war had not broken out and, anyway, the possibility of France being overrun must have seemed unthinkable.
Ten months later, however, the impossible was happening. The German Army had penetrated into vast areas of France since their invasion of 10th May, the British had completed the withdrawal of the British Expeditionary Force and several French divisions from Dunkirk on 4th June and the remaining 60 French divisions, with the support of two British, were being forced inexorably westwards. Paris was occupied on 14th June. It was clearly just a matter of time until defeat was total.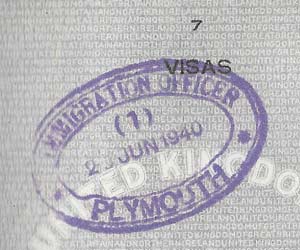 It seems that Frank left it as late as he could possibly could. His intention was to flee, with his wife and son. But something went wrong - and that has to be hardly surprising in the midst of all that panic and confusion - and we find Frank, alone and with just one suitcase and a few photographs and documents, arriving at Plymouth with other refugees on 28th June (here is the Immigration Officer's stamp - see right). The ship is the Baron Nairn which is shown in this newspaper cutting from The Birmingham Mail or Post of Wednesday, 3rd July 1940. Frank must have reached Birmingham by then.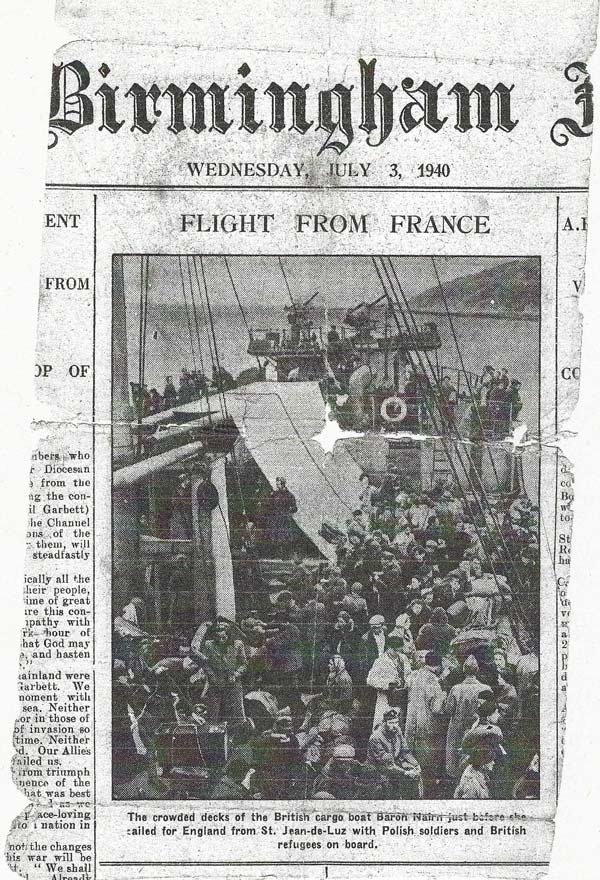 The above cutting and the following image show the ship which took Frank back home, the cargo boat Baron Nairn.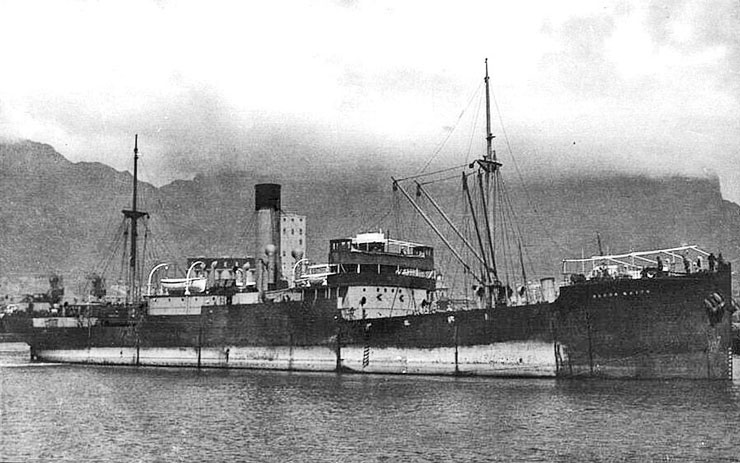 The caption states that the ship had departed from Saint-Jean-de-Luz. This is a port on the southern coast of the Bay of Biscay. We believe Frank was living in Rouen in 1940 ; and therefore he must have travelled to the south-west where he caught the boat. Whether Germaine and William were with him or not on this journey to the coast and safety, is not known - but William was twenty by then and could even have been a soldier. The Baron Nairn left the port on Thursday 25th June and headed for Falmouth at a speed of 8 knots. 1200 Polish troops and a number of other refugees were aboard, including Frank. It was escorted by HMS Wren. In the course of the voyage the destination changed: Wren was instructed at 10.12 on the Saturday night to detach Baron Nairn from its convoy and the ship eventually reached Plymouth at 07.35 on the morning of Sunday 28th June, three days after having set off. It was the last significant ship to reach that port.
OPERATION AERIAL
Frank's voyage was part of Operation Aerial, initiated on 15th June 1940 to repatriate the remaining men of the B.E.F. and British civilians from France as the German Army penetrated ever deeper into the country. It was a huge operation and many ships and several ports were involved. The records give hints about the desperate, probably chaotic circumstances. For example:

Monday 17th June
"HIGHLANDER signalled (1603/17) that LANCASTRIA was hit and sinking....." (Official record).
(This was the biggest disaster in British maritime history and occurred in the Loire estuary. The ship was crammed with troops. News of the incident was suppressed. Casualties remain unknown to this day but are estimated to have been between 3000 and 6500).

Wednesday 24th June
"C.S.2. reported (2144) re C. in C.'s 2356/22., refusing permission to embark wives and families, causing difficulties and heartrending scenes. S.N.O. asking if he can promise embarkation after priority commitments fulfilled. Impossible to be sure of identity". (Official record)
Thursday 25th June
Sailed from St. Jean de Luz (1430) KELSO, BARON KINNARD with 2000 troops for Liverpool. BARON NAIRN with British refugees and 1200 Polish troops for Falmouth escorted by WREN at 8 knots. L/L Trawlers BERVIE BRAES and ST. MELANTE sailed for Plymouth (1510). C.S.2. reported (1525) sailed for Falmouth (1345) empty transports CYCLOPS, KERMA, CLAN ROSS, GLENAFFRIC, BELGRAVIAN, BECKENHAM, escorted by MACKAY and VIVA II at 8 knots. C-in-C informed Admiralty (1721) that it was intended to release merchant ships reserved for "Aerial" as no further requirement could be foreseen" (Official record).
"Embarkation continued throughout the 24th, although it was greatly hindered owing to the heavy swell in the bay; and just after midnight a message was received from the S.N.O. ashore (Captain Allen) to the effect that the terms of the armistice required all evacuation of troops to cease after 1200 on June 25th. A convoy of six empty ships was sailed for England at 1345 on the 25th, followed within the hour by the last three loaded ships, all being escorted. Captain Allen and the beach parties embarked in the Canadian destroyer FRASER and all the remaining ships sailed at 1530". (Naval Staff History Second World War).
At 22.15 that day, HMCS Fraser was accidentally rammed by a cargo ship, CALCUTTA, and cut in half. There were significant casualties.
HMS Wren became the victim of dive bombers off the Suffolk coast, a year later. And the fate of the Baron Nairn, a ship of 3164 tons, was to be torpedoed on Sunday 8th June 1941 by U-108. Of its 40 crew, one was lost (out of a total of 52 British Merchant Navy men on that single day), 18 were picked up by a Canadian corvette, and the remaining 21, including the Master, John Kerr, survived for 19 days in a lifeboat before being rescued).
And so Frank survived all these dangers and eventually stepped ashore in Plymouth - alone. (Is any part of the official record significant in indicating why Germaine and William were absent?) Amongst the few photographs he brought with him were the portraits above. And also a glimpse of his life in the 1930s: a visit, perhaps, to the battlefields where he had fought and one of the cemetries: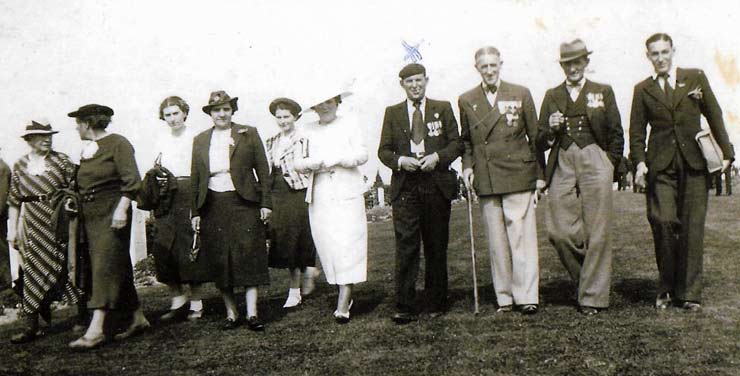 Frank is standing next to Germaine (with her remarkable hat), fourth from the right, in beret, sporting a row of medals and, perhaps, a Gauloise.
And again on the same sunny 1930s day: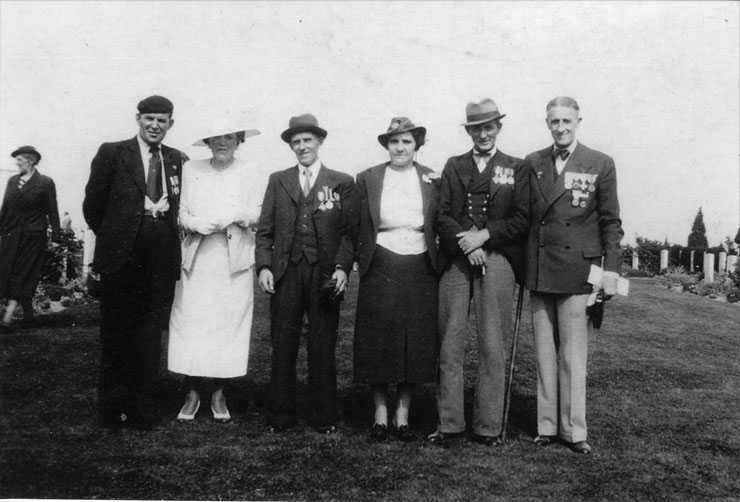 There is evidence that Frank returned to England occasionally during the 1920s and 1930s, perhaps for family visits and military reunions.
The events of June 1940 were of course a family tragedy. It appears that the intention had been for his family to escape with him but, for one reason or another, this had not been possible. There was never further contact with Germaine or William of any sort. She is known to have survived the war but sought the support of a Frenchman to do so, and that was the end of the marriage. There was some contact with members of her family in the late 1950s and early 1960s but that lapsed shortly afterwards. And never any contact with Germaine and William.
ENGLAND, WW2 AND LATER

Only the barest outline survives of Frank's Home Guard service, with less documentation than that covering his earlier life.

He volunteered on 25th September 1941 and joined the 37th Warwickshire (Birmingham) Battalion. This Battalion's area of responsibility was the Small Heath part of Birmingham. It is reasonably well documented within this website - go to this page: Birmingham, Small Heath for a summary of contents. Frank has not so far been identified in any of the images but they show many of the men who would have been his comrades.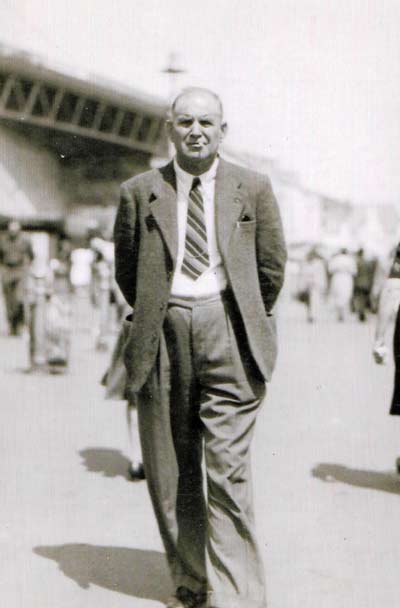 He later transferred to 103 Warwickshire Home Guard AA Rocket Battery under the command of Maj. G.E.G Assinder which was located at Stechford. (Information about this fearsome weaponry - the "Z-Battery" - is available elsewhere within this website. Use the site Search function to find it). Frank would have either volunteered or "been volunteered" for these different duties: in late 1942 and early 1943 a large number of Home Guards in or near heavily populated areas transferred from their normal infantry role to man various types of anti-aircraft units in their area. Frank was clearly one of them. Another of the 37th Battn. men was Bert Webb, but he joined another Birmingham Rocket Battery, the 107th at Billesley Common. This transfer policy released regular Royal Artillery men for other duties in the build up to D-Day.


Frank continued to serve until the Home Guard stand-down at the beginning of December 1944.
The image (right) is of him during the postwar years.
Whilst there was never any contact with Germaine and William after June 1940, a later image of them exists in the family archive, almost certainly provided by those members of her family who visited England in the 1950s/60s.

This was taken somewhere in France in 1946 and proves their survival despite all the risks of war and occupation which threatened them between 1940 and 1944.

Frank must have seen this image. One can only guess at the emotions to which it gave rise.

In 1955 Frank Carter

was living with his half-brother, Mark Feeney, at 84 Treaford Lane, Alum Rock and may well have originally sought refuge there on his return from France in 1940. He was a Progress Clerk. Frank died in Birmingham on 24th July 1968 at the age of 72.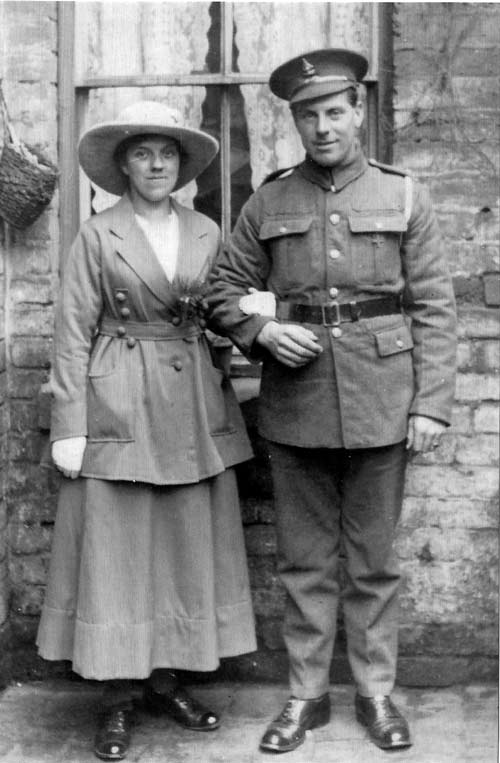 MARK FEENEY (1889-1958)
Mark Feeney was born at 274 Lawley Street, Small Heath on 4th August 1889 to William and Elizabeth. (William was Elizabeth's second husband, her first, John Carter having died in 1893. See the Frank Carter section above).
As an adult he was 5' 8½", with fair hair and blue eyes. Like other members of his family he worked on the railways before the Great War (being described as a Railway Carman). He married Edith Rose Doyle (sister of Eva Elizabeth Doyle, Arthur Taylor's wife, both girls being the daughters of a Railway Guard, Walter Doyle, 1860-1901) in October 1917, not long after having joined up, and they had a son, Dennis Mark Feeney, (1920-1980 - see below). Dennis served in the RAF between July 1940 and April 1944 (see below).
Mark served as an Able Seaman in the Anson Battalion, Royal Naval Division from July 1917 to 16th April 1919. He landed in France on 8th November 1917 as a member of 7th Entrenching Battalion RND, being detached to 1st Royal Marine Light Infantry on 14th March 1918. The following month he was admitted to hospital with boils and then again, on 9th November, with a chest injury, finally being released from the last of a succession of hospitals on 10th February 1919. After demobilisation he returned to work on the railways, almost certainly with the L.M.S.
On 11th July 1941 he volunteered for the Home Guard. At that time he was living at 84 Treaford Lane, Alum Rock, just two doors away from his brother-in-law, Arthur Taylor. He became a member of the 33rd Warwickshire (Birmingham) Battalion and the records suggest that he served at the Saltley Depot. The 33rd Warwickshire was one of those battalions which did not have a specific geographical area to defend, like most of the others, but was made up entirely of L.M.S. employees and was charged with responsibility for all that Company's facilities throughout the city - track, bridges, workshops, engine sheds, sidings etc., etc. Its HQ was in Edgbaston but individual units would of course have had their base wherever their main focus of activity was – usually adjacent to the members' place of work.
Mark was promoted Corporal on 6th October 1943 and Sergeant on 11th April 1944. He was obviously well regarded, as confirmed by this Certificate of Commendation (which shows his previous rank) issued on 15th June 1944.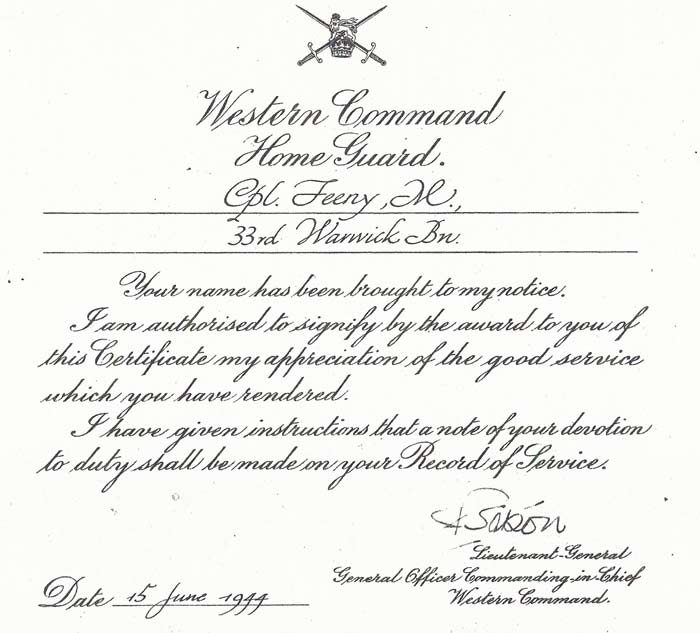 Two group images of Mark and his 33rd Warwickshire Battalion comrades survive: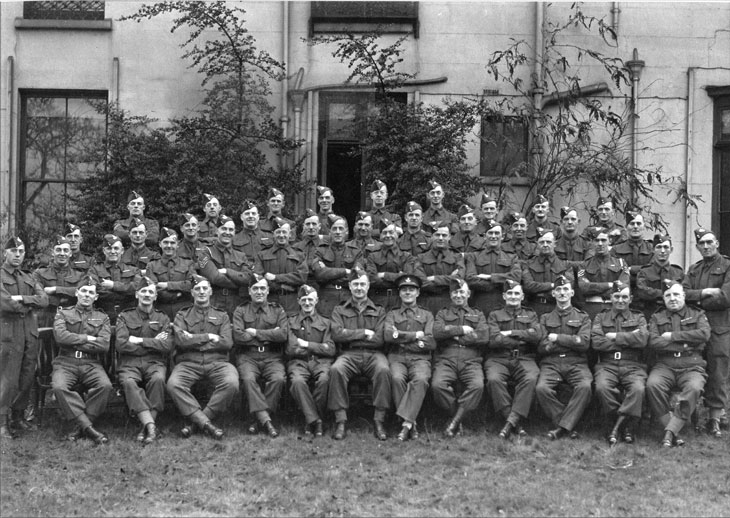 Mark Feeney is third from the left in the (nearly) back row, standing slightly in front of his comrades.
Click on image for higher definition version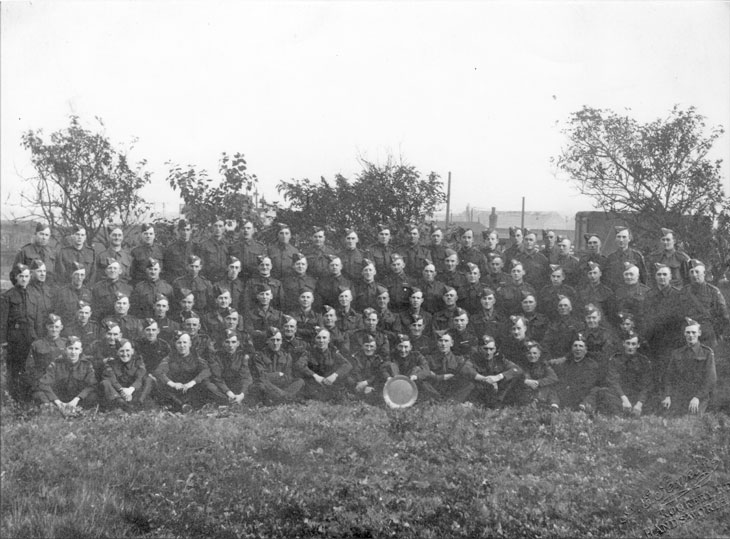 Mark is fourth from the left, back row.
Click on image for higher definition version
There were clearly light-hearted moments during this long period of service. Here he is with his comrades (from left to right at the rear: Mark, Arthur, Frank), his son, Dennis and Dennis's then fiancée, Kathleen Devlin, a WAAF from Ballymena. (Kathleen was not to become one of the three wives whom Dennis acquired during his lifetime).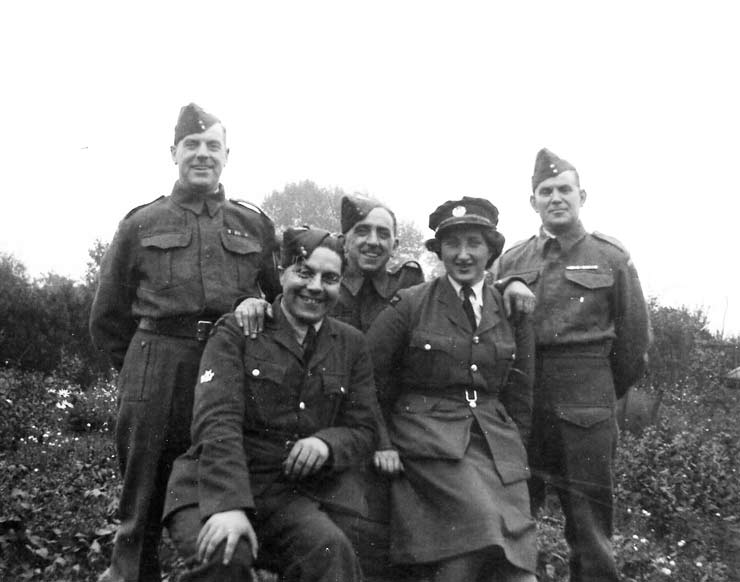 And on the same occasion, another jolly moment (below) ....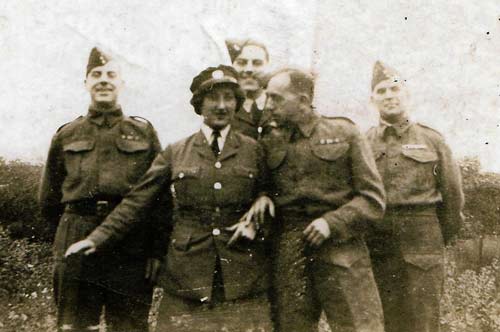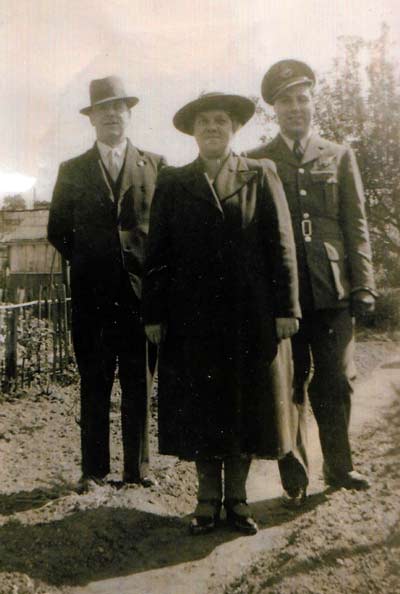 A further, perhaps later wartime image (right) shows Mark in civilian clothes with his wife and son, Dennis, who is in RAF officer's uniform and by that stage sporting aircrew insignia, that of an Observer.


Just as Mark was photographed in uniform by the side of his wife in October 1917, here he is again (below), perhaps in 1943 or 1944, back in uniform, but now that of the Home Guard - Edith still his constant support.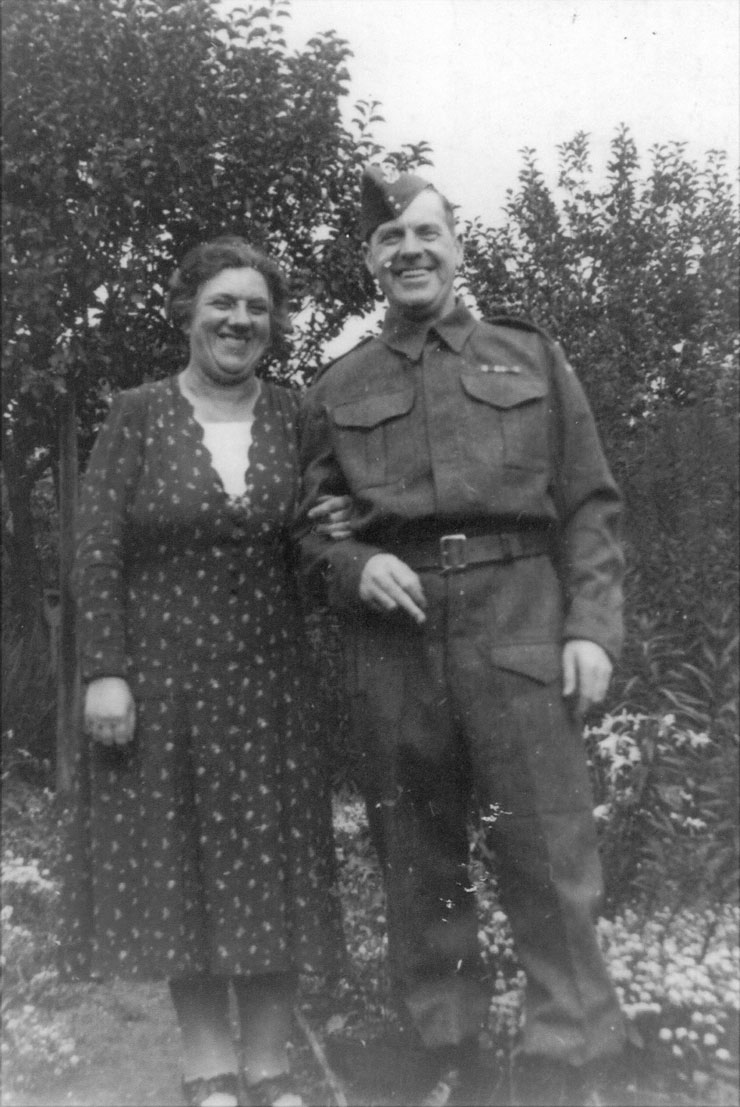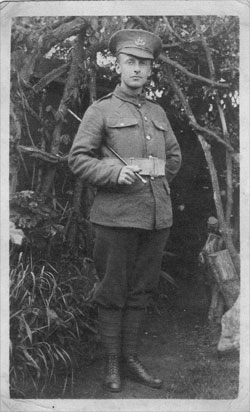 Mark served right through to stand-down in December 1944 before being formally discharged, like all Home Guards, on 31st December 1945.
He continued to live in Treaford Lane and in 1955 the crowded household comprised Mark, Edith, Dennis, Mollie Feeney (Dennis's second wife whom he married in 1950), Elsie Doyle (1893-1965 - Edith's sister who had lost a sweetheart: Sydney Walter Dawes (right) of 154 Adderly Road, Saltley, born in 1896, and as a member of the 1st/8th Warwickshire Regiment killed on the Somme on 27th August 1916 and later commemorated on the Thiepval Memorial; like so many of her generation she never married), and Frank Carter (Mark's half-brother who may well have sought refuge with the family fifteen years earlier after his flight from France).



Mark Feeney continued to work on the railways for the rest of his life, latterly as a porter. He died in Birmingham on 5th December 1958 of Coronary Heart Failure at the age of 69.






He is seen during the war years

(above) with his niece, Sheila Mary Taylor, Arthur Taylor's daughter....and (right) in later life.



In civilian life Dennis was in his earlier days a professional singer. He eventually became an engineering manager at the Cincinnati machine tool factory in Kingsbury Road, Erdington and in his spare time was active in amateur dramatics and choral societies.
He died in 1980.

DENNIS FEENEY (1920-1980)
Mark Feeney's son, Dennis, served in the RAF from 18th July 1940 for almost four years. After induction at Padgate he served in 919 Squadron and was then recommended for aircrew training on 2nd January 1942. He subsequently trained as an Observer in Canada at RCAF Mountain View in mid-1943 (and it was during this time in Canada that he acquired one of his fiancées). During the latter period he had some sort of accident which led to a long-lasting knee injury (described as a 30% disability) and his being deemed unfit for aircrew service. This prevented him from undertaking operational duties. He was formally discharged on 20th April 1944.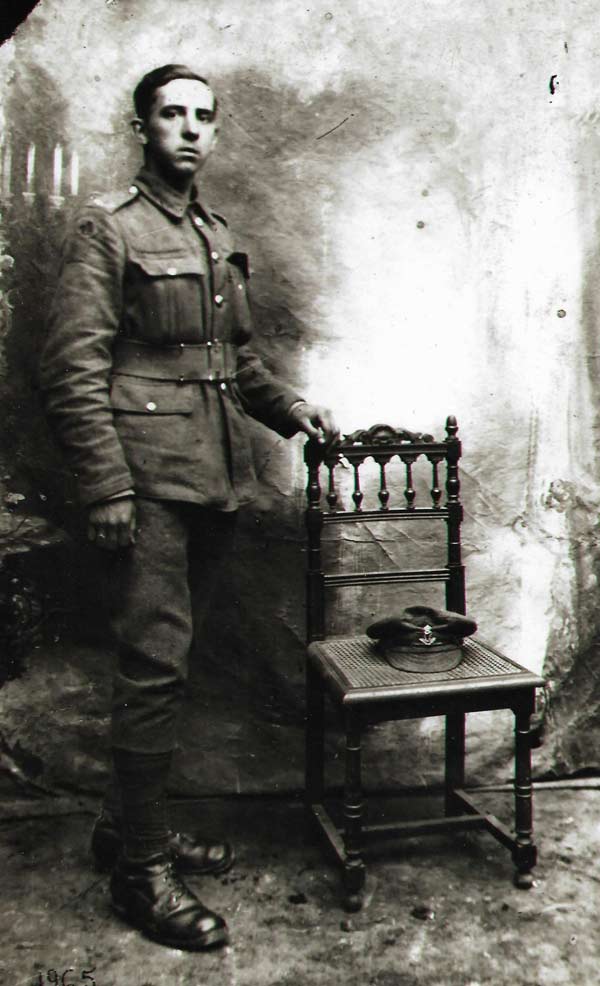 ARTHUR JAMES TAYLOR (1898-1955)
Arthur Taylor was born on 26th April 1898 in Birmingham. Like his two relatives, Frank Carter and Mark Feeney, he worked on the railways before enlisting in the Army in 1916.
Arthur served in the Great War as a Private, first in the 8th Battalion Royal Inniskilling Fusiliers and later in the 2nd Battalion Royal Irish Regiment. He was in France in 1918 where he took part in the third Battle of Ypres and then Loos, Peronne and Cambrai where he was wounded in October.
After being invalided home he spent further time in hospital in Scotland. His service was almost three years, from May 1916 to February 1919. He was wounded in his elbow which left him with a permanent disability. This injury (officially designated "GSW right elbow with ankylosis" - although elsewhere as left) entitled him to an allowance, from 12th March 1919 and calculated at a disability level of 40%, of 16/- (£0.80) per week for life. No mention is made of his exposure to gas and the lasting effects of that experience which would shorten his life. At that time he was living at 47 Barwell Road, Small Heath. Later the family home became 78 Treaford Lane, Alum Rock which would remain so into the second decade of the 21st century.
Here he is at some time during his Army service, photographed, possibly at around the end of the War or later, in a Taylor family group with his parents and siblings. His younger brother, Albert, is wearing some type of cadet uniform.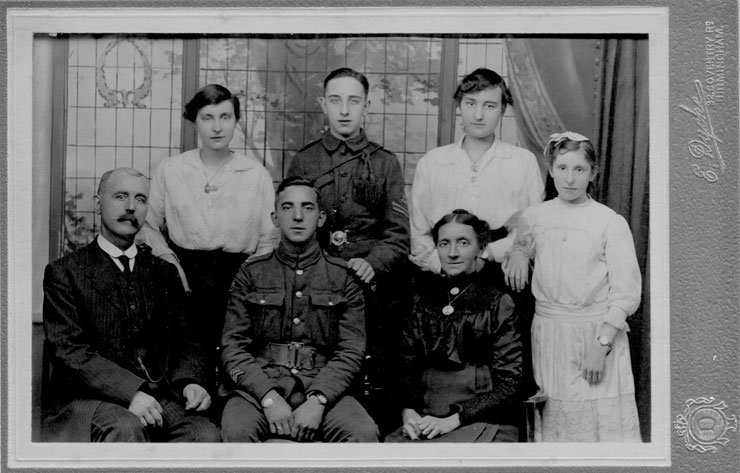 Back row (l/r): Florence Lucy (1893-1982) - Albert John (1904-1969) - Ellen Jane (1896-1985)

Front row (l/r): Arthur Taylor (sen., 1866-1940) - Arthur James Taylor (1898-1955) - Florence Annie Taylor (1864-1922) - Ethel May (1905-1990)
In 1926 Arthur married Eva Elizabeth Doyle (1898-1985 and sister of Edith Rose Doyle, Mark Feeney's wife) and they had two children: Betty Eileen (1930-1934) and Sheila Mary (b. 1935). His war service injury had prevented him from returning to his old job on the railways and he worked at that time as a Flour Storeman at the Birmingham Cooperative Society Bakeries in Manor Road, Stechford.


Arthur enlisted in the Home Guard at an early date, 26th July 1940 and joined the 20th Birmingham (Factory) Battalion. That period of service did not last long, however: he resigned on 10th September 1940, regarding himself as medically unfit to discharge his duties due to previous war service injury. Whether the main factor was his injured elbow or his respiratory problems, is unclear. This is his enrolment form.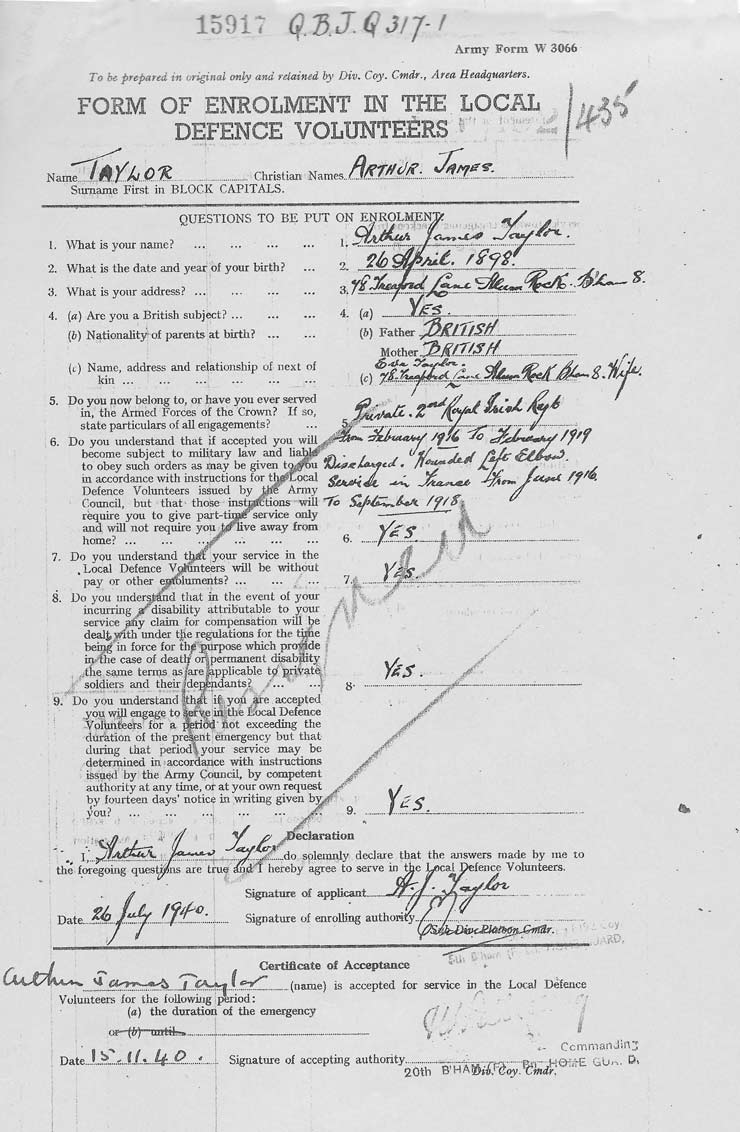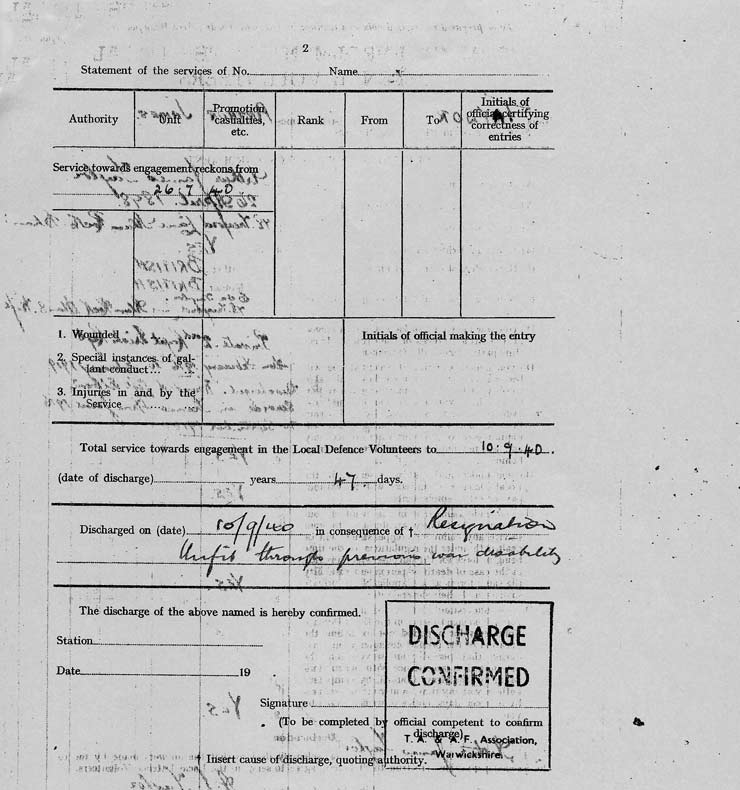 Something changed later, however. Almost one year after his resignation he volunteered again, into the 40th Warwickshire (Birmingham) Battalion. He was given a Lance Corporal's stripe on 16th August 1943 and then served right through to December 1944. (The 40th Warwickshire was based at Perry Barr. Again, there is information about this Battalion in this website, summarised under Birmingham, Perry Barr).
A superb image survives of Arthur Taylor's Platoon, on some exercise in a bombed area of the city - perhaps in the area of Ashley Street, adjacent to Bristol Street. Arthur is kneeling, second from the right in the front row, clutching his Sten.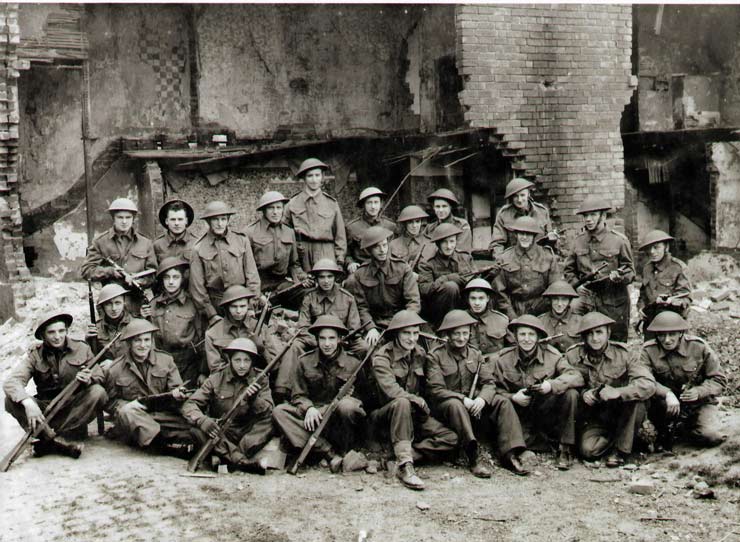 Click on image for higher definition version
And Arthur is to be seen in this further photograph, now located in the middle row, 6th from the left. Whilst this group is of platoon size and includes faces from the previous photograph, it contains an abnormal number of sergeants - eleven in all - which might suggest some specialised function within the Battalion rather than that of a normal infantry unit.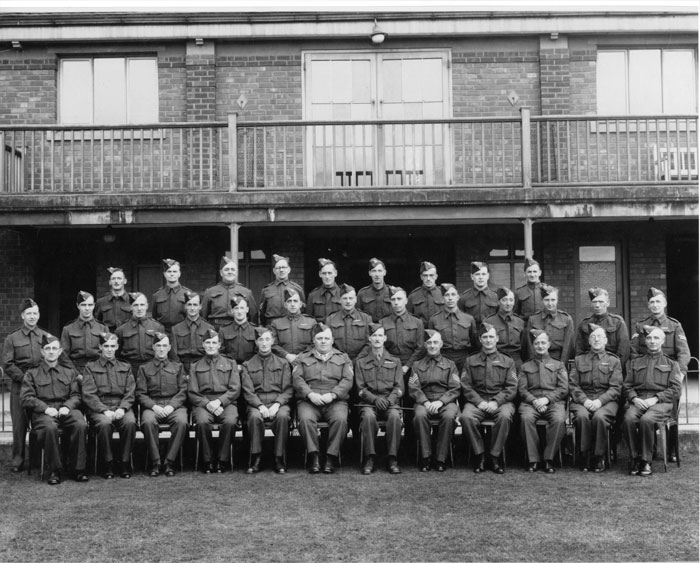 Click on image for higher definition version
Like that of all Home Guards, Arthur Taylor's Home Guard service came to an effective end on Sunday, 3rd December 1944, almost certainly with a ceremonial, farewell parade through the streets of Birmingham.
A happy holiday scene in the post-war years, long after Arthur and Frank's Home Guard service.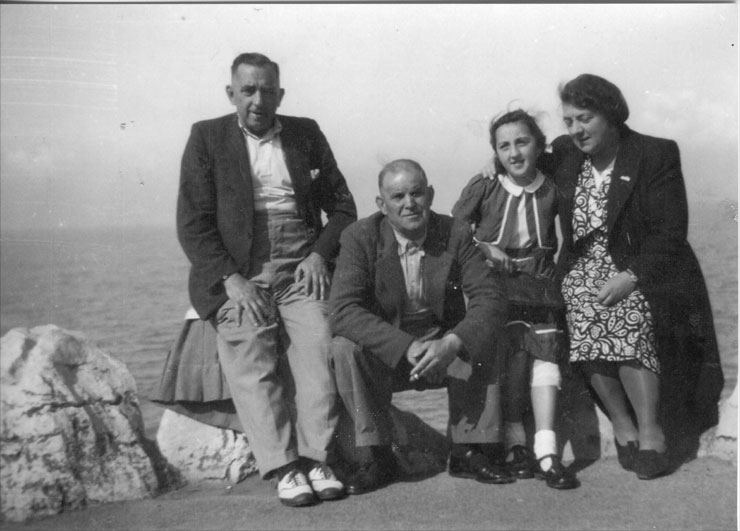 l/r: Arthur, Frank Carter, Sheila (Arthur's daughter) and Eva, (his wife).
The Great War injury to Arthur's left arm is evident in this image and also in the one below, again of Frank and Arthur (right) in later life.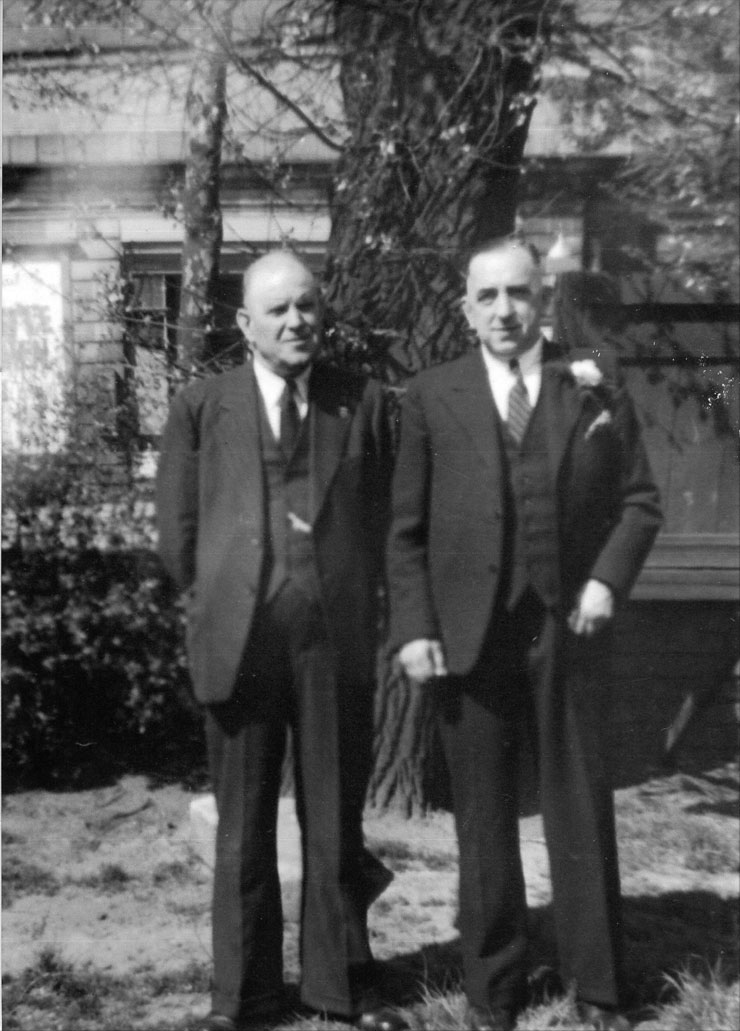 Arthur Taylor continued to work for the Co-op until his premature death on 10th April 1955, just before his 58th birthday. His cause of death was Congestive Heart Failure and Chronic Bronchitis – the result of being gassed in the Great War.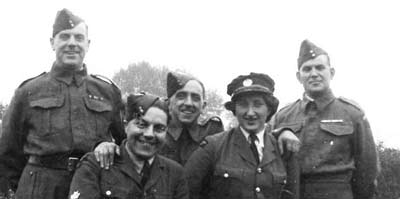 IN MEMORY OF
The Life and Service
of
Mark Feeney, Arthur Taylor and Frank Carter
(The Mini-Band of Brothers)
Their family and friends who also served
and of
All their Birmingham Home Guard comrades

x167 - May 2019, updated July, August 2019