This is a page within the www.staffshomeguard.co.uk website. To see full contents, go to SITE MAP.
HOME GUARD MEMORIES AND INFORMATION - WARWICKSHIRE, BIRMINGHAM
37th WARWICKSHIRE (B'HAM) BATTN.
SMALL HEATH
CAPTAIN H. W. WEBB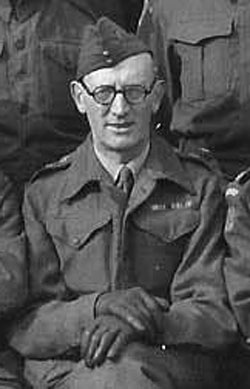 Capt. Herbert William "Bert" Webb
(1892-1960)
was a member of the

37th Warwickshire (Birmingham) Battalion

under the command of

Lt.-Col. A. L. Paterson, M.C.

This Battalion was responsible for the

Small Heath

area of the city.
Bert Webb commanded the HQ Company of the Battalion, responsible for Signals, Transport, Ammunition, Intelligence, Gas Defence, Pioneers, Weapons Training, Catering and Liaison.

(Further information about this Battalion contained within this website is listed here).
CAPT. HERBERT WILLIAM "BERT" WEBB
Bert was brought up in Birmingham and became an apprentice paper maker for

Smith, Stone and Knight

. He completed his apprenticeship and volunteered for military service when in the Smith Stone and Knight paper mill in Bristol.
Bert volunteered for the

Somerset Light Infantry (6th Service Battalion)

and as a Corporal in 1915 won a DCM at

Hooge

near to

Ypres

for bringing in many wounded men under heavy fire from No Man's Land as a stretcher bearer. He was wounded three times in WW1 and also served in the

Manchester Regiment

as a sergeant and finally as a Second Lieutenant in the

South Staffordshire Regiment

in 1918 when he was wounded for the third time and invalided back to the UK.
He was demobbed in early 1919 and returned to Smith Stone and Knight and was based first in Glasgow and then in Manchester. Whilst in Manchester he enlisted in the TA as a Second Lieutenant in the

7th Battalion, Lancashire Fusiliers

in 1921.
In 1925 Bert married and also changed his career. He became an insurance agent, based first in Hinckley and later in Birmingham. where he was area manager and involved in much travelling in connection with his job. One family story which survives tells of his being on a train between Hinckley and Birmingham just when Coventry was being attacked on the night of 14th November 1940 when the whole sky was lit up with fires and the train was attacked with machine gun fire. His home throughout the war was

14 Rymond Road, Hodge Hill.
It was perhaps because of the nature of his employment that Bert was not in the first wave of Home Guard volunteers. But his service certificate tells us that he signed up in February 1941. Because of all his military experience, he would immediately have been appointed to commissioned rank, probably initially as 2/Lt. or full Lieutenant and eventually as Captain, in recognition of the weight of his responsibilities.
Fragments of Capt. Webb's Home Guard experience survive within his family and especially the story of his crawling through the city's sewers as part of an exercise to rehearse methods of communication with other Home Guard groups whilst, above ground, the city was being fought over following a full-scale invasion or a localised attack by German paratroops.
It was possibly as a member of the Home Guard that he rendered a neighbourly service to the occupant of the semi next door to his home in Rymond Road.
An incendiary had come down her chimney, fortunately doing no significant damage. Bert sorted the problem out in the absence of the lady's husband who was serving in the RAF.
Happily, in addition to family stories there also survive a number of group images which show Bert and his comrades, probably photographed immediately before the Home Guard was stood down at the beginning of December 1944. These tell us that Bert's responsibilities were for all the HQ Company's activities including Signals, Transport, Ammunition, Intelligence, Gas Defence, Pioneers, Weapons Training, Catering and Liaison. Such a breadth of responsibility would normally bring with it the rank of Major and there is no explanation so far for that omission - the images certainly show him in charge of the groups in which he has been photographed.

These images are reproduced below and also, in magnified form, on an associated page of this website.

They all appear to have been taken at the same location, which is likely to have been

the

Royal Warwickshire Regiment Barracks

on

Golden Hillock Road

(which has survived into the 21st century and is now home to the Royal Signals Territorials).

And they are all perhaps of the same date in late November 1944 - one of the final parades after many years of unstinting effort and with just the stand-down parade of Sunday 3rd December to come.
This image shows all ranks of the Battalion HQ Company. Bert Webb is front row, centre stage and clearly in command. The officer to his right appears to be in Regular Army uniform: perhaps he is the Battalion Adjutant, a Training Officer or even a distinguished visitor to the Battalion.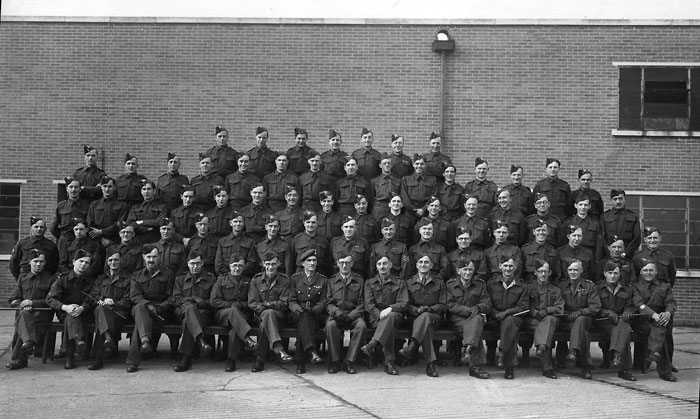 (Click on image for a magnified version)
The next image shows Bert, in command and photographed with his brother officers in HQ Coy. On the reverse of the image he has written names and functions:

Back Row


Kibbler

(Signals) -

Williams

(Q.M.) -
Newey
(Ammunition) -

Shuttleworth

(Pioneer) -

Davies

(Gas) -

Chew

(Intelligence) -

Knowles

(Signals)
Front Row


Crudge

(Transport) -

Ironmonger

(Intelligence) -

Lackenby

(Liaison) -

Webb

(O.C.) -

Brown

(Weapons Training) -

Bourne

(Signals) -

Hubbard

(Catering)

It is dated 20th November 1944, a Monday (surprisingly - but perhaps this is an error and it was really the previous, more likely day, Sunday 19th). Bert Webb is 52 years of age at the time of the picture.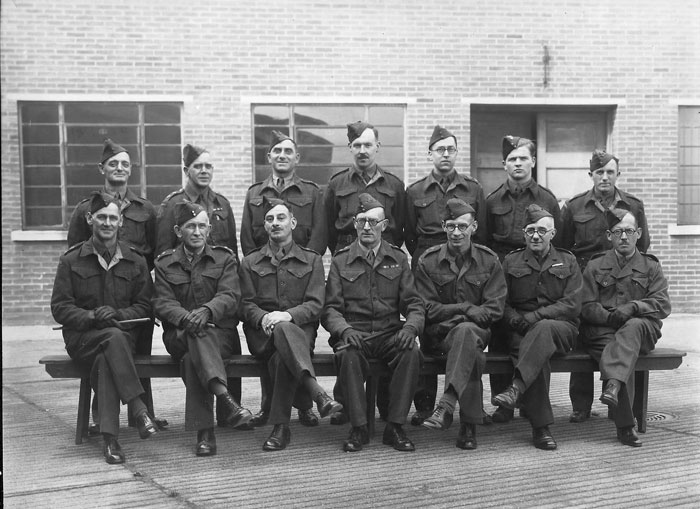 (Click on image for a magnified version)
This shows the Signals Section, commanded by

Lt. Bourne

, in the centre of the front row.

Capt. Bert Webb

is to his left, present as his superior officer and in overall command of the Company of which this section is a part.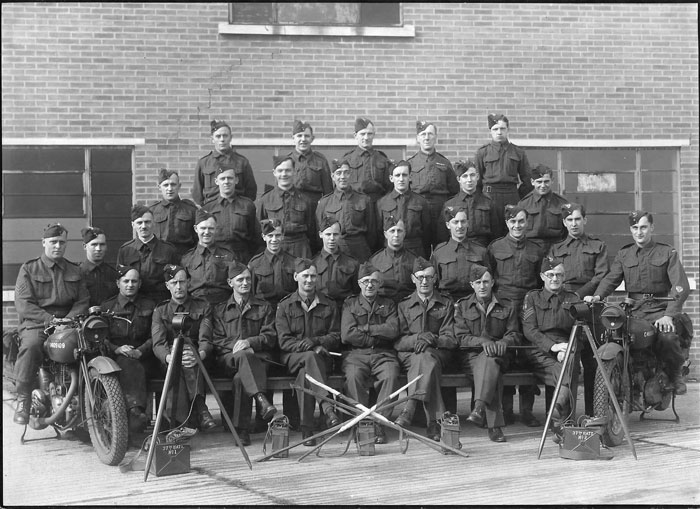 (Click on image for a magnified version)



The period was not without humour and like most units there would have been the odd incident, improved with the retelling, which would have been worthy of inclusion in "Dad's Army". And also satirical references to the duties of Home Guards. One of the latter survives within Bert Webb's papers. Please click on the thumbnail
(left)
to read it.


After the stand-down Bert Webb received the King's certificate, offering the nation's thanks for his dedicated service.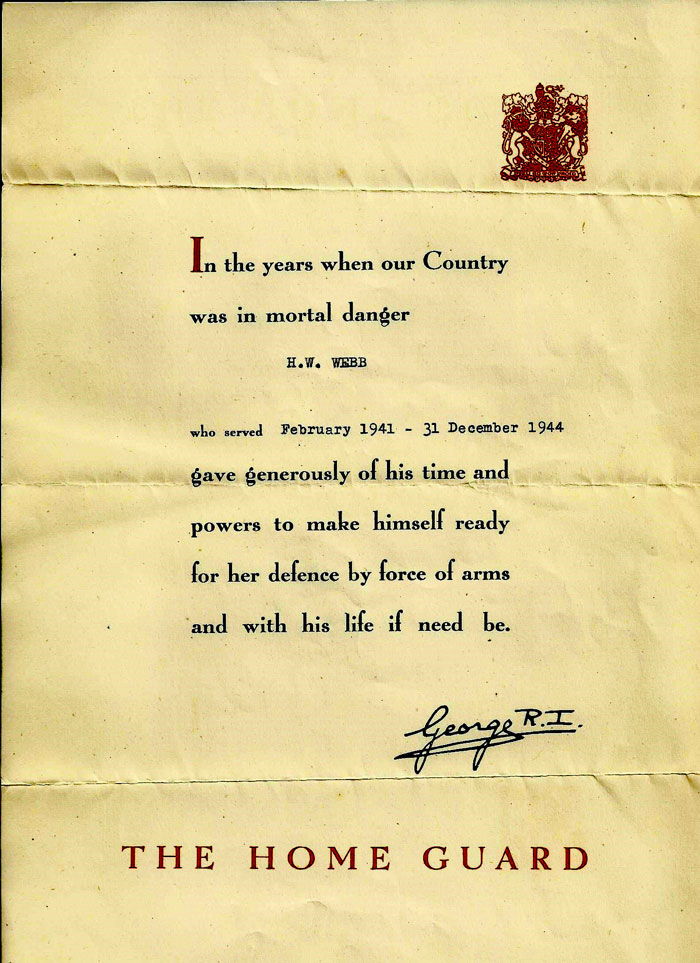 In Memory of





Capt. H. W. "Bert" Webb

and
all his comrades in the

37th Warwickshire (Birmingham) Battalion

in Small Heath

Grateful acknowledgement


is made to Adrian Wills for the information about his grandfather and his generous permission for its publication in this website.


Images © Adrian Wills 2017

(Further information about this Battalion contained within this website is listed here under "Birmingham - Small Heath").