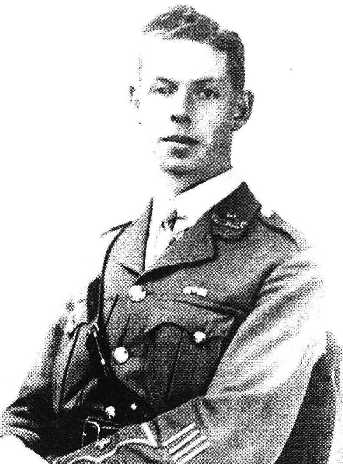 Thomas Chapman was a much decorated soldier in the Great War, receiving first the Military Cross and then later a Bar to that award. He served as a Second-Lieutenant with the Royal Warwickshire Regiment. His Great War decorations were announced as follows:
Military Cross - gazetted 17th September 1917 and citation dated 5th July 1918 quoted below:
2nd Lt. Thomas Chapman, R. War. R.
For conspicuous gallantry and devotion to duty. He carried out several difficult reconnaissances with great contempt of danger under heavy shell fire. Though twice wounded, he remained at duty until the battalion was relieved.
Bar to the M.C. - 16th September 1918
2nd Lt. Thomas Chapman, M.C., R. War. R.
For conspicuous gallantry and devotion to duty during a retirement in repeatedly organising parties of men, leading them forward, and establishing a firing line under heavy fire. He was slightly wounded, but remained at duty. His conduct throughout showed great courage and absolute disregard of danger.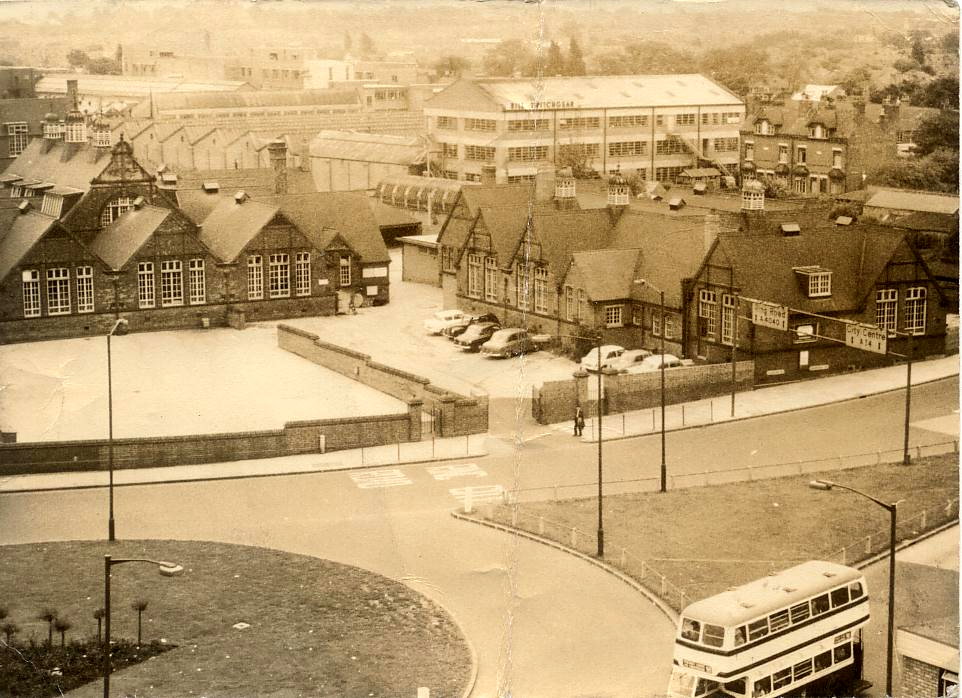 After the Great War Mr. Chapman entered the teaching profession. His daughter, Mrs. A. of Walsall, describes him as teaching at Birchfield Road School, Perry Barr, Birmingham (pictured left, ca. 1965, by courtesy of John K. Colin and the "perrybarrbeyond" website). By the outbreak of World War 2, less than 21 years after that second citation, there is evidence which indicates his serving as Headmaster of the nearby Canterbury Road Junior School (later known as Canterbury Cross).
In the latter half of 1940 he and his family were bombed out of their Birmingham home where they had lived for some eleven years. They moved, with some difficulty, into what was then the village of Pelsall. Mrs. A. has written of that experience and the choice of Pelsall as their refuge was in her opinion associated with both her parents having their early roots in Brownhills, Clayhanger and Shelfield. After the move Mr. Chapman continued to work at the same school while his son, Gordon, was articled to a firm of quantity surveyors in Birmingham and his daughter attended Miss Westwood's Commercial College in Lichfield Street, Walsall. At some stage Mr. Chapman joined the Home Guard but whether this was initially in Perry Barr or later, following his move to Pelsall, is unknown. He does not appear to have been serving with the 32nd Battalion, or at least not as an officer, in February 1941 and was perhaps fully occupied at that time with the aftermath of his house's destruction.
Mrs. A. comments on her father's Home Guard service are as follows:
I have no idea who nominated my father for his post of Commanding Officer in the Home Guard in Pelsall, but I suspect that it was more to do with him being a teacher.


I recall that the men met at the `Sycamores' on Church Road, Pelsall. In the first instance armbands were worn with ordinary clothes with LD Vol (Local Defence Volunteers). Uniforms, when issued were ordinary regular army battle dress, rather prickly and most unpopular.

As far as I remember the only difference for the officers were the "pips" on their shoulders, 2/Lieut, Lieut., etc.

I think anyone could become a member of the Home Guard, but when the drilling etc. started faint hearts dropped out, after all they did a full day's work, some very physically hard, before going on duty sometimes all night.

I really can't remember many incidents to do with the Home Guard apart from a rather unfortunate incident when Albert Snape was badly injured on one of the manoeuvres.

With regards to the photographs, the first one is of all the officers of the Brigade, I would imagine (click on thumbnail image, left, to expand). Note the ages and medal ribbons on a number of them. Presumably these would be World War One decorations. At this time my father would have been a captain. I have a wallet which was presented to him bearing information about his position, although unfortunately it has no dates. The officers on this photograph came from Aldridge, Rushall and Pelsall. Based on the photograph, it is impossible to tell where the photograph was taken. If you look closely at this photograph you will notice the man at the centre has a dog on his lap. This man was the colonel.
Mrs. A. could not remember the colonel's name, although she did recall that he took his dog everywhere with him, and so would probably be quite a memorable character. In fact he was Lt. Col. Charles Cartwright, M.C., Commanding Officer of the 32nd (Aldridge) Battalion who appears frequently within this website. The photograph to which she refers appears elsewhere within this site. It shows all the Battalion officers in July 1943, most probably at Beacon Camp. The reason for this large gathering is so far unknown.

Mrs. A. also commented on a second photograph in her possession which by good fortune has also come to light already and is published here on this site:
If you look at the photograph you will notice that some of the members were quite young, although they looked so much older in their uniforms. (click on thumbnail image to expand)
The men on this second photograph were all Pelsall people according to Mrs. A. She recognised a few but could not remember their names. Again the location is unknown but the date is likely to be the autumn/winter of 1941/42. In fact with the help of visitors and contributors to this site it has been possible to identify a number of these Pelsall men.
From evidence contained elsewhere on this site it appears that Capt. Chapman eventually commanded "G" Coy. of the Battalion based on Rushall; and not "D" Coy. of Pelsall whose C.O. was Capt. (later Major) W.G. Davies. On the other hand, both he and his son, Gordon, were at one stage members of "D" Coy. and appear in the picture showing members of that Company which is to be seen elsewhere within this website (see thumbnail above).


After hanging up a military uniform for the last time, Capt. Chapman spent the rest of his working life in the teaching profession, still at Canterbury Road School (later known as Canterbury Cross School) where he stayed until retirement in 1958 or 1959. He will therefore be well known to a number of middle-aged visitors to this site. One of his former pupils recalls the day of his retirement when he was presented with, amongst other items, a stylish, wing-backed chair. Another of his pupils from Canterbury Road School remembers from the 1940s "what a lovely man he was, the ideal head of a junior school". How could any teacher ask for a better epitaph?
Capt. Chapman's decorations and other memorabilia were eventually donated to the Royal Warwickshire Regiment Museum in Warwick.
Sources of information to whom grateful acknowledgement is made : The London Gazette, the "Pelsall Times" Issue 28 dated February 2004; John K. Colin; D.M. and his Canterbury Cross School website (Enter site, then follow "Links to your Primary Schools"); and contributors to the birminghamhistory forum: D.P. of Cambridgeshire and C. of Worcestershire.
It appears that the Pelsall Times is no longer published. Efforts by the Webmaster to contact the magazine, in order to obtain its blessing for the use of this material, have proved unsuccessful. Full acknowledgement and apology is hereby extended both to the Pelsall Times and to Mrs. A. for our having quoted so extensively from their work without formal permission. In the circumstances we hope that they find this method of commemorating a brave and dedicated man to be appropriate and acceptable; and will regard it as a useful extension of their own commendable effort to bring his life and work to the notice of a wider public.