MEMORIES and INFORMATION: 32nd Battn. - 5
32nd Staffordshire (Aldridge) Battalion
Pte. A. J. SNAPE, "D" Coy.

This is a page within the www.staffshomeguard.co.uk website. To see full contents, go to SITE MAP.
The story of
Private Albert Snape,
a member of "D" Coy., Pelsall.
Service in the Home Guard could be a dangerous activity. In addition to the 1206 men who died and the countless thousands who incurred relatively minor injuries, a total of 557 suffered serious injury in the course of their service. At least one member of the 32nd (Aldridge) Battalion was included in that number.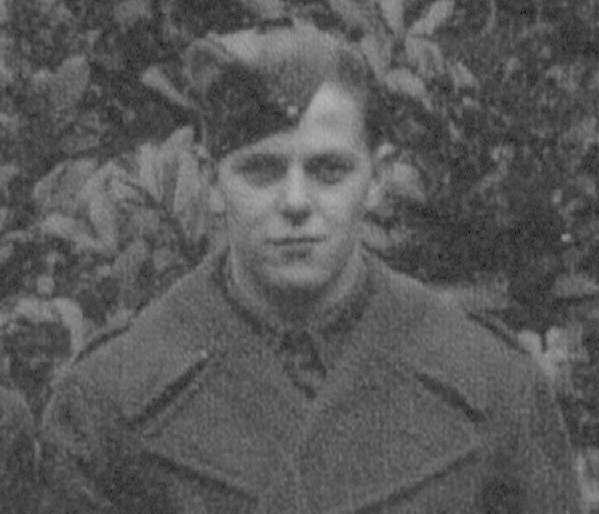 Albert J. Snape (1923 - 2002)
was a member of "D" Company based in Pelsall. Albert had been born and bred inPelsall and lived his entire life there. In early 1942 he was an 18-year-old private in the local unit. He was a butcher by trade and by that time was already working with his father in the family butcher's shop in the village, a business which had been run by his grandfather and great-grandfather before him. Call up was imminent.
We are very grateful to Margaret Batterby of Burntwood, Albert's daughter, for relating her father's subsequent experience........
My father Albert Snape died in 2002 but spoke many times of his experiences in the Home Guard.

His last meeting with the Home Guard was his most memorable. On Sunday 8th March 1942 he was unsure whether or not to go on the planned exercise as he due to join the Regular Army the following week. At the last moment he decided to go. The exercise involved a mock battle between his Home Guard unit and regular soldiers from Whittington Barracks.

Most of "D" Company assembled outside the house of Dr. McCullough, "The Sycamores", further up the road from my father's home in Church Road. My father joined his comrades as they passed his house. He had already handed in his Home Guard rifle in anticipation of being called up but Sam Locke (left), who lived a few doors away, gave him his own weapon at the end of the line. The column proceeded on its way towards Brownhills. The weather was bad that weekend with snow on the ground.

When the men reached Highbridge Row some children were playing snowballs. A Bren gun carrier was approaching in the opposite direction when at that moment a snowball was thrown at the driver, who then lost control of the vehicle as it approached "D" Company which caused it to career into the column. My father was in the worst position and he was trapped between the wall and the chimney breast of an exposed room of a house which had probably suffered bomb damage. He was severely injured with his left leg sustaining multiple fractures. He was admitted to Henry Boys ward at Walsall General Hospital and at first was in a critical condition. He gradually recovered but had to stay in hospital for 3 months. It took him two years to be well enough to return to work.

Not surprisingly the accident represented the end of his military career. His call-up was cancelled and he was considered insufficiently fit for further service in the Home Guard. He was finally discharged on 9th June 1943. Eventually he returned to the family butcher's business where he worked for a further 52 years until his retirement in 1995. By that time the business, then known as A.H. Snape and Son and located next door to the public house known as the Queen's Hotel, had existed for a total of 135 years and had been run by four generations of Snapes.

© Margaret Batterby 2006
There is a surviving picture of the platoon of which Albert Snape was a member, commanded by Capt. Davies. Again we have to thank Margaret Batterby for making it available. Click here to view it. In addition to Albert, the photograph shows several men who are mentioned elsewhere within this site, including Messrs. Cooper, Cresswell, Davies, Gill, Painter and Woodhouse. Please go to the INDEX OF SURNAMES to find the other references.

Albert Snape's career as a Home Guard came formally to an end on 9th June 1943 with his letter of discharge from Capt. W.G. Davies.