HOME GUARD MEMORIES AND INFORMATION - OTHER COUNTIES (A-E) - DEVONSHIRE

BRIXHAM HOME GUARD
Museum and Artillery Installations
By Adrian Chan-Wyles
This a page within the www.staffshomeguard.co.uk website. To see full contents, go to SITE MAP.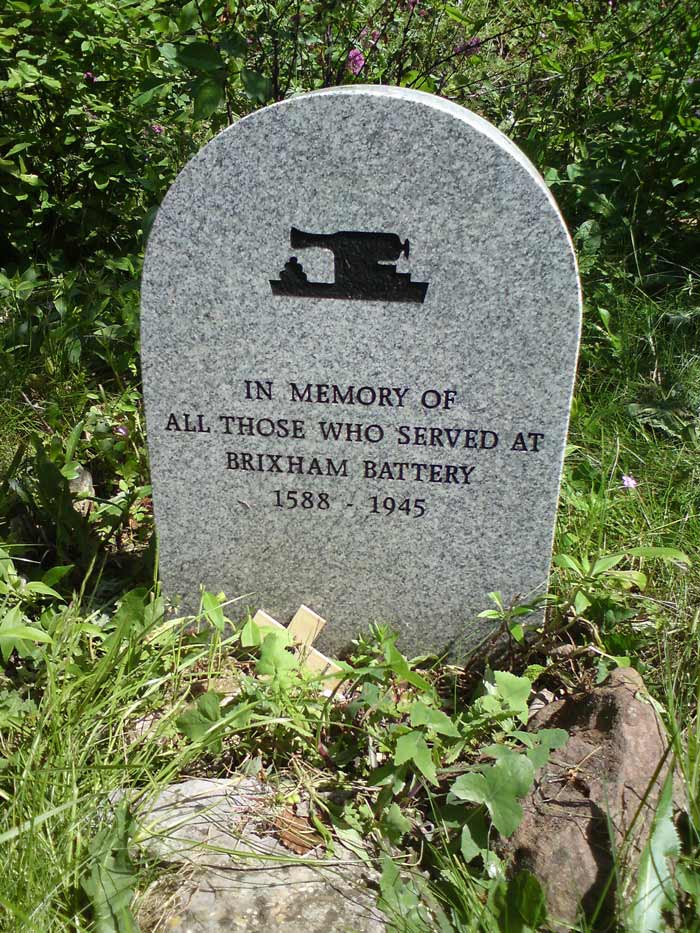 Memorial Stone - Brixham Battery Museum
During Word War II, fighting men were required to defend Great Britain from the threat of invasion from the forces of Adolf Hitler's Nazi Germany. Men too young to be conscripted, or volunteer for the regular forces, or men over 45 years of age (as well as those working in 'Reserved' occupations), were eligible to join the Home Guard. This crucial fighting force was designed to be on the frontline, and to initially check any attempt to militarily attack the country, freeing regular forces from the requirement of static defence, and allowing them to counter any invasion. The Home Guard made full use of the experience of the men in its ranks. By and large, it had to make do with old or obsolete weaponry, and make the maximum use of the firepower available. In the event of invasion, any firepower was considered better than none. The Home Guard had infantry and artillery components. Along the UK coast, such as that on the south coast of Devon, Home Guard artillery units served guns positioned to point out to sea, at places like Brixham and Torbay. This mirrored coastal defences all round the UK and during WW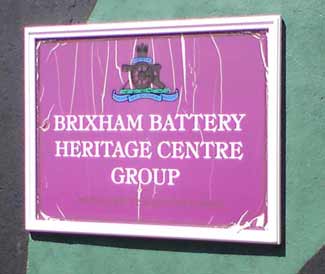 II there were 116 such installations. The Brixham Battery is now one of only seven left in the country.
The Brixham Battery Heritage Centre Group, is an organisation with its own museum situated near Fishcombe Bay (Brixham), that is dedicated to the preservation of military artefacts from the time period, as well serving a crucial educational function by providing true and accurate information for visitors. The museum is situated in a hut (ATS) that was originally used for artillery theory training during WWII, and is not far from the three artillery gun emplacements that can still be found in Battery Gardens. The original name for this area was 'Furzedon Battery'.
B
rixham Battery Heritage Museum - situated in the former Artillery Training Section hut
Two are accessible and open to the public, whilst the emplacement at the top of Zeneca Steps, although visible from afar, is locked to visitors; it is however possible to walk up to the locked area. The gun emplacement above Zeneca Steps used to contain one Hotchkiss 6-pounder - a WWI tank gun - but despite it being similar to gun emplacements 1 and 2, it was never designated as gun emplacement 3.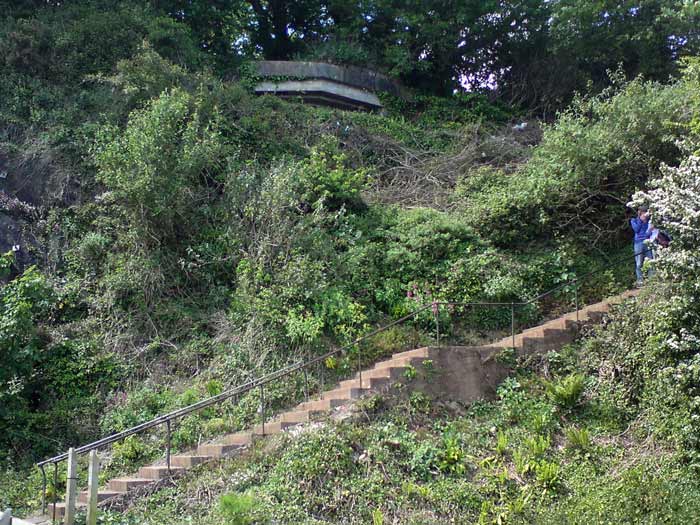 Gun Emplacement - atop Zeneca Steps
Gun emplacements 1 and 2 housed a Japanese 'Kura' made (1917) 4.7inch Artillery Gun, mounted on the two main gun-floors. This is the same type of gun that exploded on Corbyn Head during a training accident in 1944, killing a number of its crew.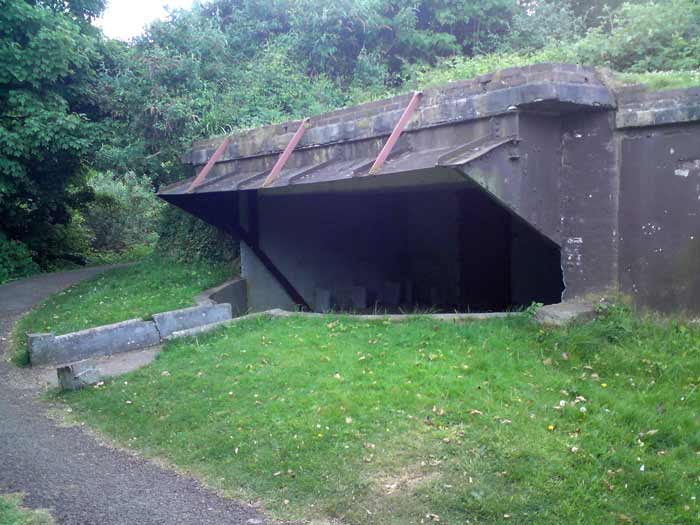 Gun Emplacement No: 2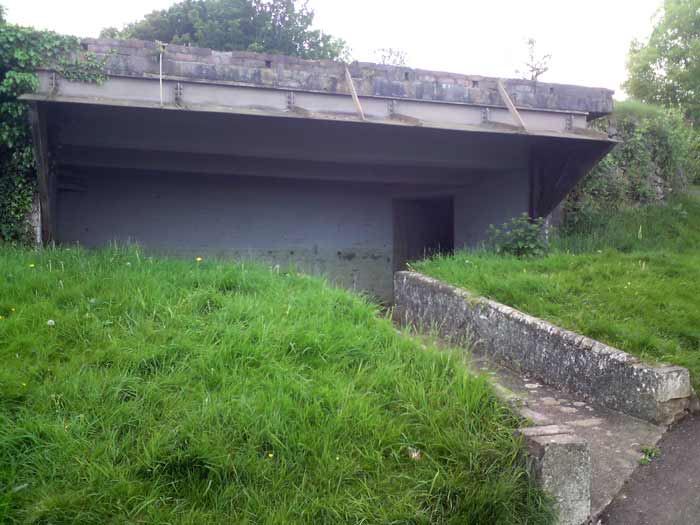 Gun Emplacement No: 1
The top area of Battery Gardens was also defended by anti aircraft guns during WWII originally situated around this area: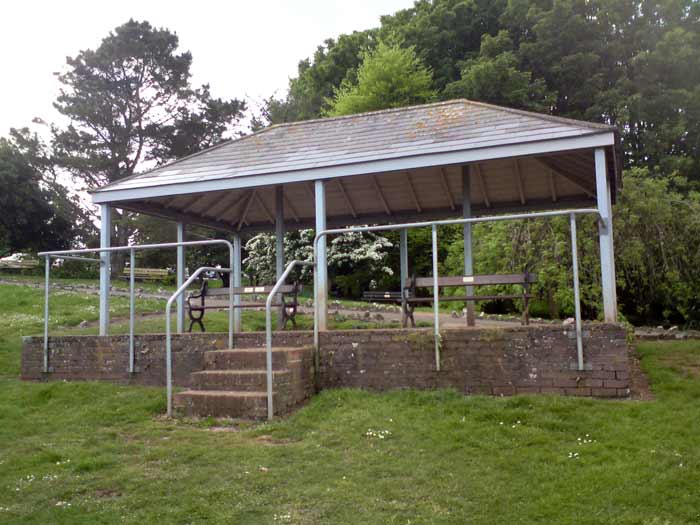 'Altmark' or Guard-Room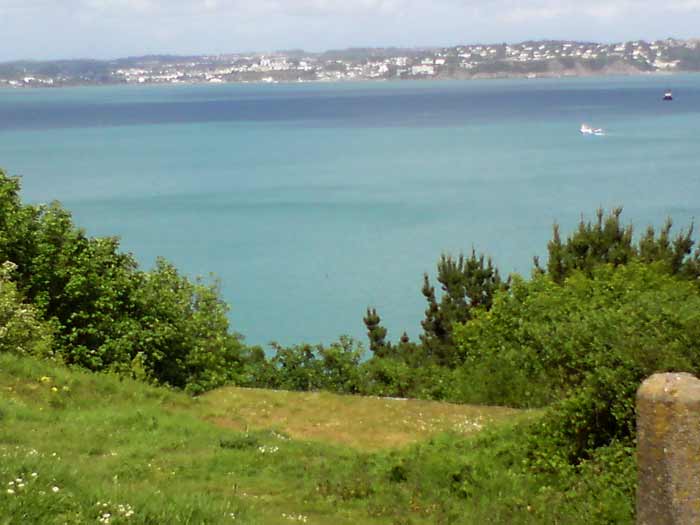 View Out To Sea
Similar anti aircraft guns now reside in the museum grounds, together with an armoured cone-like structure (Consol Shelter), this was designed for two men to sit in, if their particular gun came under enemy fire: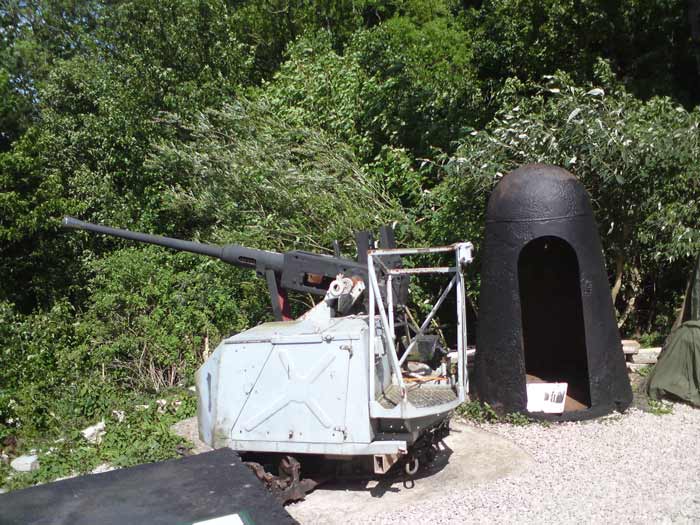 Royal Navy Single Barrel Bofors Gun & Consol Shelter
There were around 100 Bofors 40mm anti aircraft guns defending what was known as 'Fortress Paignton' during WWII. German aeroplanes tended to make very quick raids across the area, and the fast firing Bofors were given the job of dealing with incoming enemy aircraft. These Bofors anti aircraft guns (made in Sweden) on display at the museum are from HMS Belfast (double barrel) and the Royal Naval Training area at Plymouth (single barrel). It is interesting to note that these guns were used by both Allied and Axis forces during WWII. Situated just off the top of Battery Gardens is the Observation Post, used to keep an eye on the bay and watch for enemy action, whilst co-ordinating an effective military response: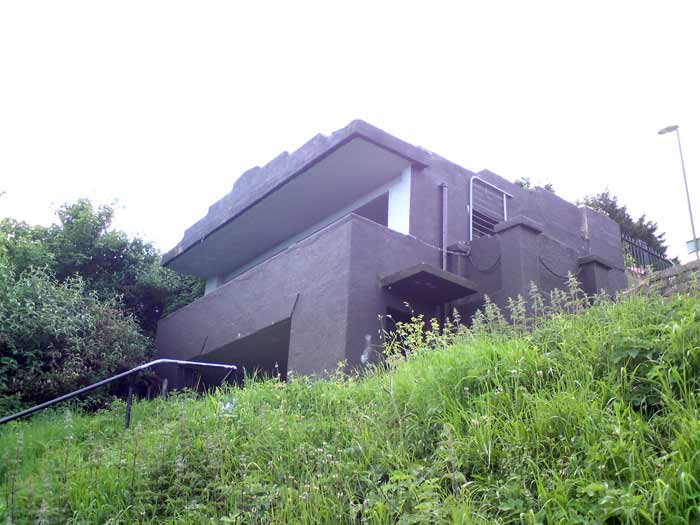 Observation Post - near the top of Battery Gardens
Battery Gardens is a steep hill-like structure that may be accessed from the bottom (Zeneca Steps, near Brixham Harbour), or accessed by road at the top. Much of interest is located near the top, including two gun emplacements, ammunition store area, a generator area, and the original anti aircraft gun positions, as well as the Observation Post, etc, with the museum nearby. At the lower area of Battery Gardens, one can see the original searchlight emplacements: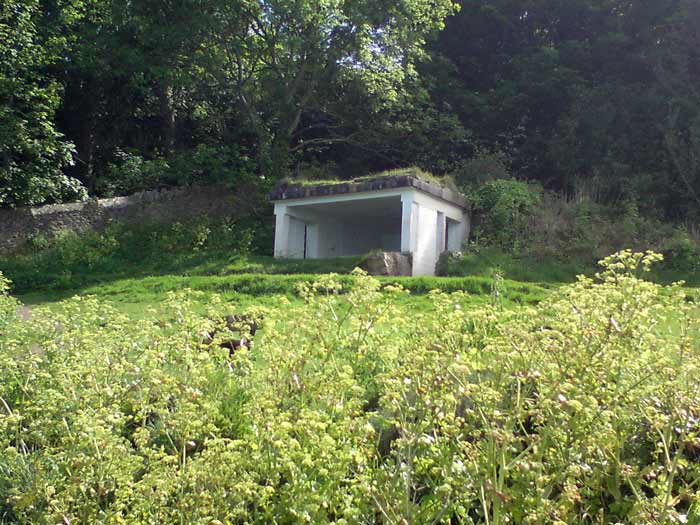 Searchlight Emplacement
It is interesting to consider that the Battery Garden area has seen some kind of military presence from at least 1588, with the WWII activity being the most recent, active period. The wall running through and around the area dates to the 1860s and was built by Lord Churston at the behest of the War Department. Despite its martial intention, the wall today is quite pleasant to encounter amongst the trees:
ACKNOWLEDGEMENT
Grateful acknowledgement is made to Adrian Chan-Wyles for writing the above article and generously permitting its publication on this page.
Text and images © Adrian Chan-Wyles 2011.
A separate article by the same author within this website shows the Home Guard memorial at Corbyn Head commemorating all Home Guards but especially the local men who lost their lives in separate incidents and 1942 and 1944.
Also visit the Brixham Battery Heritage Centre website