This is a page within the www.staffshomeguard.co.uk website. To see full contents, go to SITE MAP.

MEMORIES AND INFORMATION - STAFFORDSHIRE HOME GUARD
37th STAFFORDSHIRE (DARLASTON) BATTN.

BOOKLET
entitled
"DARLASTON BATTALION HOME GUARD - 1940"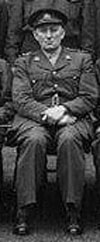 Darlaston was defended by the 37th Staffordshire (Darlaston) Battalion commanded from 1940 by Lt.-Col. F. Hemming (right). Information about this Battalion is contained within the main Darlaston page within this website.
In the very early phase of the Battalion's existence Col. Hemming must have decided that an esprit de corps might well be fostered by increasing his men's awareness of the proud history of the regiment to which the Battalion was affiliated - the South Staffordshire Regiment. Hence the writing, publication and, one must assume, issue to each of the Battalion's members a booklet entitled "Darlaston Battalion Home Guard - 1940". Who can now tell the extent that this little publication achieved its purpose and gave the men who read it an historical perspective to their four-and-a-half years of toil in defence of home, community and workplace?
This booklet is reproduced in its entirety below.
Further detailed information about the 37th Staffordshire (Darlaston) Battalion within this website can be seen on this page.
ACKNOWLEDGEMENT
Grateful acknowledgement is made to Alan Dowen for providing a scanned copy of the above publication to staffshomeguard and permitting its publication. The original recipient of the publication was Walter Dowen, Alan's father and a faithful member of the 37th Battalion together with his brother, Elisha. Further family information can be seen on the main Darlaston page.