This is a page within the www.staffshomeguard.co.uk website. To see full contents, go to SITE MAP.

MEMORIES AND INFORMATION - STAFFORDSHIRE HOME GUARD

Pte. K. BLASTOCK, Cpl. J. W. BORTON and Lt. W. MORRIS
of
13th STAFFORDSHIRE (CANNOCK) BATTN.


During the evening of Monday, June 29th 1942, members of the Hednesford Home Guard, part of the 13th Staffordshire (Cannock) Battalion, were training with live ammunition on Cannock Chase. At some stage a rifle grenade was fired but exploded prematurely. There were fourteen casualties. Cpl. John William Borton died on the same day, Lt. William Morris on the Wednesday and then Pte. Kenneth Blastock on the following day, July 2nd. All three men now lie in St. Peter's Churchyard, Hednesford.
A Midland newspaper reported the tragedy.

Another report written immediately after the accident identified other casualties:



Lt. James Bond

(30) of

New Penkridge Road, Cannock





2/Lt. Fred Bowen

(40) of

18a Burn Street, Chadsmoor





L/Cpl. William Hyden

(21) of

29 Clarkes Avenue, Hednesford





Cpl. Albert Larner

(20) of

121 Rawnsley Road, Hednesford





Lt. Charles Perks

of

469 Rawnsley Road, Hednesford

(reported elsewhere as 2/Lt. Abner Perks).



Lt. Henry Talbot

(29) of

7 Broadway, Hednesford

(reported elsewhere as Pte. Eric Talbot).



Pte. John Henry Whittle

(21) of 9 Marine Crescent, Hednesford

Also mentioned elsewhere:



Capt. William Pearc

e

(39) of Lower Road, Hednesford.



Cpl. Benjamin Holford

(35) of

Huntington Terrace Road, Cannock.




It is to be hoped that these men eventually made good recoveries.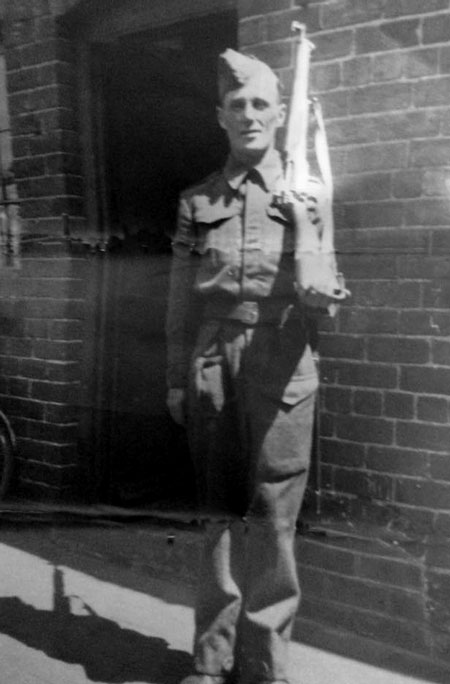 Contrary to newspaper reports, it seems as though the unfortunate Kenneth Blastock was only 17. This is according to his CWGC headstone. His home was 195 Station Road, Hednesford. He worked at Wood Pit for the Cannock and Rugeley Colliery Company.
John William Borton (seen right) was a married man and lived at 34 St. John Street, Wimblebury. He left three sons aged 4, 9 (Ray) and 14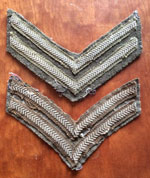 and his widow was expecting a fourth child. He was a shunter employed by the Cannock and Rugeley Colliery Company. As well as this image, taken at the back door of his home, his Corporal's stripes also survive within his family and are a proud memory of his service and sacrifice.
William Morris, also a married man with two sons, Raymond and Victor (the latter serving in the RAF), of Glenaden, Rawnsley was a Councillor for Cannock U.D.C. and Chairman of the Education Committee. He was manager of the Co-op in Rawnsley. He was a veteran of the Great War.
(Images of the headstones of these three men can be seen online on the Burntwood FHG website. )
The funeral took place on Saturday 4th July 1942 at

St. Peter's, Hednesford

. Amongst the mourners was a cortege of no less than 500 Home Guard officers and men paying tribute to their fallen comrades.

At the inquest at the

Anglesey Arms, Hednesford

,

Pte. Cyril Rowe

of

Moreton Street, Chadsmoor

gave evidence than when Lt. Bond pulled the trigger there was "a flash of flame and a huge explosion". The likely cause of the accident was a faulty grenade. A verdict of "Accidental Death" was returned.
| | |
| --- | --- |
| The weapon with which these men were training at the time of the accident was likely to have been the EY grenade launcher rifle. | |
**********
In Memory of

Kenneth Blastock
John William Borton
William Morris

and all their Comrades in
13th Staffordshire (Cannock) Battalion
including
Those injured in the above incident

and
Victor Leslie Bradbury
(late R.F.A.)
**********


FURTHER INFORMATION
Further information about this Battalion can be seen on the
Cannock Home Guard Summary Page.
ACKNOWLEDGEMENTS AND SOURCES

Grateful acknowledgement is made to
Matt Felkin and his "Wartime Birmingham and the Blitz" Facebook page; to David Bate, Ray Borton, Keith Bradbury, Lyn Hyden, Wilfred Miles, Maureen Rushton and other members of the Old Photos from Hednesford, Cannock and Chadsmoor Facebook page
;
and to the Sunday Mercury and Mike Longley and Richard Pursehouse.

Borton images
© Ray Borton 2018