This is a page within the www.staffshomeguard.co.uk website. To see full contents, go to SITE MAP.

MEMORIES AND INFORMATION - STAFFORDSHIRE HOME GUARD

25th STAFFORDSHIRE (BREWOOD) BATTN.
and
HERBERT ANDERSON
Brewood and the surrounding area was defended by the 25th Staffordshire (Brewood) Battalion.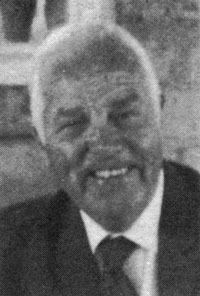 This Battalion was commanded (in 1941) by Lt.-Col. C. Hatton supported by Majors The Earl of Bradford, W.R. Hodson and A.G. Odgers; and 17 other officers - Allen, Bell, Binckes, Biddle, Bould, Brookes, Cheshire, Freeman, Gower, Jones, Hawkins, Pearson, Prior, Thornton, Twigg, Walker and Wilson.
(Capt. A.H. Cheshire - d. 1982 and pictured left - was the Dr. Cheshire affectionately remembered by several generations of Brewood residents. His surgery was in Sandy Lane, Brewood).
Another member of the local Home Guard was Mr. Herbert Anderson. Herbert's grandson, Mike Buckless (who was himself delivered by Doctor Cheshire at his parents' home in Mill Lane, Billbrook) relates family memories of his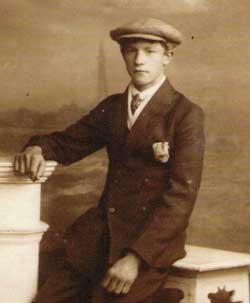 grandfather, Herbert (pictured in his youth, right).
Herbert Anderson (1908-1989) lived in Four Ashes during the war years, later moving to Oak Road, Brewood. He is shown (right) in his youth.
Mike remembers being told by his grandfather that a German plane dropped a bomb into the River Penk at Summerford which caused the tiles to come off Herbert's roof. Mike's mother used to clean her father's uniform buttons and boots. Herbert said that there were dugouts in the woods behind Brewood Grammar School and these could still be seen many years later. Long after the war ended Herbert still had part of his kit and also his rifle - there are memories from the 1960s of the latter still sitting behind the door at his home at Four Ashes.

The Battalion made use of the Jubilee Hall in Brewood for its activities. That building had only been opened a few years previously in order to celebrate the Silver Jubilee of King George V in 1935 and had replaced the old Angel Hotel.
**********
Acknowledgement
Grateful acknowledgement is made to Mr Mike Buckless of Rockingham, Western Australia, grandson of Herbert Anderson, for providing much of the information which appears on this page.
Both he and staffshomeguard would welcome any further information about the Brewood Home Guard and its members. If you can help, please use the Feedback link below or go to the GUESTBOOK page for Mike's contact details.