MEMORIES AND INFORMATION - STAFFORDSHIRE

23rd (WOLVERHAMPTON) BATTN.
and

2/LT. C. N. WOOD
(1910 - 1992)

This is a page within the www.staffshomeguard.co.uk website. To see full contents, go to SITE MAP.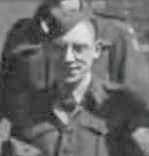 Some information on the life and service of 2/Lt. Cecil N. Wood, an officer within the 23rd Staffordshire (Wolverhampton) Battalion, has been made available to staffshomeguard through the generosity of his family and especially of Mrs. Tessa Wood of Walsall to whom we offer our grateful thanks.
2/Lt. C.N. Wood volunteered for service in the Home Guard in the very earliest days of its existence and served within the 23rd Battalion until its stand-down in early December 1944. He was a member of "B" Coy. and by the time of stand-down was its Quartermaster. Cecil Wood was born in Powlett Street, Wolverhampton in 1910, the son of William Wood, a Master Tailor. The Wood family had a sweet shop in Cleveland Street in the late 1920s-1930s. He married Irene Roberts in 1951, worked as a compositor at the Express and Star and the Walsall Observer and died in 1992.
An undated photograph shows Cecil Wood and all his 23rd Battalion officer comrades.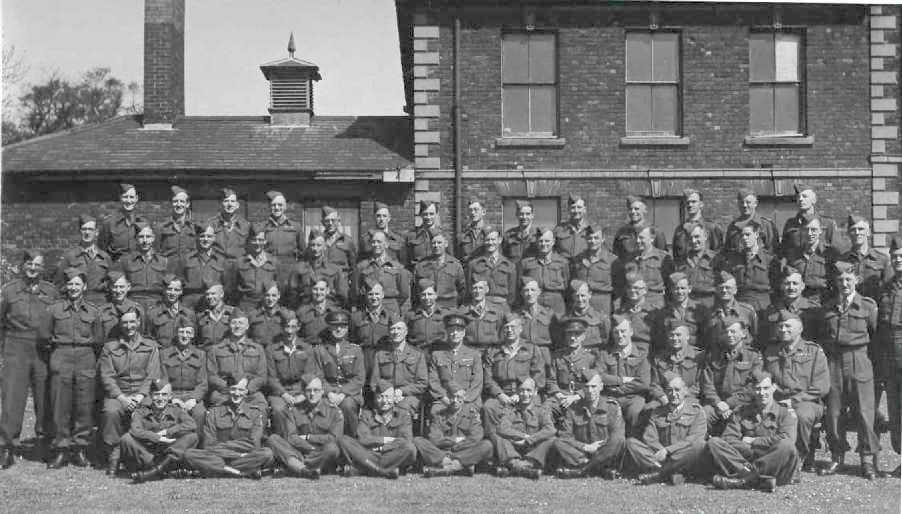 Click for a higher definition, fully captioned version of this picture.
Cecil Wood is in the fourth row (the back row but one) and second from the right.
A further image of members of the 23rd Battalion is shown below. All ranks are included and whilst the precise group is not definitely identified it is almost certainly "B" Coy., photographed at a wet Wolverhampton location. Cecil Wood is in the front row, sixth in from the right.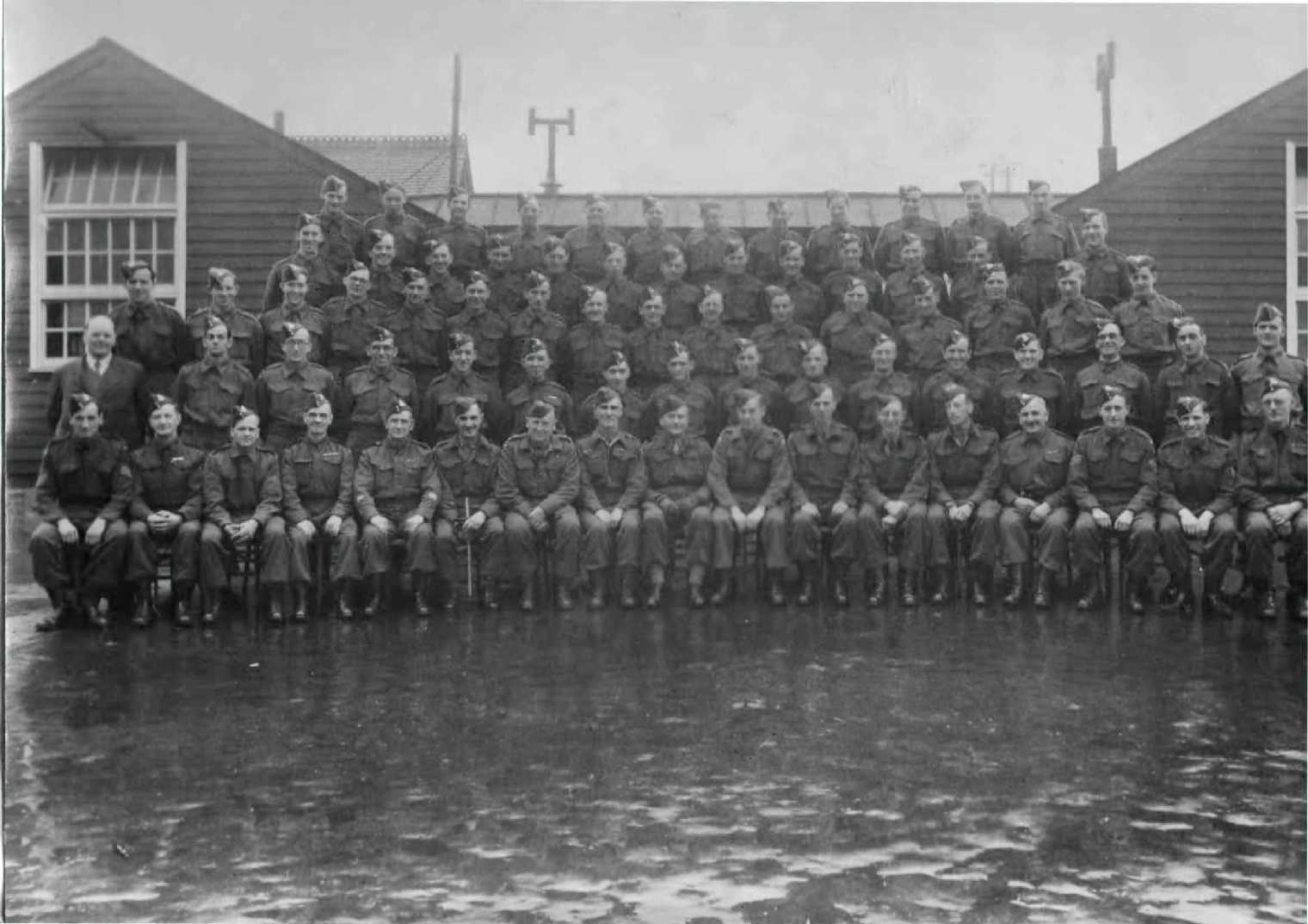 To celebrate the Home Guard's stand-down in early December 1944, celebratory dinners were held in many units and the 23rd Battalion was no exception. Cecil Wood obviously attended at least two, and evidence of these events survive.
An Officers and Ladies evening was held at the Black Horse, Thompson Avenue on the evening of Saturday, December 2nd, 1944: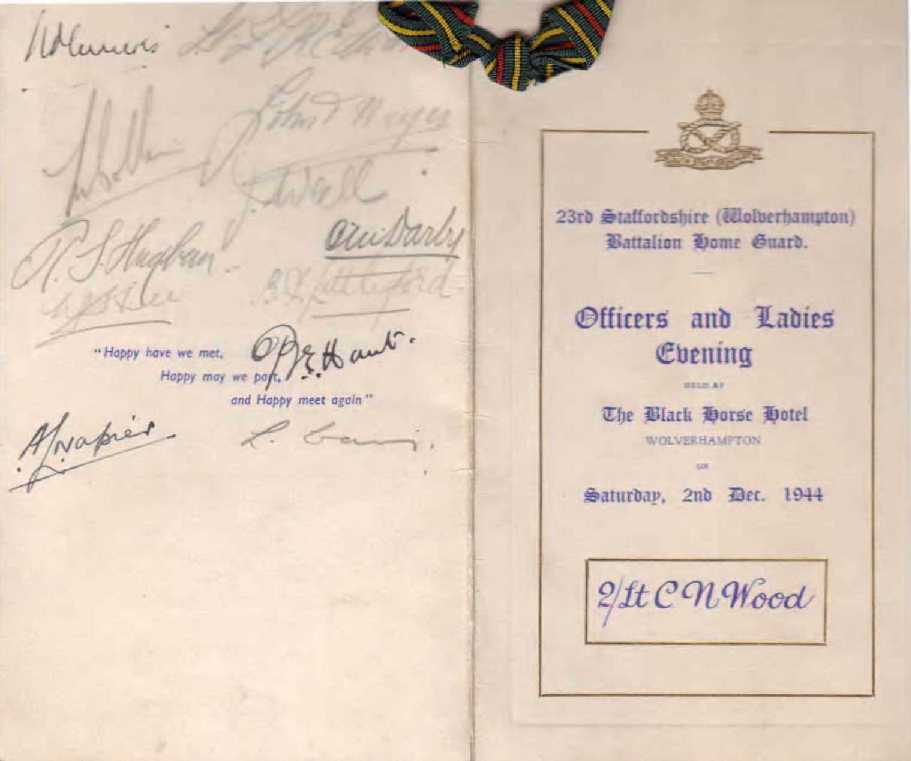 The evening was clearly a full one, with various toasts and a programme of entertainment. Whilst the menu might seem a little unadventurous to pampered 21st century eyes, it was no doubt a treat to those involved, accustomed to nearly five years of stringent rationing, corned beef and rabbit stews.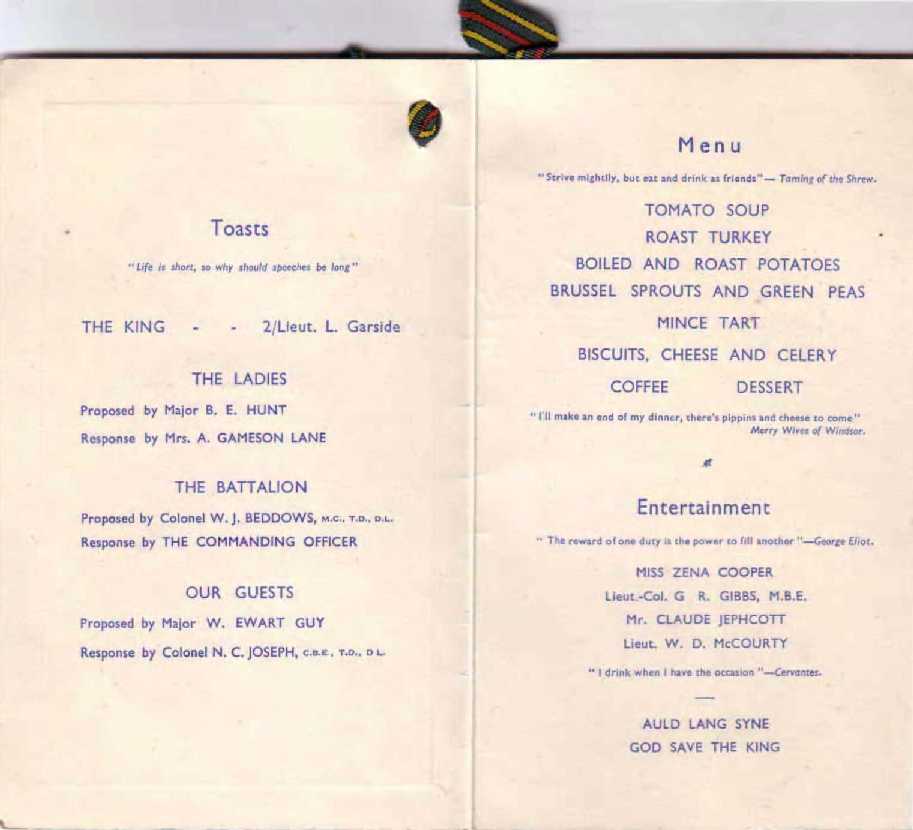 And ten days later, on December 12th, "B" Company held its own celebration, again at The Black Horse.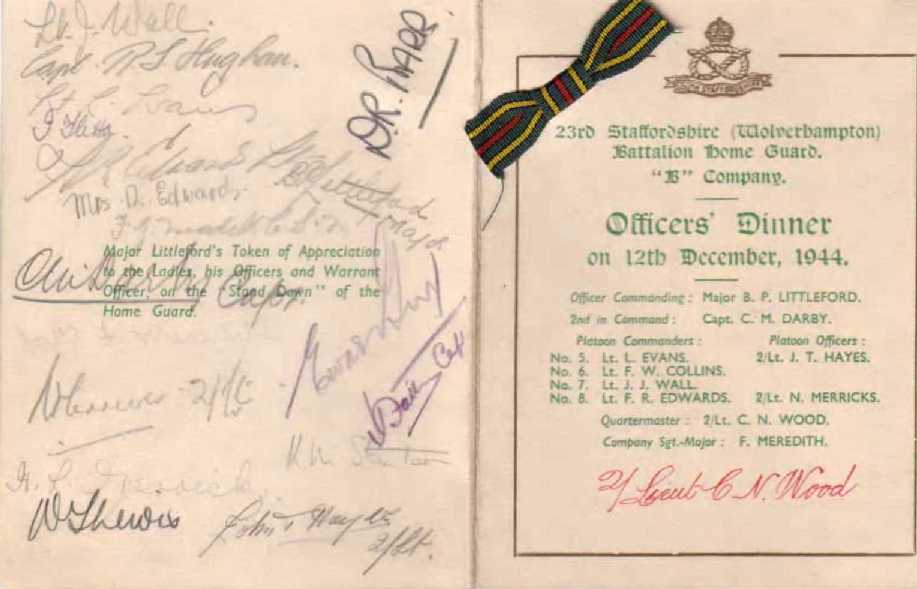 ........Mainly pencilled signatures, some in indelible pencil, the odd one produced by a treasured pre-war fountain pen. No ballpoints or felt-tip pens then - those were unimagined wonders still to be invented. Most of the men who signed these menu cards can be seen on the captioned Battalion picture.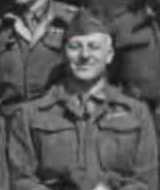 The Black Horse in Thompson Avenue, Wolverhampton obviously plays a large part in the local Home Guard history. Not many weeks before the dinners which Cecil Wood attended, there was another, equally formal, on Saturday November 4th 1944. This was held for members of the Battalion's "D" Company on the occasion of a presentation to its Commanding Officer, Major H. Lockley Brodie (pictured right), who was resigning his command as a result of ill health.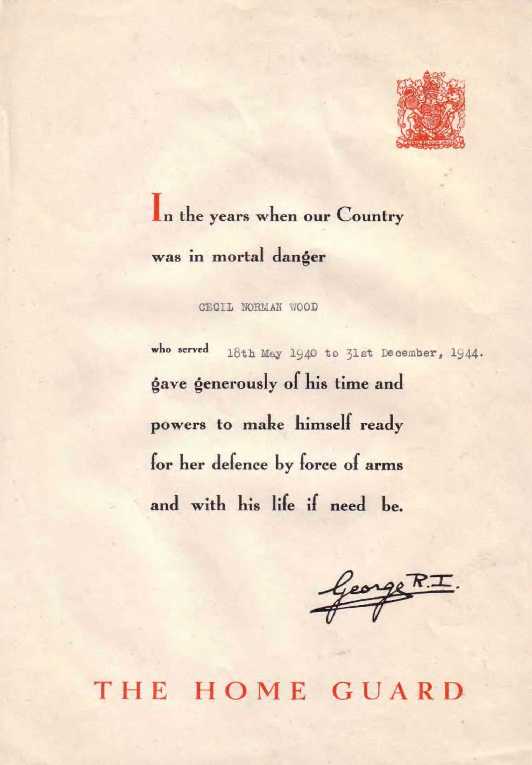 In due course and long after these celebrations of December 1944, Cecil Wood received his letter of thanks and commendation from H.M. King George VIth.
All images on this page are
© The Wood Family 2006