This is a page within the www.staffshomeguard.co.uk website. To see full contents, go to SITE MAP.

MEMORIES AND INFORMATION - STAFFS HOME GUARD

22nd STAFFORDSHIRE WOLVERHAMPTON) BATTN.
and

Sgt. GEOFFREY HANLEY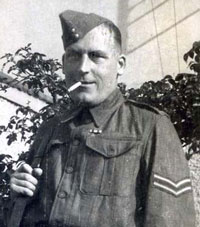 Sergeant Geoffrey Hanley (1899-1967) was a member of the 22nd Staffordshire (Wolverhampton) Battalion. He was a member of "C" Coy. of this Battalion (pictured here). On the surface, his Home Guard life must have seemed like that of hundreds of thousands of other men: constant duties of various kinds and training and exercises in every infantry technique, all occupying many hours a week, for four and a half years.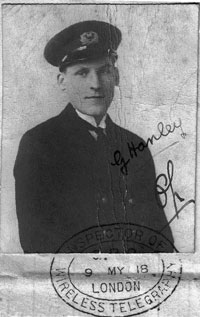 But there was a bit more to it than that, and the secrets of his service were not to be revealed for 70 years.

Geoff had seen Great War service, as his medal ribbon attests. He had been a naval wireless telegraphist and an image of him from this time survives (right). In 1930 he married and became a family man with two children, Philip and Robert. One of his interests was wireless. In the garden of his home at 20 Uplands Road, Wolverhampton, was a garden shed linked by cable to 20 foot high wireless poles elsewhere in the back garden. This was his "radio shack". Someone who knew him, Harry Platt, later described* how Geoff had encouraged his own interest in this technology by demonstrating how it could be used to communicate with other radio hams all over the world.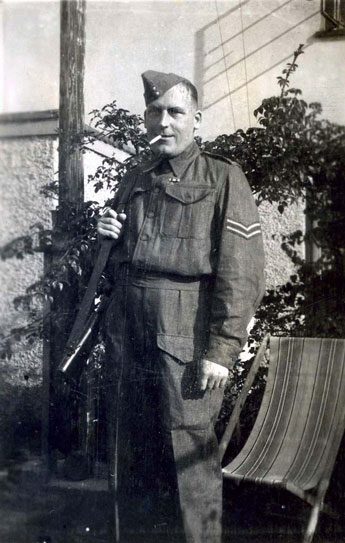 *(in a newspaper article entitled "Researchers discover Wolverhampton man's secret past" - Wolverhampton Express & Star, 19th September 2014)


When war broke out Geoff, a sales representative for Spillers Flour, was an early volunteer for the Home Guard. His Great War experience would have singled him out for fairly immediate appointment to a position of responsibility and a surviving image shows him when holding the rank of Corporal (left|). He's in his back garden, the deckchair has been abandoned, his Lee Enfield is over his shoulder, a Woodbine or similar dangles from his lips and to his right there is a large pole. The true significance of the latter object is going to remain wholly unknown for seven decades.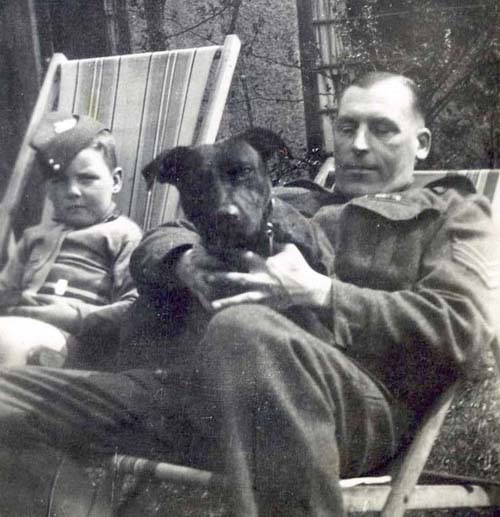 Promotion occurs and we next see him, perhaps in 1941/2, with his Sergeant's stripes, again in the garden and now sitting with his younger son, Robert and the family's Staffordshire bull terrier, Buller (right).
As a Sergeant he is seen (below) helping to form a Guard of Honour for the visit to Wolverhampton of an earlier Prime Minister of Canada, the Right Honourable Richard Bedford Bennett, 1st Viscount Bennett. He had been Canada's 11th Prime Minister between 1930 and 1935 and later moved to the U.K. Sgt. Geoff Hanley is standing second from the right in this image (below) as the distinguished visitor is welcomed outside Wolverhampton Town Hall. With Viscount Bennett are Major C. Hamilton Shaw, Company Commander, and Col. W.J. Beddows, M.C., Group Commander, No.1 Group, South Staffordshire Zone Home Guard.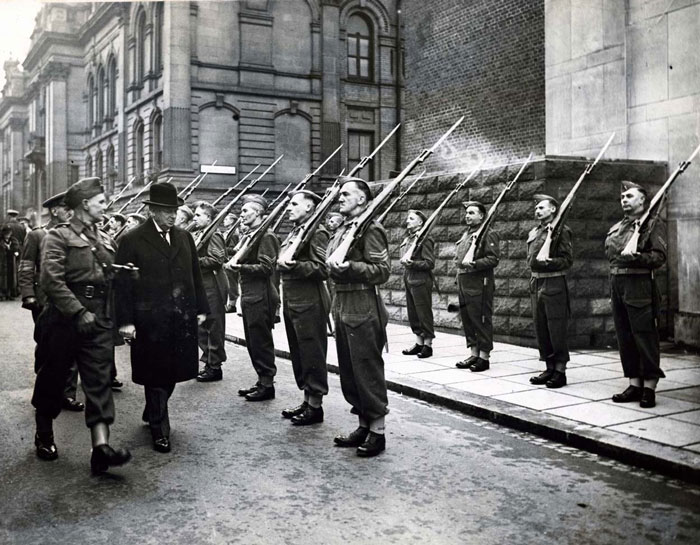 Geoff was part of the Battalion HQ staff. Below is a 1944 picture of him and his immediate comrades - who include two women auxiliary members of the Battalion who almost certainly provided administrative support.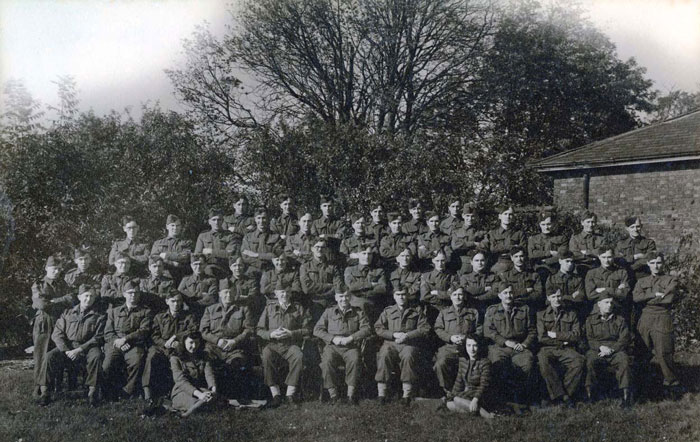 Click on the above image to see a magnified version
Geoff is located 9th from the left in the second main row back. The venue is unknown but is likely to be the garden at "Ellerslie", Riley Crescent, Penn, or in the grounds of Bantock House. We can only guess at the occasion but it could well have been to mark the imminent stand-down which was announced in October 1944.
The officer 5th from the left in the front (seated) row is Harry Hill who was a near neighbour in Uplands Avenue. He also was a radio ham. Was this more than a coincidence? And did he share Geoff's secret?

And so, what was Geoff Hanley's secret? His interest and expertise in wireless telegraphy must have quickly become known to the authorities and the real significance of the two massive 60ft poles in his garden between which his radio aerial was strung - one of which can be seen in an image above - now becomes apparent. Geoff was a "Voluntary Interceptor" working for the Radio Signals Service (R.S.S.) Here is a bit of background information.
WHAT WERE VOLUNTARY INTERCEPTORS AND THE R.S.S?
It was obvious that the collection of military intelligence through radio interceptions would be all-important in time of war. In the summer of 1939 Arthur Platt, President of the Radio Society of Great Britain, was asked by the War Office to identify amateur radio enthusiasts who were prepared to listen out for clandestine broadcasts using Morse code on shortwave bands. As a result of this some 1200 "radio hams" became Voluntary Interceptors as part of the Radio Security Service which by 1941 had become controlled by MI8(C).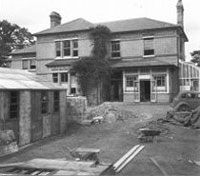 The RSS operated initially out of some vacated cells in Wormwood Scrubs Prison with a direct link to Bletchley Park and later, as the activities grew, moved to Arkley View, a large house near Barnet. Its function was to coordinate the interception of messages by V.I.s and others, to analyse the results and to decide on appropriate action. It was staffed by some very intelligent people, including university professors, and a certain amount of deciphering was carried out in parallel with the work being done at Bletchley Park.
The recruitment of Voluntary interceptors started early, well before the establishment of the Home Guard in May 1940. Many radio hams were being called up into the RAF Civilian Wireless Reserve, the Territorial Army Signals Unit and the Royal Navy Volunteer (Wireless) Reserve. Others either volunteered or were invited to become V.I.s, usually operating from their own homes. All amateur radio transmitters had been impounded at the outbreak of war but receiving equipment had been retained by the enthusiasts. Any radio amateur at that time, in order to obtain a licence, had to demonstrate a proficiency in Morse code and clearly this made them especially valuable for the monitoring of enemy transmissions. Such was the importance of this activity that it was regarded as a reserved occupation which was not liable for call up. Furthermore, provided a minimum monthly listening-out service level was achieved, the volunteer would be excused Civil Defence activities, including normal Home Guard duties. As a security cover and to protect the operators, volunteers were sometimes regarded as members of the Observer Corps and other Civil Defence services. Home Guard cover may also have been used in this way.
Voluntary Interceptors were given procedures whereby particular call signs or types of signal could be picked up. Of particular interest were messages which consisted of groups of five letters which was the normal method of transmitting secret, coded information. V.I.s may or may not have been aware of it, but the initial emphasis of their operations was to identify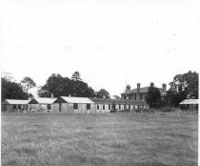 transmissions emanating from the UK which would obviously indicate spying and other undercover activities. It became obvious that no such transmissions were occurring and so attention became concentrated on German military and secret service activities. The V.I.s' equipment was their own receiving apparatus and they were issued with a reference number, blank log sheets, postage stamps and envelopes addressed to "Box 25, Barnet, Herts". The procedure was to place the completed log inside a stamped addressed envelope which was then inserted into another addressed envelope to Box 25.

It seem that this voluntary activity continued for the entire length of the war, although the importance of the work and its volume led to the need for parallel 24-hour monitoring by full-time personnel. For obvious reasons not a single transmission recorded by Voluntary Interceptors would have been intelligible to them and this represents yet another reason to admire the dedication of their work over a long period. And they must have been all too aware that in the event of occupation their previous activities would hardly have been well looked upon by the conquering forces.
The story of Geoff Hanley's involvement in all this did however not emerge until 2014 when Harry Platt, mentioned above, donated Geoff's headphones and some other material to the Bantock House Museum. These headphones provided an important clue: they bore the serial number MD 2455, had been manufactured by Western Electric, USA and were of the type which was issued to Voluntary Interceptors. Helen Steatham, Curator of the Museum and Anne Almond, a volunteer researcher, were able to piece together the story of Geoff's wartime service which he himself had never divulged to family or friends in the remaining years of his life. A remarkable observance of the Official Secrets Act and one which might have been partly motivated by the desire to protect his own family.
His role was the secret monitoring of German short-wave military radio signals, as a part of the RSS organisation described above. He had been recruited, or had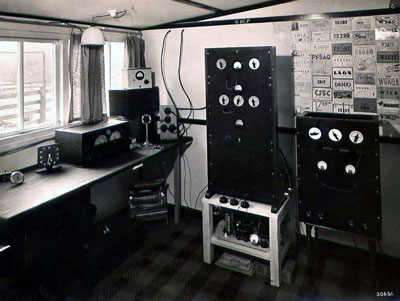 volunteered, for service as a Voluntary Interceptor and would spend hour after hour listening into all the radio traffic, identifying those which could not be recognised as genuine commercial or military transmissions, recording them and then submitting them by post on a log sheet which showed date, time, frequency and details of the transmission. Here is the interior of his "radio shack" in 1937 (right) in which all these long hours were to be spent. Just three years later and for a long time afterwards, whenever the sirens went, he would shepherd his wife, two boys and Buller down the garden to the air-raid shelter. After they were safely installed it would be into his shack, blacked out but otherwise unprotected from what was going on overhead, for the night's vigil. On many other occasions, when the Luftwaffe was not threatening, it was merely the abandonment of warm fireside and family company, for duty always called, over four and a half long years.
So this was the secret activity in which Geoff was deeply involved. At regular intervals he would repair to the Bradmore Post Office to send off the signals, often to Bletchley Park, no doubt using the procedure outlined above. Sometimes he would compare notes with another Wolverhampton Voluntary Interceptor, David Etchalls. Precisely when and how Geoff became involved in this very secret work is unknown, as is much else. In particular, did he spend much or any time on the conventional infantry activities of his Battalion? Was his Home Guard membership little more than a cover? Or, if he did spend time on HG activities in addition to his radio monitoring duties, how did he balance the two? How did he divert the suspicion of neighbours and friends at a time when every single person was on the lookout for suspicious activity?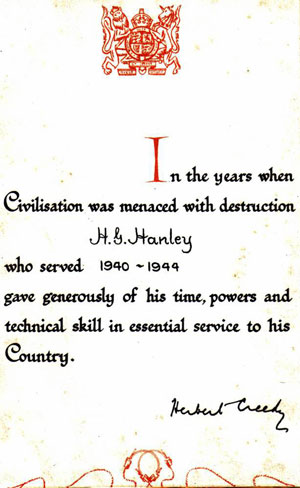 But what is certain is that Geoff Hanley spent hundreds of hours wearing his headphones, listening out for and recording, through a haze of static, the faintest dot-dot-dashes from across Nazi dominated Europe - messages whose real meaning he would never know but any one of which might be of the utmost significance in the pursuit of the war. And he never divulged the slightest detail. A remarkable record of devoted service, on top of all the other pressures of the time, and of determination to maintain his duty of silence for the rest of his life.
This service was recognised after the war by an appropriate certificate of appreciation signed by Sir Herbert Creedy, a very distinguished War Office civil servant who had contiunued to work there throughout the war, after his official retirement in 1939 from the post of Permanent Under-Secretary for War.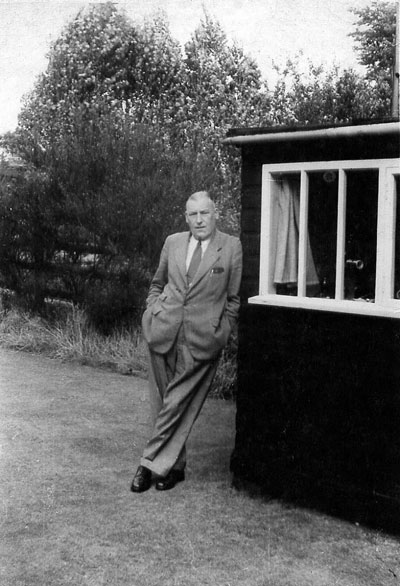 And of course, the wireless interest survived the war years and continued for long afterwards, as these final postwar images (left and below) confirm.
(The image below is a view from a neighbouring house in Willow Road and shows, in the left hand half of the image, the two masts and also part of the radio shack between them in Geoff's garden).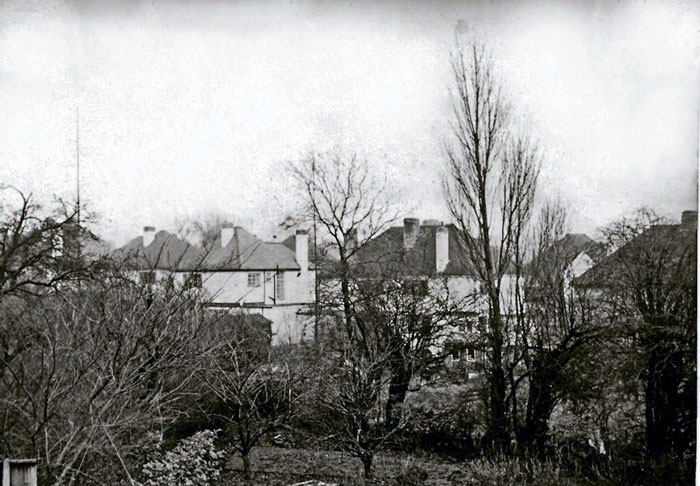 **********
In memory of

Sgt. Geoff Hanley

and all his comrades
in
22nd Staffordshire (Wolverhampton) Battalion,
Home Guard
Further information on this Battalion
Many of the men of the 22nd Staffordshire (Wolverhampton) Battalion can be seen in a number of magnified, high definition photographs on this page of the website. Most of the officers are identified and they include men of whom mention is made on this page.
A further page exists containing the story of an officer in the Battalion, 2/Lt. John Penrose.
For other references to this and neighbouring Battalions, please use the Mems-Staffs link below or the site SEARCH function.
Acknowledgement
Grateful acknowledgement is made to Robert Hanley for providing this information about his father and generously permitting its publication; and to Helen Steatham and Anne Almond (Bantock House Museum) and the Wolverhampton Express & Star newspaper for their work in researching and making public Sgt. Hanley's secret wartime acitivities.