This is a page within the www.staffshomeguard.co.uk website. To see full contents, go to SITE MAP.
HOME GUARD MEMORIES AND INFORMATION - WARWICKSHIRE
BIRMINGHAM - PERRY BARR
ALFRED ARTHUR BRADBURY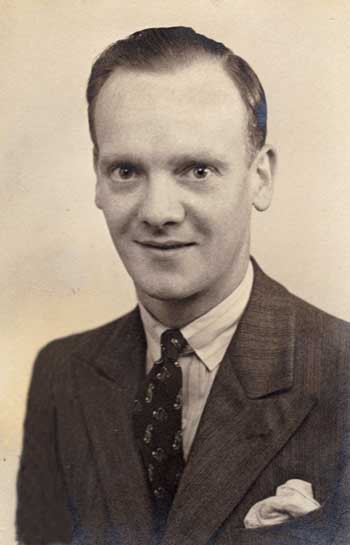 Alfred Arthur Bradbury

(1914-1993) was a member of the Home Guard in Birmingham.
He was born in Aston on May 14th, 1914. At the outbreak of war he was working for

J.B. Brookes Ltd.

and living on the eastern side of the city on the Coventry Road at Hay Mills. This Company specialised in the manufacture of cycle and motorcycle saddles, with other products including "Antler" luggage and "Evertaut" metal furniture such as shelving, stools and chairs. In the inter-war years a company was formed under the name of

Evertaut Ltd

. to manufacture the latter products. By 1943 Alf had moved to 73

Cliveden Road

, Perry Barr and then, later the same year, he was living at 20

Glendower Road

. This move seems to have coincided with a move to Evertaut Ltd. which was now involved in producing rivets for the aircraft industry and where Alf was employed as a draughtsman. This manufacturing activity might have been associated with that of the company next door in

Walsall Road

, Perry Barr, the

George Tucker Eyelet Co.

whose particular speciality that was. Alf's job would have been regarded as a reserved occupation which would have prevented any possibility of call up into the armed forces. But nevertheless, like so many of his contemporaries, he sought a close involvement in the defence of his neighbourhood and country.
Little has so far been discovered about Alf's Home Guard service. J.B. Brooks may have been large enough to have its own, onsite Home Guard unit as many other factories did; Evertauts may not have been, although if it was not, it might have been involved in a factory unit in that part of the city covering more than one factory. Family memories certainly show Alf on firewatching duties which suggests a factory involvement and so he very possibly was a member of a factory unit of one type or another. Or, conceivably, he might have served in a platoon defending a neighbourhood. Either way, in 1943 and later, his unit is likely to have been part of the Battalion whose area of responsibility was Perry Barr. That Battalion was the 50th Warwickshire (Birmingham) Battalion.

Alf left behind a fascinating legacy of his Home Guard service, a series of artist's impressions of many armoured vehicles in use at the time: British, American, Canadian and German. These were intended for use as training material within the Battalion and were mainly produced whilst the artist was spending his nights on fire-watching and similar observational duties in March 1944. Such was his talent, it is tempting to wonder whether further work of this kind was produced in the course of his service; but these are the pages which have survived.

The six pages containing the drawings are shown below. Click on any one of them to see a magnified version which appears in the Training Materials section of this website..


Please click on any of the above images to see a magnified version within the Training Manuals section of this website.
In memory of
Alf Bradbury
and all his comrades
in the
Perry Barr, Birmingham, Home Guard




Alf Bradbury - Jan 1936
Acknowledgement and Comment
Grateful acknowledgement is made to Mr Graham Bradbury of Shrewsbury for providing this information about his father and the drawings which he produced: and for generously permitting their publication.
Mr. Bradbury and the Webmaster would like to be able to add to the story of Alf Bradbury and the Home Guard. If you have information please contact this website via the Feedback link below; or contact Mr Bradbury direct by clicking here.
Images © Graham Bradbury 2014