MEMORIES AND INFORMATION - STAFFORDSHIRE
PATTINGHAM HOME GUARD

This is a page within the www.staffshomeguard.co.uk website. To see full contents, go to SITE MAP.
The Pattingham Home Guard was a unit of the 24th (Tettenhall) Battalion, South Staffordshire Home Guard. The following fascinating article which describes the activities, organisation and personalities of the unit, appeared in a newsletter of the Pattingham Local History and Civic Society written by the Society's Secretary, Mr. Peter Leigh. Staffshomeguard.co.uk is most grateful to the Society and to Mr. Leigh for allowing us to reproduce it in its entirety here.
THE PATTINGHAM HOME GUARD
Immediately, the term "Home Guard" conjures up images of that wonderful TV series 'Dad's Army', which hilariously poked fun at characters and situations created whilst doing their bit for the war effort.
Pattingham's Home Guard was called "D" Company, and formed part of the 24th Staffs. (Tettenhall) Battalion, and comprised four platoons :
17 Platoon, H.Q: the Reading Room, Pattingham.
18 Platoon, H.Q: The Institute, Burnhill Green.
19 Platoon, H.Q: Kingswood Camp.
27 Platoon, H.Q: a Nissen Hut at Nurton.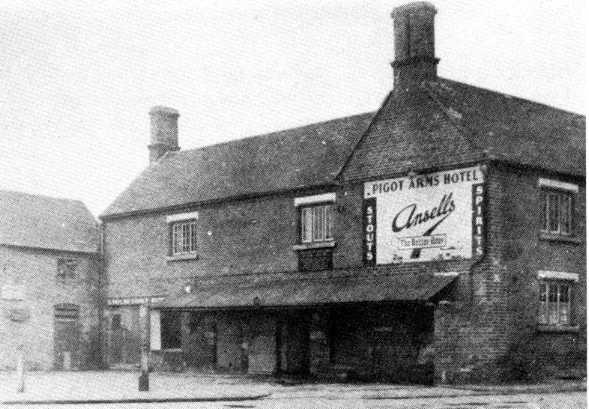 The H.Q. of "D" Company was the Pigot Arms in Pattingham (right). 17 Platoon had a member of Signals (No.4) Platoon assigned to it, as the communication specialist - and he was Corporal W.T. Astley. (We know him in Civvy Street, as Tom Astley, the Greengrocer Man, who had lost an arm in an accident in his youth, and about whom we have written in earlier newsletters.)
It is Tom's daughter, Margaret Powell, now living in Paignton, Devon, who has generously presented our Society with a copy of a book called "24 Home Guard, the record of 24th Staffs.(Tettenhall) Battalion from 14th May 1940 to 3rd December 1944" written by the Group Commander, A.J. Parkes, and published in 1946; and with Tom Astley's citation from King George VI and his Certificate of Proficiency for his signals studies.
The establishment of the Home Guard in 1940 had the very serious intent of providing a fifth column of disruption and defence during the invasion of Britain by Germany, whose occupation of Britain was a real and feared prospect at that time. Whilst we may laugh and ridicule over sixty years later, it was far from being a laughing matter at that time.
The book is well written and provides us with an excellent record of that time, and an invaluable source for our local history. I have extracted references to Pattingham "D" Company - in many cases quoting directly from the book, in order to produce this article. Persons wanting to make a more serious study should refer to the original script by A.J. Parkes.
There is no doubt, that many members of the Home Guard, enjoyed their war, and Pattingham's "D" Company had their fair share of Dad's Army experiences that might have found their way into the TV script. Some are referred to in this article, but I hope that by publishing this, we shall spark off more tales and memories for us to record in living memory interviews, from the few remaining survivors of this era in our community, before they get forgotten.
The organisation of the 24th Battalion was as follows:
24th STAFFS (TETTENHALL) BATTALION
(H.Q: Nethy House, Wergs Road, Tettenhall)
Signals (No. 4) Platoon
H.Q., Company
"A" Company (Codsall)
"B" Company (Wombourne)
"C" Company (Tettenhall)
"D" Company (Pattingham)
"D" Coy. was sub-divided as follows:
"D" COMPANY (PATTINGHAM)
( H.Q: Pigot Arms)
H.Q. Company (Pigot Arms)
No. 17 Platoon (Reading Room)
No. 18 Platoon (The Institute, Burnhill Green)
No. 19 Platoon (Kingswood Camp)
No. 27 Platoon (Nissen Hut, Nurton)
Strength of "D" Coy. at Stand Down (3rd December 1944):
"D" Company H.Q: 4 Officers; 10 WO's & NCOs; 2 Men = 16
No.17 Platoon: 1 Officer; 10 WO's & NCOs; 29 Men = 40
No.18 Platoon: 1 Officer; 7 WO's & NCOs; 15 Men = 23
No.19 Platoon: 2 Officers; 9 WO's & NCOs; 34 Men = 45
No.27 Platoon: 1 Officer; 10 WO's & NCOs; 16 Men = 27
Total = 151 men

Battalion Totals:
69 Officers; 300 WO's & NCOs; 793 Men = 1162 in total.

"D" H.Q. Company
Company Commander (until February 1944): Major Harold A. Page
Company Commander (after February 1944): Major T.F. Hazell, DSO, MC, DFC.
Second in Command: Capt. H.L. Warner
Quartermaster: Lt. G. Dyke
Intelligence Officer: Lt. G.H. Hall-Jones
Company Sergeant Major: F. Moseley
Company Quarter Master Sergeant: H.S. Dyke
Medical L/Cpl: Albert W.H. Jackson
Medical Cpl: W.H. Stokes
Chemical Warfare Sgt: Harold Taylor
Intelligence Cpl: K.A. Lloyd
Intelligence L/Cpl: T.H. Holdsworth
Cook Cpl: J.T. Bentley
Cook Cpl: W. Hutchings
Administration Sgt: W. Burdett

The main contact with the Civil Defence Services was with the Police. They were the existing and original force concerned with the protection of the area both from internal and external trouble. Everyone had to be approved by the police before he could be enrolled in the Home Guard or, (as it was known until July 1940), the L.D.V. (Local Defence Volunteers). Women helped from the beginning at Battalion H.Q. and several of the Companies, but were not admitted to the Home Guard until 1943, and even then they could not be enrolled or wear uniform, but were given a plastic badge. They were known as "nominated women", - though no-one seems to know why! There were 25 registered.
"Our duty to the Police would have been considerable in the event of an invasion, and would have included the control of civilians, refugee and otherwise, the protection of property, the cordoning of roads and so on."
The national alarm signal was that church bells had to be rung if paratroops landed in the immediate vicinity.
Initially, as the name L.D.V. indicated, it was a Volunteer Service, but conscription - or compulsory enrolment as it was called - was introduced on 22nd January 1942. Up to that date, a volunteer could give 14 days notice to resign. Men over 50 were outside the scope of conscription, but no volunteers over 50 in the Battalion took advantage of this concession, even though failure to do so meant that they had to remain in the Home Guard until the end. A Subsistence Allowance was instituted: 1/6d (7.5p) for 5 hours; 3/- (15p) for 10 hours; and a maximum of 4/6d (22.5p) for longer, and compensation for loss of earnings was paid when attending courses and musters.
"The amount of private money spent by all ranks without hope of repayment, and the private labour of typists, experimental staffs and maintenance people at the works of Home Guards were immense. The H.G. was a hobby and as such many people were keener about it than their paid work!

"During the first phase, from 14th May to 26th June 1940, we were not trained nor had we adequate arms for anything else but to observe and pass on information. Although many patriotic sportsmen came forward with their shot guns, sporting rifles, all sorts of revolvers, we were very short of arms. We toured the whole countryside on foot or bicycles at night looking for paratroops.

"This operational duty provided many incidents. It was on one of those rare wet evenings in early June 1940, that six members walked the mile from Pattingham to the Clive Observation Post. This was not to be an ordinary picket; firstly, we were armed: between the six of us we had an old Long Lee-Enfield, a real rifle with a real bayonet on the end and one real round of ammunition up the spout, (a round of Mark VI 1914 vintage, much burnished with Shinio). In true tradition, a council of war was held and a plan devised for the discomfort of the Hun should he come that night. It was agreed that as Second-in-Command Hall-Jones, the owner, had fired this rifle some twenty years ago, it was to be his privilege to mow down the oncoming Teuton horde with one round, then a volunteer more fleet of foot was to take over the weapon and finish off the survivors with cold steel, ably assisted by the rest armed with divers farm implements. A rota was drawn up, two stalwarts to patrol the road, to be forewarned of enemy approach and to discomfort those who return home with other's wives, - the rest to sleep in the new Guard Room (two rooms above the loose boxes in which Mr. Williamson, the farmer, kept his pigs.)

"But this was a night of great import for the Clivian sow - a time for the birth of many pigs and so beneath the sleeping guard she pigged. Never had a sow in labour grunted louder or had her new-born young greeted the world with louder squeaks of joy, and through the floor there rose a mighty smell of pig. How sweet was the rain-washed road after the uneasy sleep in that odoriferous guard room!"
(right Capt. H.C.Warner 2 i/c "D" Company based at Pigot Arms H.Q.)

"A shipment of P17 (.300) rifles arrived from USA in July 1940. They were US Army Rifles of the Kaiser's War, and had been packed in grease for 21 years. The rease was more than thick - it was solid! It took a great deal of sweat to make them fit for use.

"The first shots of "D" Company were fired at the Clive, but not in anger. At dawn one day a youthful Tommy Ray was emptying the magazine when one refractory bullet escaped up the spout, passing in its lethal flight the ear of the reclining shepherd Volunteer Pritchards. It takes something to surprise a long-experienced shepherd, but to his feet he sprang - or would have done had not his chair collapsed. With the blast, out went the lamp, and in the ensuing darkness, a scene of horror spread across those minds, and when with a shaking hand a match was lit, there lay poor Pritchards's corpse - unstruck - if shook!"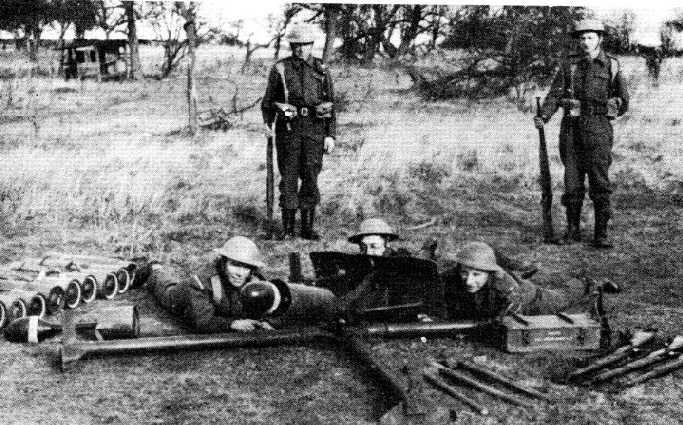 "D" Company Spigot Mortar Team
Pte. S. Weston; Pte. J.R. Pinches; L/Cpl. G.A. Stokes; L/Cpl. A.J. Chamberlain; Sgt. J.T. Ray
By 1944 "D" Company had the following equipment:-
85 Rifles
2 Lewis guns
35 Sten Carbines
3 Browning Medium Machine Guns
2 Northover Projectors
2 Spigot Mortars
1 Boyes .55

"Arms, ammunition and explosives had to be stored and accounted for with the most meticulous care. The variety of ammunition was considerable owing to the many kinds of weapons that were issued, and was kept in 29 steel Ammunition Huts spread over the Battalion area, and placed on requisitioned land."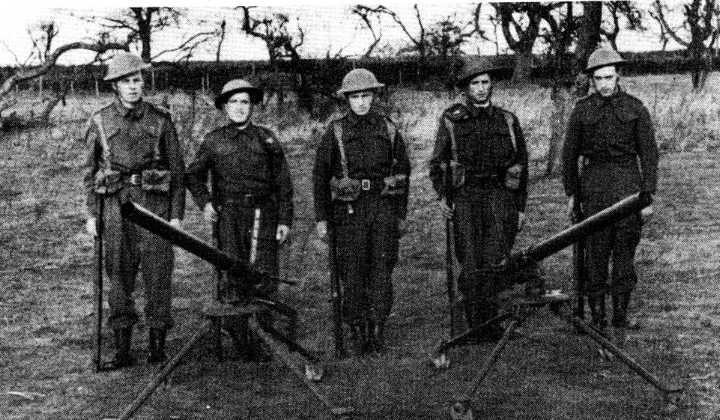 "D" Company Northover Projector Team c. 1943
Pte. K.R. Caseley; Pte. T.A. Postance; Sgt.S.T. Ray; Pte.H.T. Downes; Pte.H. Parkes
"Lord Dartmouth had lent us his Rifle Range in Patshull Park. Ammunition of any kind was almost negligible in quantity, but we managed to scrounge a certain amount, enough for every man to fire five rounds and a little left over for operations; in fact it was not until the summer of 1944 that we were able to build up to 140 operational rounds per rifle and also have an adequate quantity for practice.

In addition to the Rifle Range, Lord Dartmouth placed the whole of the Park at our disposal and it immediately became the centre of our training activities. He also lent the Golf Club House for use as an Officers Mess and the tenant farmer allowed us to use the outbuildings as we required. We constructed ranges for live grenade practice, sten and miniature rifle shooting, and in the low Park we could fire live Spigot Mortar, Northover Projectors, and the 68 and 36 from the Emergency Rifle. We had an assault course and a booby trap. Every weekend throughout the summer of all the years about 100 men were trained in weapons and tactics".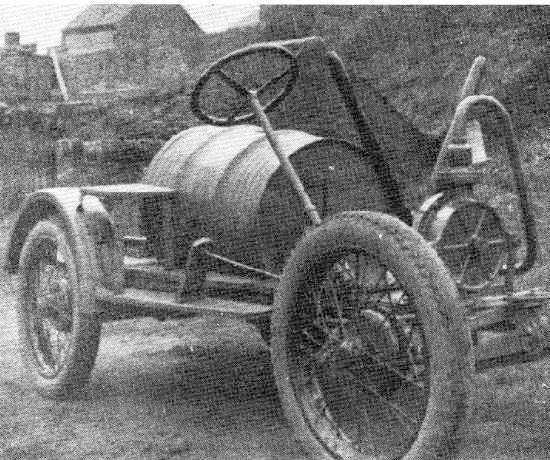 "There were many home made improvised training expedients produced by all ranks. The Area Commander came to see a demonstration of them on a field at Wightwick in the early summer of 1941. The Nuttall flamethrower (left) functioned amazingly well. Its 75 foot flame was fearsome and lasted for 3 minutes. The 50 gallon tank containing the mixture was mounted on an Austin 7 chassis which was towed behind a car. Its operational site was under the bridge at Dam Mill and we felt sure that it would have dealt the enemy a deadly blow."
"The Medical Officer's first large-scale medical exercise was held at Pattingham in the early summer of 1942. The Red Cross and St. John's Ambulance ladies of the village co-operated and set up a Regimental Aid Post at the Vicarage, which was in fact their own C.D. First Aid Post. The exercise was attended by many spectator officers and proved to be the prototype on which our future training and our defended locality organisation could be based".

© Pattingham Local History and Civic Society 2006



FURTHER INFORMATION

Pattingham Local History and Civic Society is anxious to seek out memories of Home Guard life in and near the village from those who served or have other memories of the organisation. To contact the Secretary, please click here. Alternatively if you prefer to make contact via staffshomeguard.co.uk using FEEDBACK we shall be happy to pass on your comments to the Society.

Major Thomas Falcon Hazell (1892 - 1946) who commanded "D" Coy. from February 1944 had previously had a remarkable career in the Great War. After volunteering in August 1914 and later being commissioned into the Royal Inniskilling Fusilers, he transferred to the Royal Flying Corps in the summer of 1916. He served in Nos. 1, 24 and 123 Squadrons of the R.F.C. and R.A.F. His total of 43 victories over enemy aircraft and observation balloons was the sixth highest in the list of British Great War "aces" and only one behind that of the legendary Captain Albert Ball. It was achieved on the Western Front between 4th March 1917 and 4th October 1918 flying Nieuport 17 and SE5a machines. In this period he was awarded the Military Cross, the Distinguished Flying Cross, a bar to the latter and finally the Distinguished Service Order. The citations to these awards include such phrases as "…On several occasions he displayed marked courage and determination in attacking and destroying hostile aircraft……This officer is conspicuous for his bravery and skill……Relentless in attack, Capt. Hazell displays disregard of personal danger in a marked degree…A brilliant fighter, distinguished for his bold determination and rare courage…" In the 1920s, having taken a permanent commission in the RAF, Major Hazell commanded squadrons in Iraq. He was born and eventually died in Ireland.

Some time during the life of the Home Guard, a dinner for members of the local unit took place in the Pigot Arms. Amongst those pictured are Mr Hann, Fred Moseley, Jack Moseley, 'Speedy' Tom Ray, Eric Reynolds, Mr Dignan (RAF Perton), Ted Groves (RAF Perton), Charlie Harley, Tom Malpass and Jack French.
(Photo by courtesy of Pattingham Local History Society)