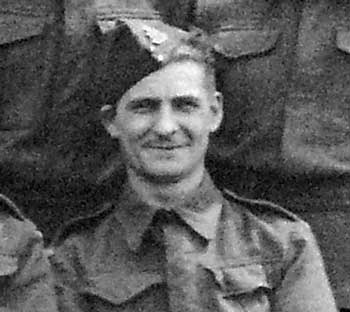 "A" Company of the 32nd Staffordshire (Aldridge) Battalion was responsible for an area in the southern part of the Battalion's sphere of operations; this area included Barr Beacon.
Private George William Waight (1917-1987) was a member of this Company. His grandson describes him thus:
"This remarkable man was excused any form of military service due to having a piece of his skull removed as the result of a chidhood accident which left him with a squidgy portion of his head which was never covered as it would be today. He also lost a thumb in another industrial accident but despite these setbacks he was determined to do his bit".
An image of George Waight and fellow members of an unknown training course survives (below). He is seated on the extreme right.
The location of this photograph is unknown. A training course held on Sunday 21st November 1943 when George took and passed several tests (see his Certificate of Proficiency below) could be the subject. In that case the location is likely to be the Battalion's own training centre situated within its area. The background is distinctive and might help identification. A strong possibilty is Beacon Camp, used by the Battalion for training from the end of 1941. A description of its function and personalities was written by the Battalion C.O., here. Another possibility is Aldridge Lodge. (Use the website SEARCH function to find all references to these locations within this website). If either were the case all the course members shown below will be members of the 32nd. They range, typically for a Home Guard group, from young boys still awaiting call-up to middle-aged, and even older men. Several are wearing Great War medal ribbons, including, unsurprisingly, the officer in the middle of the front row.
N.B. It has been pointed out that George appears to be wearing a North Staffordshire cap badge: if this is the case, it is difficult to explain.