MEMORIES and INFORMATION: 32nd Staffs (Aldridge) Battn., Home Guard (10)

Lt. IVOR COTTON
"G" Coy., Rushall

This is a page within the www.staffshomeguard.co.uk website. To see full contents, go to SITE MAP.
Lt. Cotton receives a brief mention in the book "Home Guarding". In the words of Colonel Cartwright on p.18: "Cotton... left us for the R.A.F., and never returned from an operational flight over the Bay of Biscay."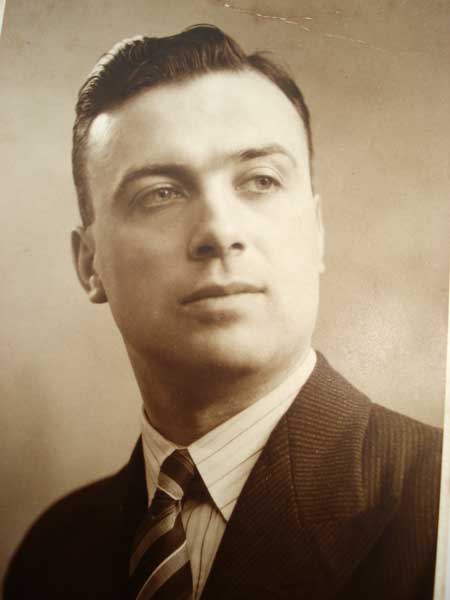 Ivor (left) and his brother Eugene, the sons and only children of Arthur and Ethel Cotton, had been educated at Queen Mary's Grammar School, Walsall where they were members of the school cadet force. Arthur Cotton was a music teacher by profession and also served as organist and choirmaster at St. Michael's Church, Pelsall. Ethel taught at Pelsall School.
At some stage in the late 1930s, the brothers had joined the Royal Air Force Volunteer Reserve, an organisation which enabled its members, often ex-grammar school boys, to receive flying and other training in their spare time and thus provided a nucleus of trained personnel in the event of war.
IVOR COTTON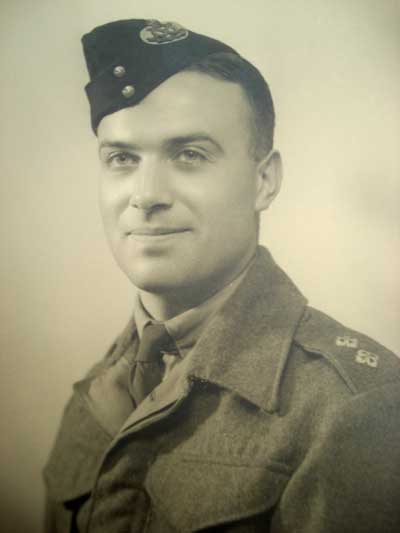 Ivor was a resident of Rushall and married, living in King George Crescent, Rushall. He was a pharmacist by profession, working in the Walsall Co-op and he became an early member of the 32nd (Aldridge) Battalion, South Staffordshire Home Guard (right). He is listed as a full lieutenant at 1st February 1941 and was a member of "G" Coy., Rushall. It is not known whether his brother was also a member but the probability is that he was not.
On June 26th 1941 Ivor left the Home Guard to serve in the RAF in the capacity of navigator/observer. Later that year, in December, he became a father, to a baby boy named Paul. After service in various squadrons, he found himself in late summer of 1943 at Predannack, Cornwall, as a 31-year-old Flight Sergeant and a member of 307 "City of Lvov" Squadron, a Polish unit. The RAF posted British aircrew to non-British squadrons such as this as a matter of policy. This particular squadron, normally a nightfighter unit within Fighter Command, was at that time part seconded to Coastal Command in order to supplement the latter's resources. It was equipped with Mosquito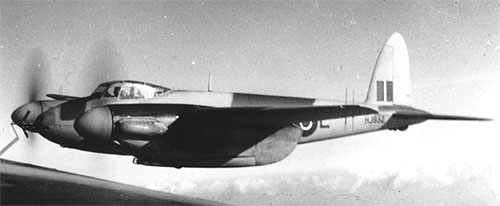 Mk VI aircraft (left). Their main duty was to conduct "Instep Patrols" where a flight of three or four of the squadron's aircraft, each with a crew of two, would fly a low level course to the south, of up to five hours duration, with the aim of seeking out and engaging long-range Luftwaffe fighters.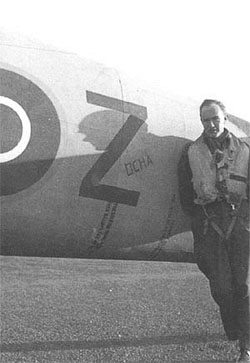 On September 25th 1943 Ivor and his pilot, F/Sgt. L.J. Lowndes, were one of a four aircraft flight on such a patrol, led by Sqdn. Ldr. Jerzy Damsz (pictured right), when they encountered eight Junkers 88 fighters. In the ensuing engagement their Mosquito was hit by returned fire. The other three aircraft, all with Polish crews, returned safely to base, claiming two Ju88s destroyed, one probable and two damaged. Cotton and Lowndes failed to return. Post-war intelligence revealed that of the eight Ju88s, only one returned home safely.
Ivor Cotton and his pilot have no known grave. They are commemorated at the RAF Runnymede Memorial.
EUGENE COTTON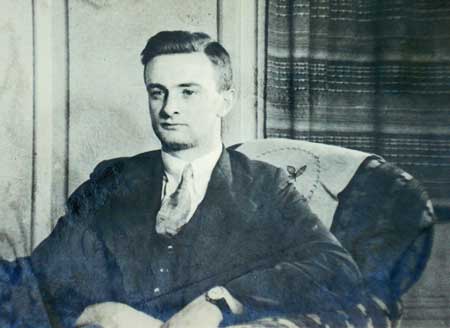 Eugene was the younger of the two brothers. By 1943 he was 25 years old and also married, but without children. He had left his profession of teacher to join the RAF on May 24th 1940, receiving his commision on 30th December 1941. He too was flying Mosquitos, as a pilot with the rank of Flying Officer. His duties had taken him thousands of miles from home, to the Far East where, as a member of 684 Squadron RAF, he was at that time flying photo reconnaissance missions over great swathes of South East Asia - Malaya, Burma and Siam.
On December 10th 1943, just ten weeks after his brother's loss, Eugene and his fellow crewman, most probably F/Sgt. R.E. Woods, were on a reconnaissance mission over Rangoon from which they failed to return. Research many years later revealed that they had fallen victim to Captain (later Major) Kuroe of 64th Sentai, Japanese Air Force, flying a Ki43; this officer was regarded as a top-scoring ace with 51 victories.
Like Ivor, Eugene and his navigator have no known grave. Their names are commemorated on the Singapore Memorial.
In Memory of
Ivor and Eugene Cotton

IVOR



Runnymede Memorial



EUGENE



Singapore Memorial
Webmaster's note:
Perhaps we should pause, just for a moment, in the pursuit of our comfortable 21st century lives, to remember Ivor and Eugene Cotton and reflect on the sacrifices, almost impossible to imagine today, which were made by families such as theirs in the cause of freedom and justice.
Sources to whom acknowledgement is gratefully made: Paul Cotton (Ivor's son); Reg. Neville; Wilhelm Ratuszynski and his excellent 307 Sqdn. website ; the Commonwealth War Graves Commission website, and others. Information about the two operations described above may also be found in the following books: Bloody Biscay by Chris Groves (p.16); and Air War for Burma by Christopher Shores (p.130-131).

Personal images© Paul Cotton 2012
2005: updated July 2012